Author:

ActiveME

Created:

September 27, 2012

Updated:

December 12, 2017
Categories:
Distance

18.12 km

Time

0 s

Speed

0.0 km/h

Min altitude

0 m

Peak

67 m

Climb

251 m

Descent

243 m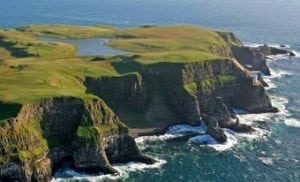 Although 14km in length, this walk is relatively easy over smooth terrain and on mostly paved surfaces. It takes in the most interesting points on the eastern side of the island and will keep you entertained for hours.
ROUTE
This walking route is easy to follow, along mainly paved surfaces and clearly defined paths.
The walk starts straight off the ferry in Church Bay. Following the shoreline to the right, walk through Church Bay stopping at anything which is of interest and maybe grab a bite to eat or make a picnic for later on.
A short walk from Church Bay is Mill Bay where you can visit a colony of seals. Follow the path from Mill Bay until it rejoins the main paved surface where you take a right and continue south to Craigmacaghan Lough.
Further on along this path on you right you will meet the start of the Roonivoolin Nature Reserve at a wooden gate with an information panel. Leave the path and go through the gate on your right heading over open fields to the sea. You will pass Ally Lough on the right and Ushet Lough on the left. You can follow the wooden way markers across the open field and eventually you will arrive at a fence at the cliff with amazing views to the north and south.
From here follow the path to Rue Point Lighthouse and Ushet Point. From here you can then follow the paved path back to Church Bay where, on your return you can take a right and head towards the East Lighthouse, returning via a path to the north of Church Bay.
If you wish you may go on a guided walk with some local tour operators and get the history of the island from a local.
INTERESTING DETAILS
- Rathlin island is a Special Area of Conservation
- It has a world famous Seabird Centre on its western side
- Rathlin was the site of the first Viking raid on Ireland
- On July 6th 1898, Marconi and his assistants successfully transmitted the first commercial radio signals across water from Rathlin Islands East Lighthouse to Ballycastle on the mainland of Northern Ireland
- Below the East Lighthouse is the famous cave where it is said that Robert the Bruce, of Braveheart fame, hid after his defeat in battle at Perth in Scotland. It is said that after this stay in Rathlin he return and won the battle at Bannockburn and regained his crown in the process.