Top 25 Best Things to See and Do in Killarney
Visiting Killarney and the Killarney National Park is a memorable experience, from enchanted islands on the Lakes of Killarney to towering mountains and from ancient pagan paths to waterfalls, mythology, wildlife and lush green valleys. Killarney has some of Irelands best tourist attractions, scenery, walking, cycling, tours and day trips. Not only will you find spectacular scenery at every turn but you will also experience great variety, from pubs with lively foot tapping music or quiet fireside seats, scrumptious restaurants or pub food, relaxing woodland walks, rock climbing and sunset kayaking and remember to ask locals for the hidden gems.
Returning home, you will have unforgettable tales to tell and stories to share with your family and friends.  Share your photos on the ActiveMe facebook page. A hard task, but we have tried to narrow down the ever changing Top 25 Best Things to See and Do in Killarney below. Choose your favourites based on your interest, ability and time available!!!
1) Visit Killarney National Park and spot a Deer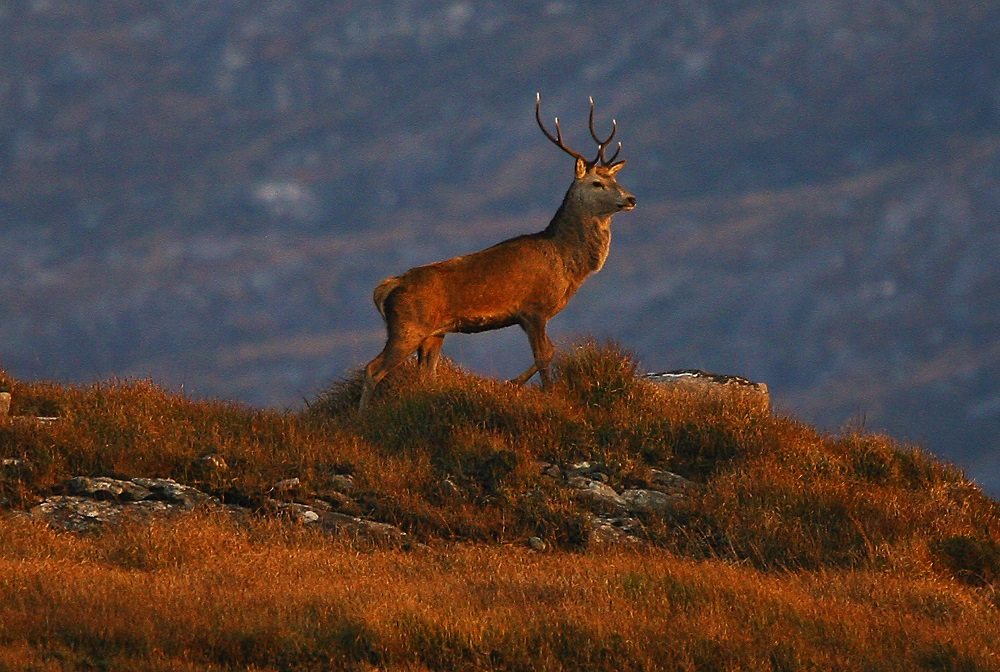 Head to the magnificent Killarney National Park! Walk, cycle, run, on horseback, take a Boat Tour or Jaunting Car (Pony and Trap) through this vast, majestic park.  See if you a spot a deer from the last remaining indigenous herd of Wild Red Deer in Ireland that roam the park freely!  The magnificent White Tailed Sea Eagles once called Killarney home before they became extinct during the Victorian age of hunting lodges on the shores of Killarney Lakes, such as Lord Brandons Cottage and Dinis Cottage.  Reintroduced to Killarney National Park in 2007, these birds are making a great come back, and now locals and visitors cherish the opportunity to catch a rare glimpse of the White Tailed Eagle while on or around the lakes.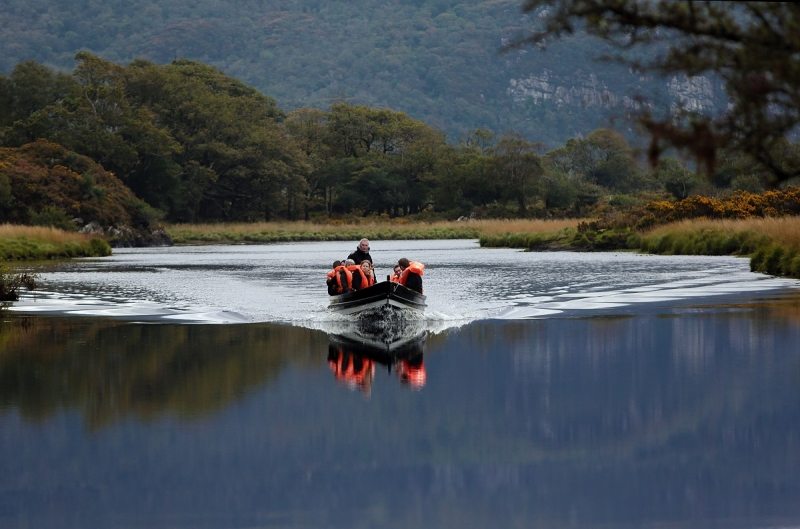 Killarney has one of the worlds oldest tourist boat trips, the 250 year old journey from Lord Brandon's Cottage to Ross Castle or vice versa on the lakes of Killarney through the National Park.  Visit www.killarneydaytour.com to book and arrange your trip where they also offer several other shorter boat trips, fishing and tours.
The full tour consists of a short bus trip from Killarney to the Gap of Dunloe, a spectacular glacial mountain valley that you can walk, cycle or take the famous Pony and Trap trip (paid separately) along the winding valley floor passing several lakes. Don't forget to make a wish standing on the 'Wishing Bridge', a picturesque old bridge that folklore says will make your wishes come true! From the end of the valley you descend into the remote Black Valley and onto Lord Brandon's Cottage, an old Victorian hunting lodge and now a lovely Cafe, where you take one of the most amazing guided boat tours in the world through the Killarney National Park and Lakes.
Alternatively, you can also Rent a Bike in Killarney, cycle the Gap of Dunloe and book your bike into the boat for the return journey or continue on cycling through the Black Valley, Molls Gap and back to Killarney, one of Irelands best cycling routes. One final alternative, allows you to walk the Kerry Way walking trail on the famous Old Kenmare Road to Lord Brandon's before the boat back to Killarney.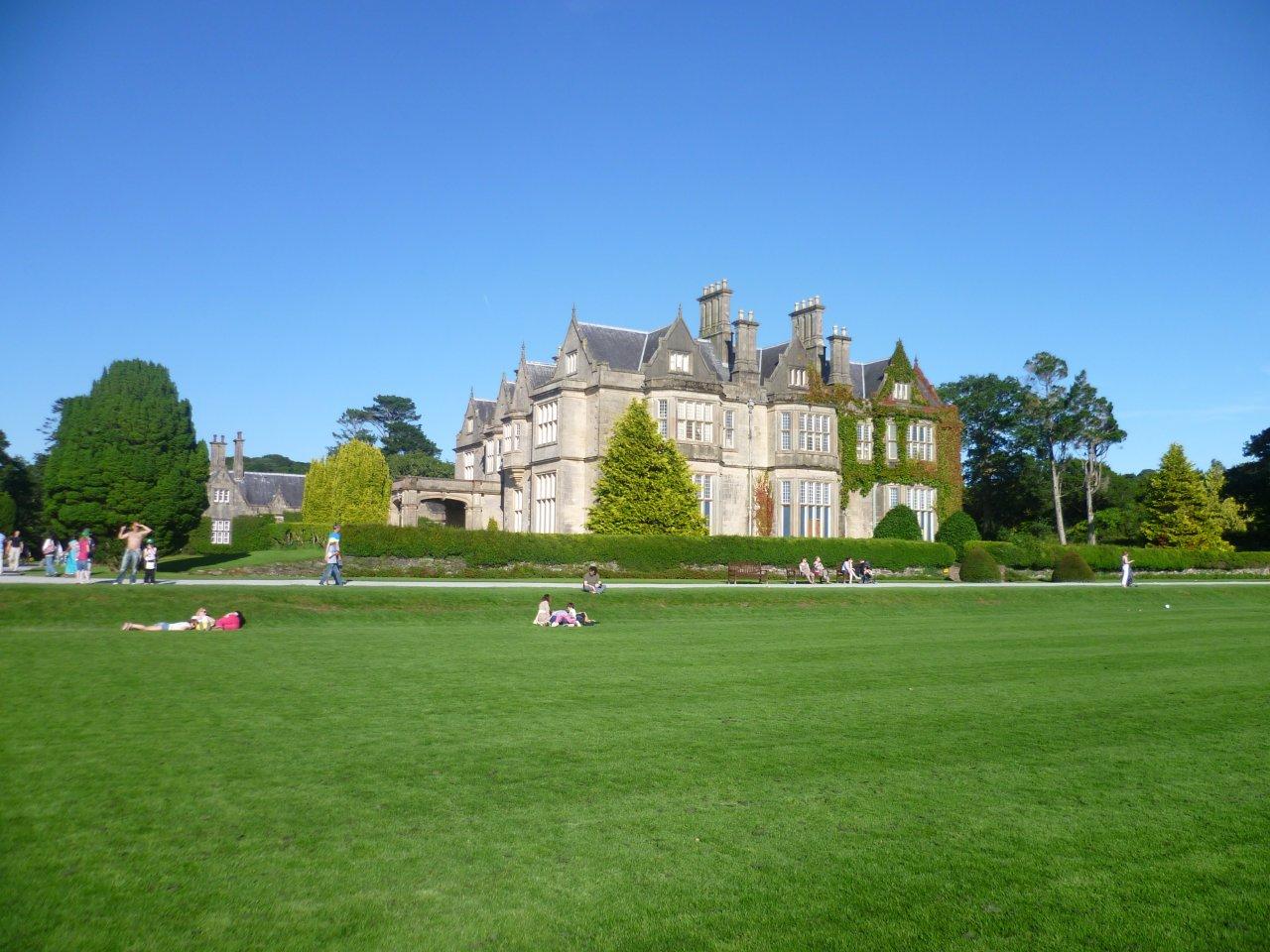 Visit the exquisite 19th Century Victorian Mansion, Muckross House and Gardens that are set amidst the breathtaking beauty of Killarney National Park. The Muckross
Traditional Farms nearby also allow you to step back into time and explore three working farms and discover the rural way of life in Ireland of the 1930's and 1940's. Only a short walk from Muckross House you can explore the tranquil ruins of Muckross Abbey, the 15th Century Friary located off the picturesque shores of Lough Leane and within Killarney National Park. Home to the only Franciscan Tower in Ireland, a striking and magnificent ancient yew tree rises from the centre of the vaulted cloisters of Muckross Abbey said to be over  years old. The Abbey itself is well preserved so that visitors can also view some of the upper floors which served as the monks living quarters.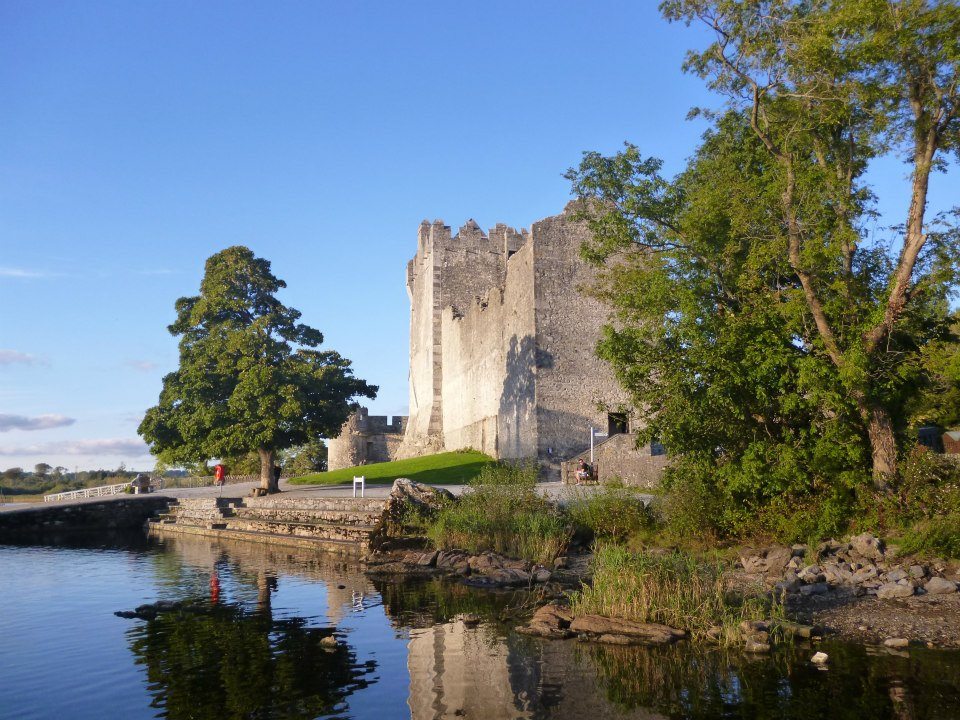 Explore the 15th Century Tower House, Ross Castle, which overlooks the picturesque Lough Leane. Many boat trips and water cruises embark from here including the short boat trip to Innisfalllen Island. One of Killarneys best walks is popular among local and visitors, a loop walk takes you on the trail of the some of the worlds oldest Copper Mines and open mine shafts which date back to 2400 BC, thats nearly 4,500 years old. The trail include the fabulous scenic viewing points of Governors Rock and Library Point on Ross Island, with stunning views of the Killarney Lakes, Mangerton and Torc Mountains to the south and Purple, Tomies and Shehy Mountains to the west. You can also walk from Ross Castle to the town centre via the picturesque Knockrear area of the National Park.
5) Torc Waterfall and maybe 'Cardiac Steps'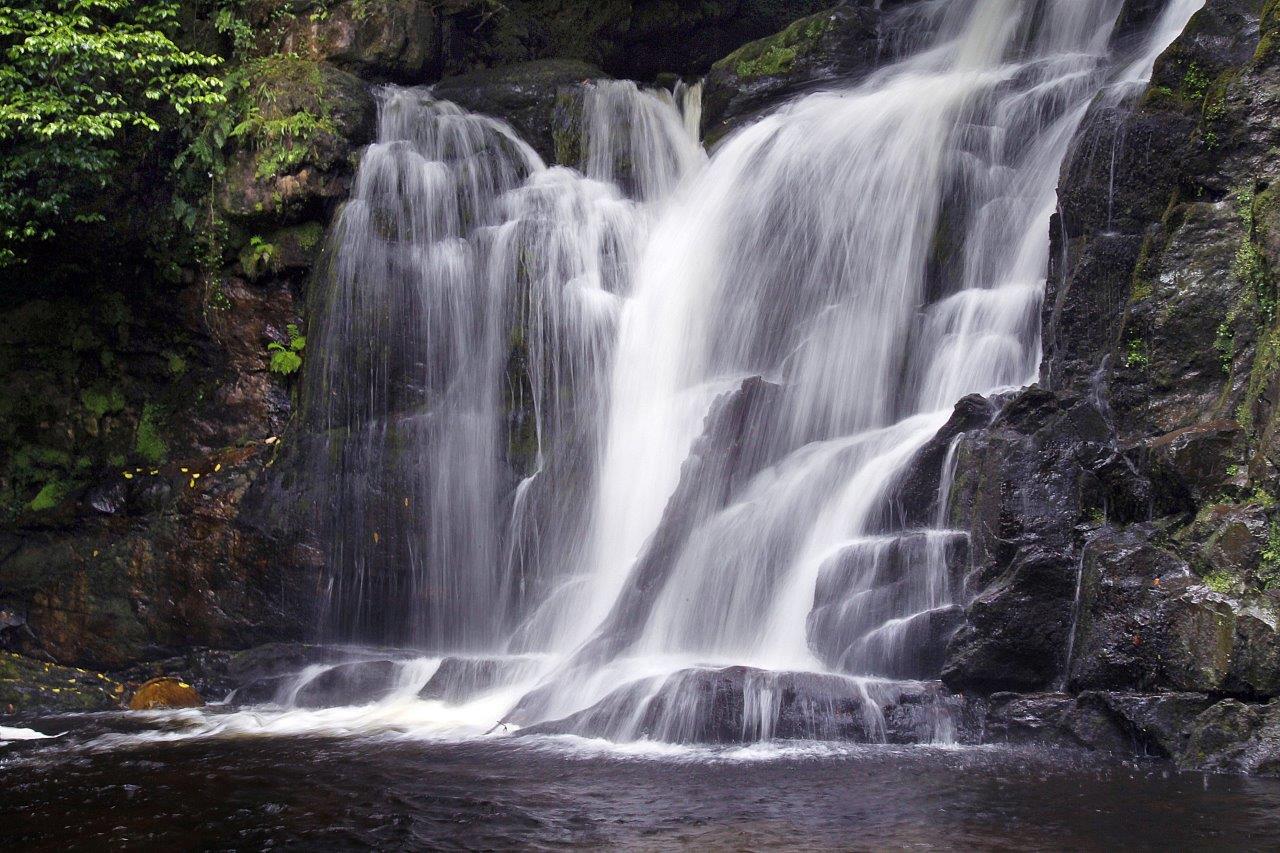 Take the short walk from the car park to Torc Waterfall and bask in the beauty of one of Killarneys gems. Situated just 5 miles outside Killarney, the Waterfall is at it's best after heavy rainfall. From here you can also walk the wooded steps up the mountain slopes. One of the best and most scenic ways to see Torc Waterfall is to park in the Dinis Cottage Car Park, off the N71 Ring of Kerry Road, only a short distance away. From here you cross the road and take on the now famous 'Cardiac Steps' trail, the name is self explanatory.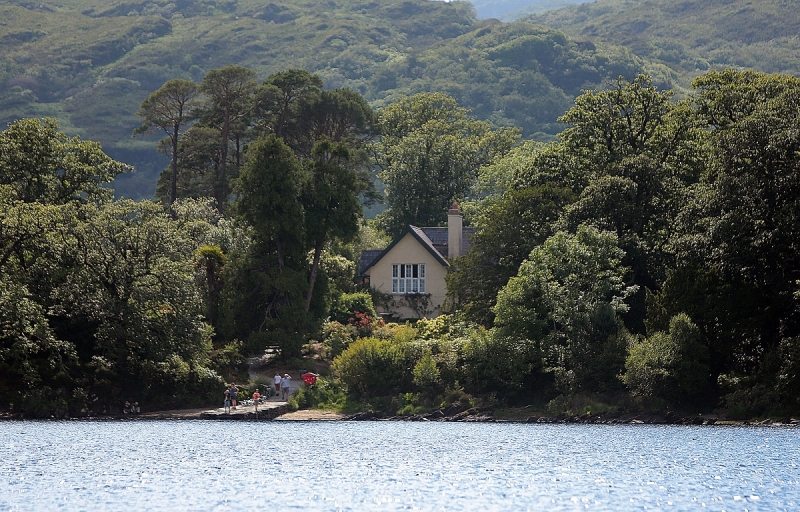 One of the most popular family friendly walks and cycles in Killarney National Park is the 1-2 hour, 10km (6 mile) loop around the enchanting Muckross Lake with stunning views and places to visit at every turn…and i mean every turn. You can Rent a Bike from one of several local operators who will show you all the routes available and more. Guided walks and cycles are also available and several other alternative trails through the Park including the Arthur Young Nature Trail.
7) Killarney House and St Marys Cathedral – Town Centre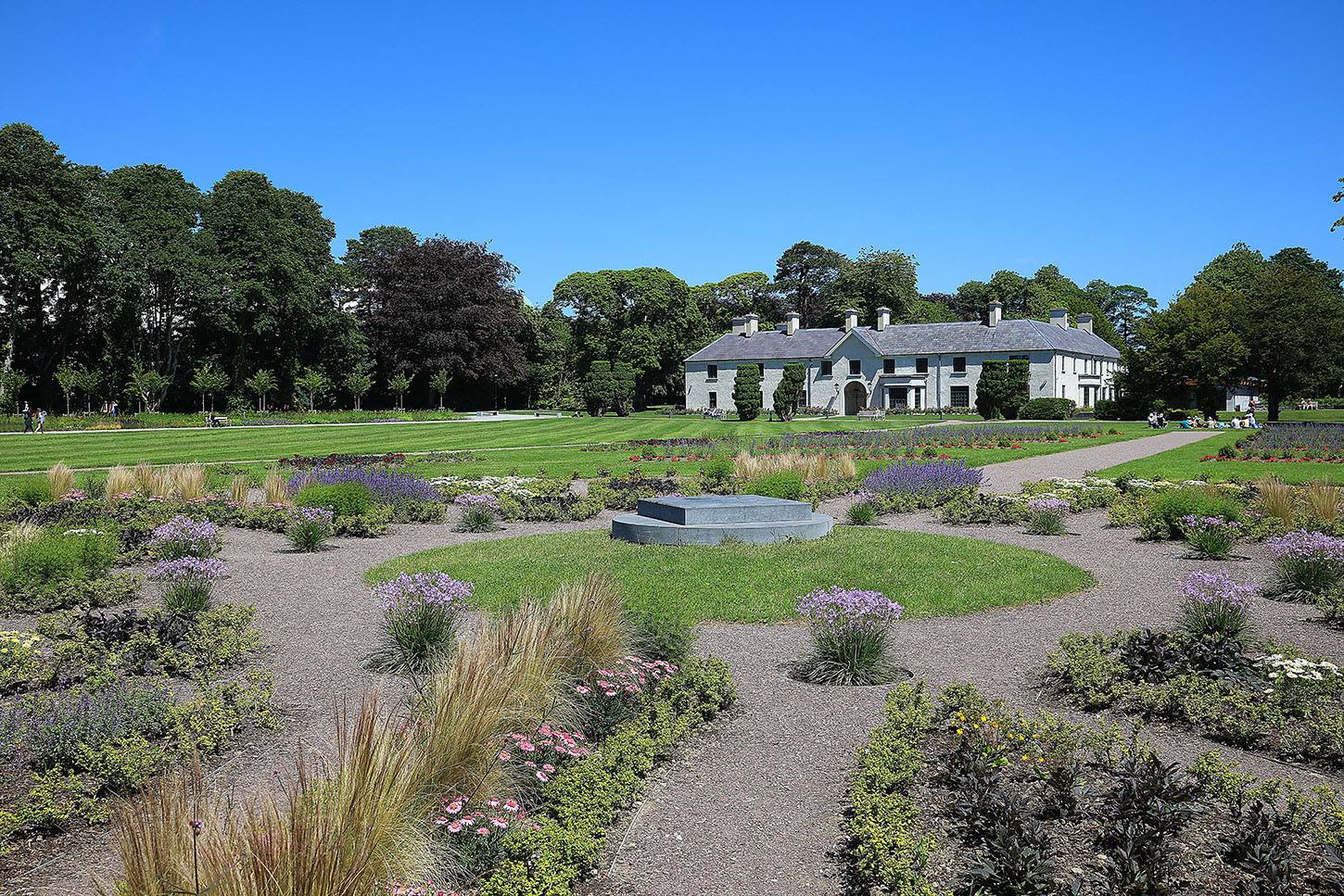 The recently renovated Killarney House and Gardens is Killarneys newest tourist attraction, adding to the Killarney National Park. Located right beside the town centre, it is within easy walking distance, and provides a relaxing break from the the bustling town. The location of Killarney House was chosen by Queen Victoria on her visit to Ireland in 1861 and was originally the seat of the Earls of Kenmare. Only a short walk away, you can explore the interior of the magnificent St Mary's Cathedral, one of the finest Gothic Revival Churches of the 19th Century in Ireland.
8) Innisfallen Island by boat or kayak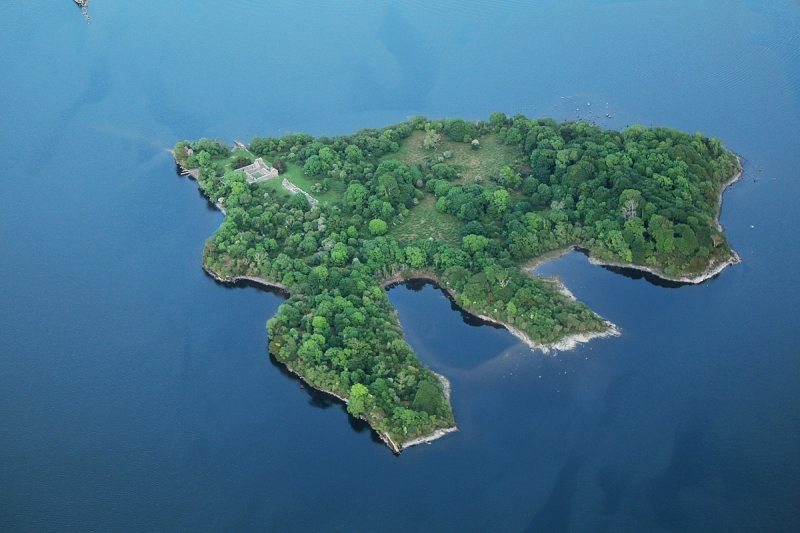 Take a guided Kayak tour or a short boat journey from Ross Castle to the enchanting Innisfallen Island. Today, it is home to the ruins of a of Innisfallen Monastery founded in 640 and where Irish High King Brian Boru was educated. A major source of Early Irish History, The Annals of Innisfallen were also composed here. Steeped in Irish Mythology, the island is also home to a small herd of native red deer. The island embodies Irish folklore and history, and there is something truly magical about visiting this little gem of an island for an hour. Alternatively you can also book spectacular sunset Kayak Trips on the lake.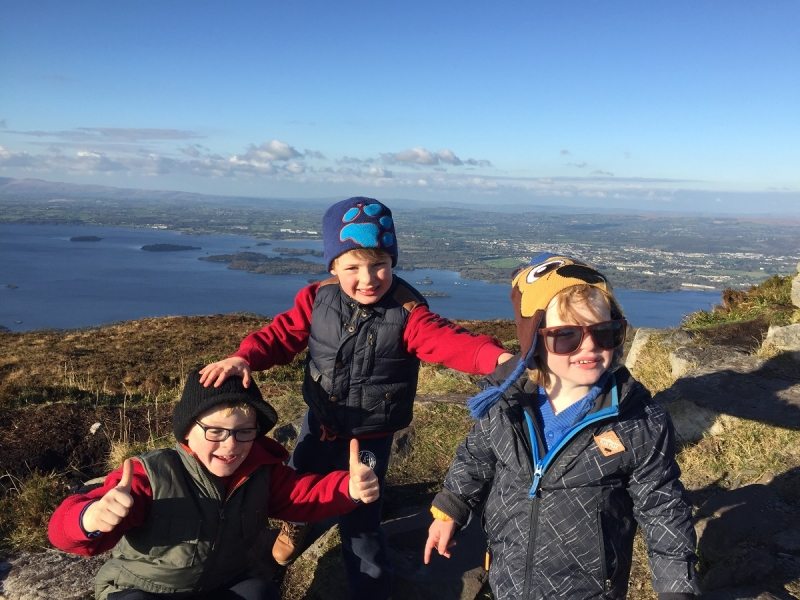 Torc Mountain is an extremely popular, family friendly and scenic moderate 2.5 hour (7.5 km) walking route to the summit of Torc Mountain (535m) with spectacular 360 degree views of Killarney town and lakes, Muckross House, the Killarney National Park and the McGillicuddy's Reeks.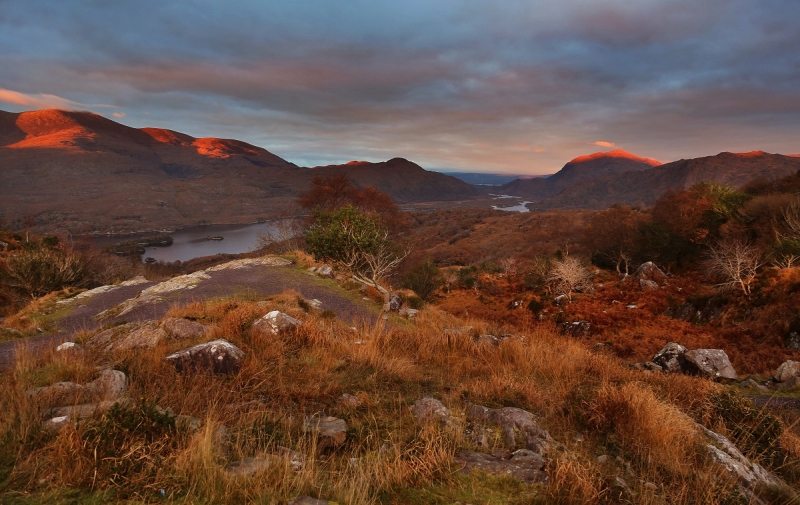 Enjoy the most panoramic and spectacular view of Killarney at Ladies View. This is a must see and is just a short drive outside Killarney with a panoramic view of Killarney's three mystical lakes. There's a Gift Store, Cafe and Bar for refreshments. Take the short stroll up the road to another car park where you can enjoy another vantage point of the Upper Lake. A short distance along the road is the famous Moll's Gap mountain pass.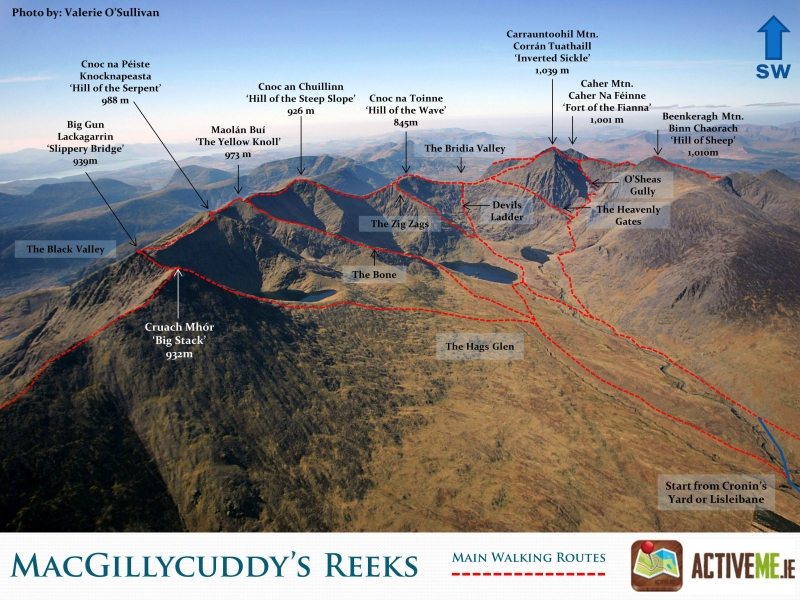 Climb to the top of Ireland's highest mountain, Carrauntoohil for spectacular and rewarding views! The Devil's Ladder towards the top is challenging so bring your Dutch courage! If you're not experienced, go with one of several local guides who have great tales to tell and know the mountains like the back of their hand. There are plenty of other walking routes to suit beginners to advanced walkers in the area, so please find a route that is right for you or your group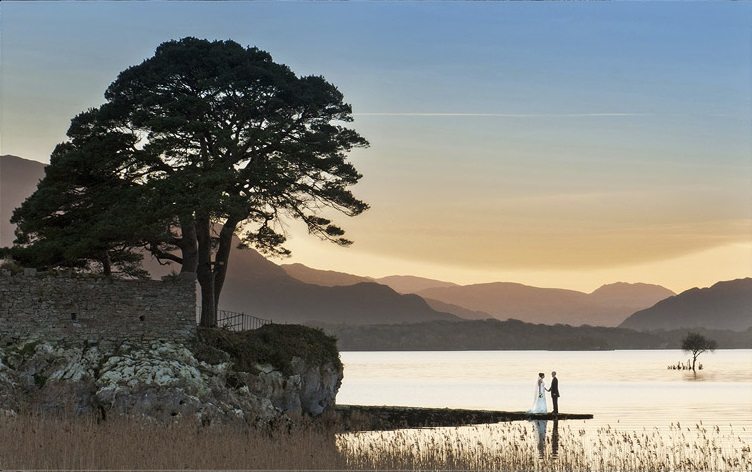 Killarney offers an idyllic location in Ireland to get married! With breathtaking scenery, it gives a magical setting with some of the finest venues and hotels in Kerry, some of the finest wedding photography locations and is one of the most popular wedding destinations in the country.
13) Jaunting Car Tour (Pony and Trap)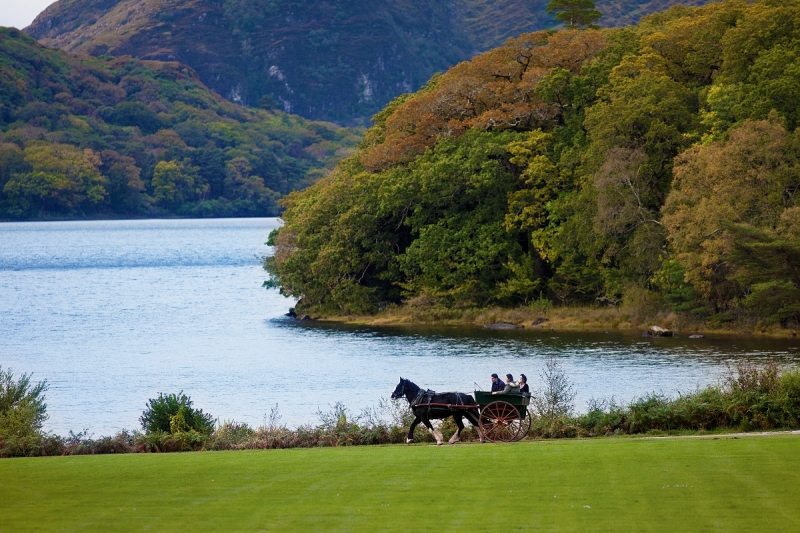 Step back in time and take a traditional Jaunting Car to Ross Castle, in Muckross House and Gardens or through the Killarney National Park. What better way to savour the scenery! Sit back and enjoy the leisurely spin and let the Jarvey man entertain you with stories, folklore and maybe some tall tales.
Although the Kerry Way is over 200km in length, there are lovely smaller sections close to Killarney including through the National Park, The Old Kenmare Road, Derrycunnihy to Lord Brandons, Black Valley to Bridia Valley and more. These ancient trails pass through breathtaking scenery, remote valleys and scenic mountain passes.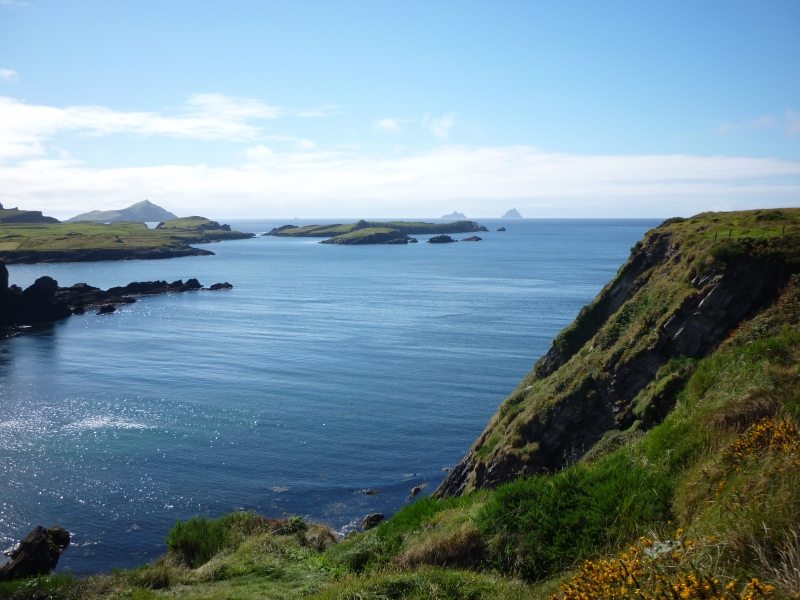 Stay in luxury accommodation in Killarney and drive, cycle or take a tour of the scenic Ring of Kerry and Wild Atlantic Way route! Explore stunning beaches, scenery and spectacular coastlines as you visit Kenmare, Killorglin, Waterville, Sneem, Caherdaniel, Ballinskelligs, protmagee, Valentia Island, Caherciveen, Glenbeigh, Killorglin and then arrive back to an unforgettable stay in one of Killarney's finest hotels. Alternatively split your journey and spend one or more nights on Valentia Island, allowing you book a trip to the Skellig Islands, savour the sights and meet the locals.
16) Adventure Sports, Race Oct/Mar, rock climbing, zip lines, Kayak
Choose from dozens of outdoor activities and adventure sports in Killarney, Irelands Adventure Capital! Whatever the weather, take your pick from a guided or self guided climb of Carrauntoohil, the Quest Adventure Series held in March and October, Killarney Walking Festival in June, Killarney Cycling festival in August, Rock Climbing in the Gap of Dunloe, Kayaking from Ross Castle, Guided Mountain Walks, Roped Ascents of Carrauntoohil via Howling Ridge, Kayaking on the Lakes of Killarney, Zip Lines and High Ropes through stunning woodland, Canyoning, Bushcraft, Mountain Skills, Horse Riding and much more.
17) A round of Golf
Choose from several world famous and renowned golf courses in and around Killarney town. Take your pick from a selection of lakeside, woodland, links, 9 hole, 18 hole and 36 hole courses including Killarney Golf and Fishing Club, Ross Golf Club, Dunloe Golf Club, Beaufort Golf Club and Castlerosse Golf Club. Just a little further afield you also have Dooks Golf Club, Waterville Golf Club, Tralee Golf Club, Ballybunnion Golf Club and more.
18) Horse riding in Killarney National Park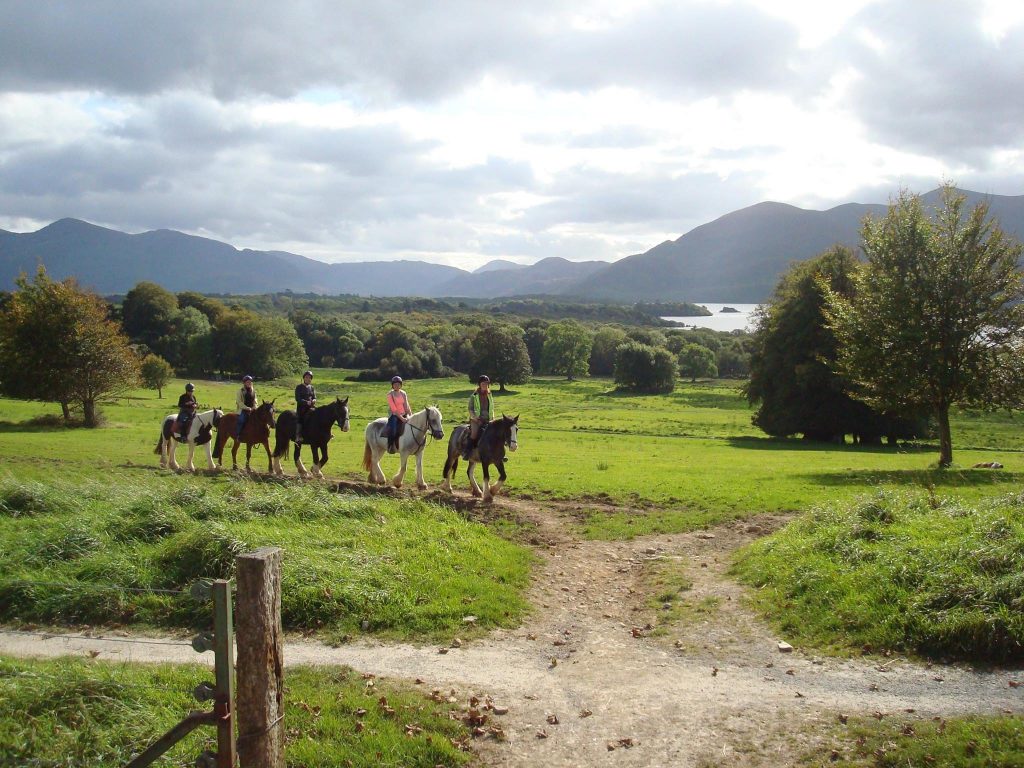 What better way to see Killarney National Park than on horse back! Go on one of the most scenic Horse Riding Treks in Ireland by trekking through the spectacular Killarney National Park! Suitable for all levels. Visit Killarney Riding Stables  for more info and various packages from 1 to 3 hours through the park with views of Ross Castle, Ross Island, the Killarney lakes and Mountains. Hacking, Treking & Trail Riding tours available
19) Sunset Kayaking on the Lakes
If activity sports are your thing, why not Kayak on Killarney's Lakes and take a trip to Innisfallen Island and experience the breathtaking beauty of the surroundings. There are several operators providing guided kayak tours on the lakes.
20) Fishing on the Rivers and Lakes of Killarney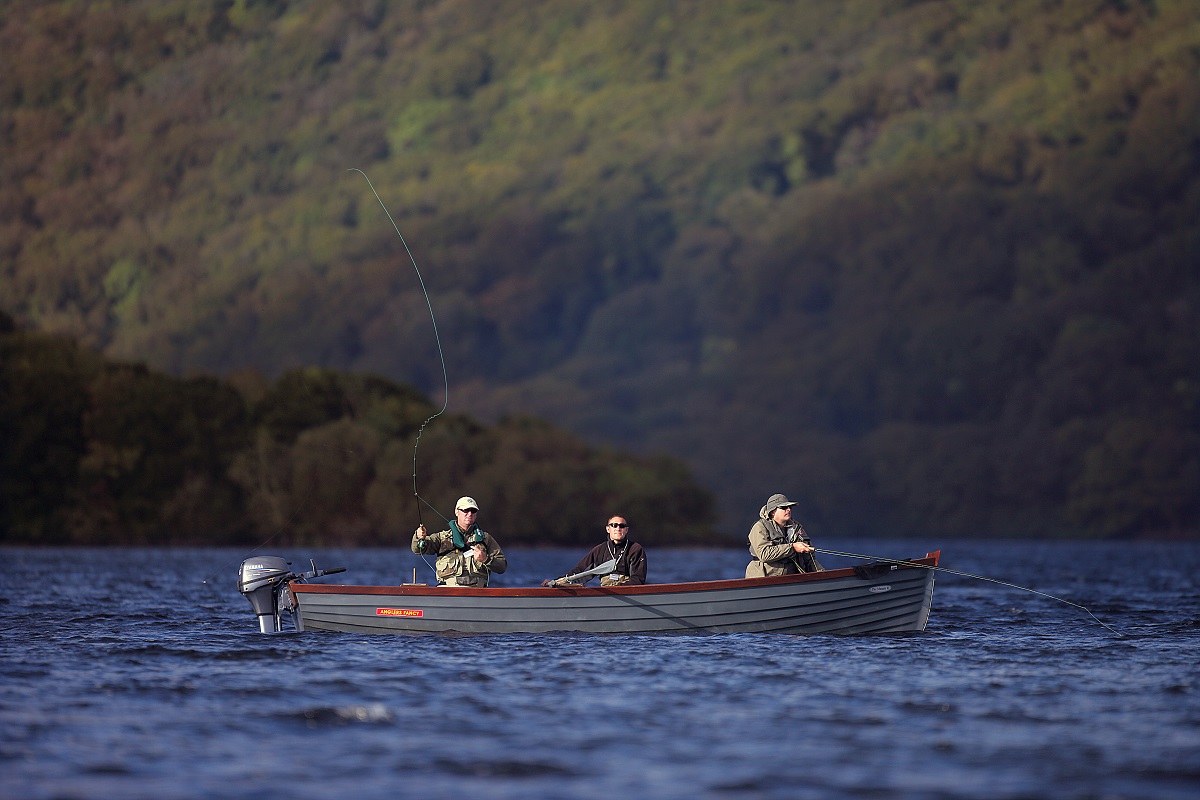 Take a guided fishing trip on the Lakes of Killarney! Experienced guides have a vast knowledge of all the Lakes and Rivers of Killarney and these local ghillies have access to secluded and secret fishing locations.
21) Scenic views from Aghadoe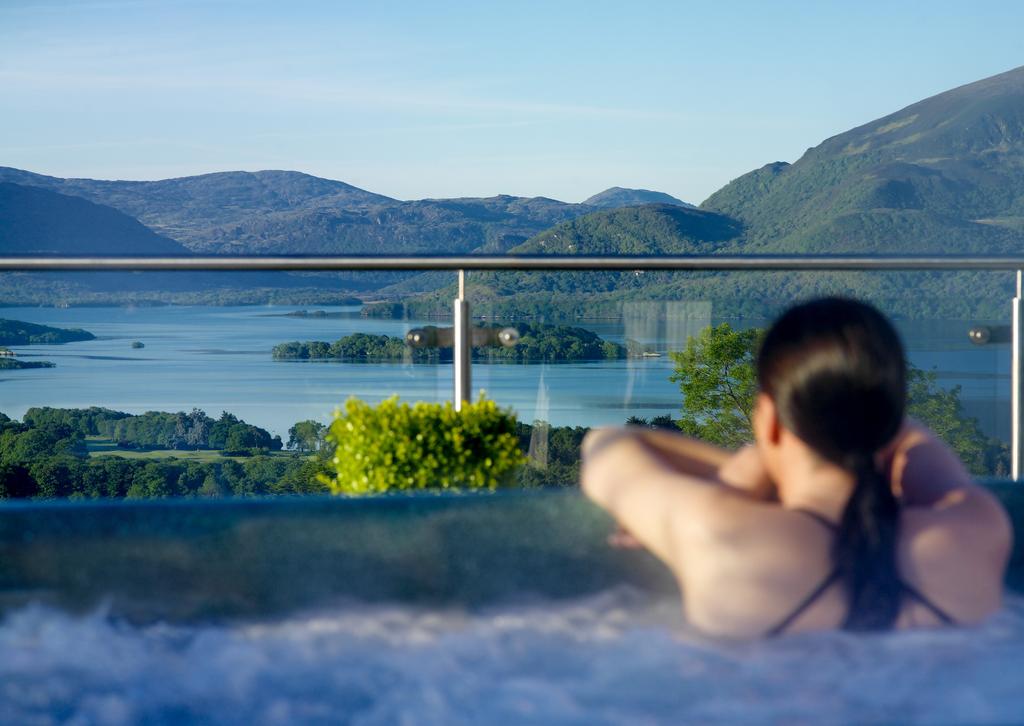 Only a short drive from the town centre, you can park at the roadside in Aghadoe or visit the hotel for some of the best views of Killarneys Lakes, National Park and Mountains.
22) Boat Trip on the Lakes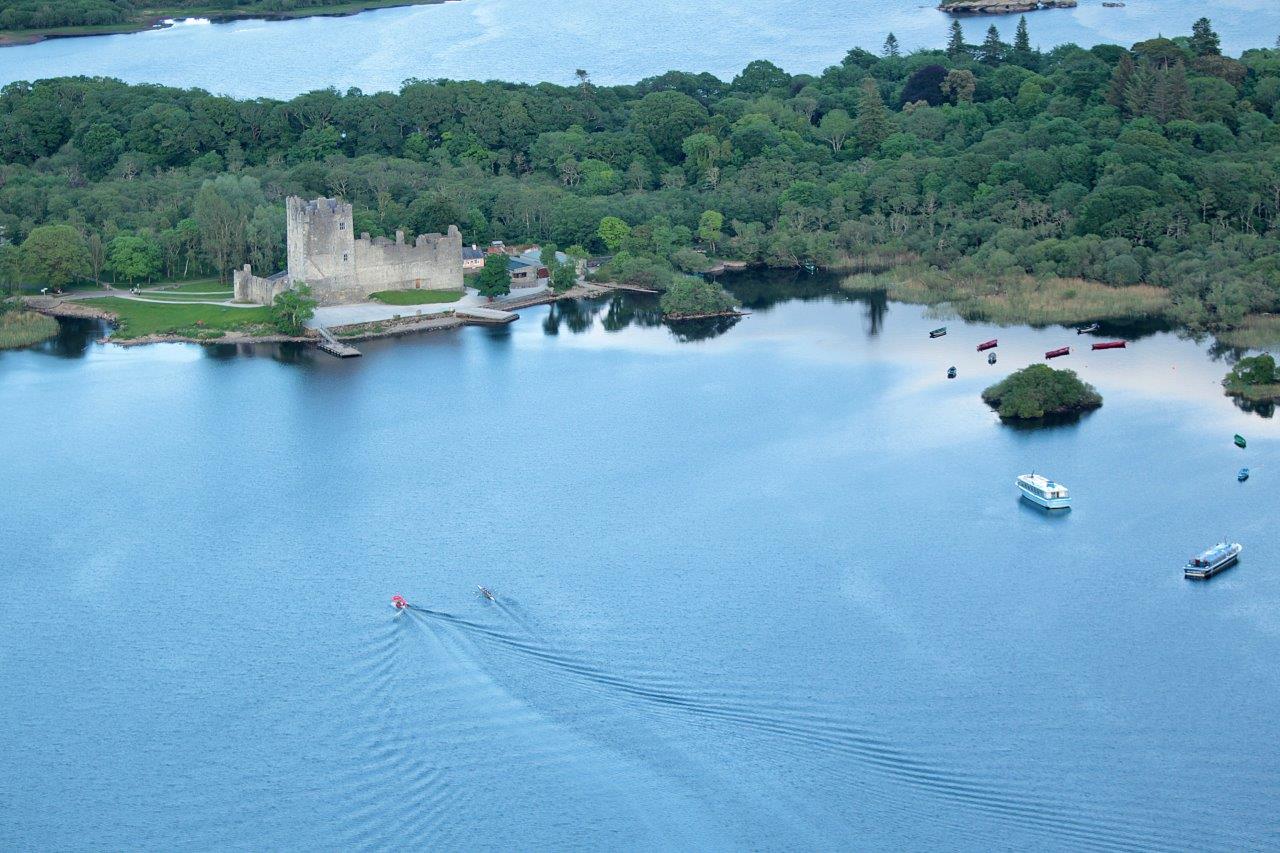 Cruise Killarneys Lakes with a trip on a variety of boat tours, water bus tours and lake tours. They offer scenic tours of Lough Leane, Killarney's largest lake, which set sail from the historic Ross Castle, Muckross Boat House, Dinis Cottage and Lord Brandons Cottage. Take a boat trip to the quaint and pretty Dinis Cottage on the Muckross Lake in Killarney National Park. The cottage, dating to the 1700's, was a hunting lodge and today it opens as a tea house. The romantic and peaceful Old Weir Bridge and the Meeting of the Waters are within walking distance from the cottage. Check out the windows of the cottage which feature the names of people who carved their names with their diamond rings dating back to the 1800's!
23) Pub Tour and Traditional Irish Music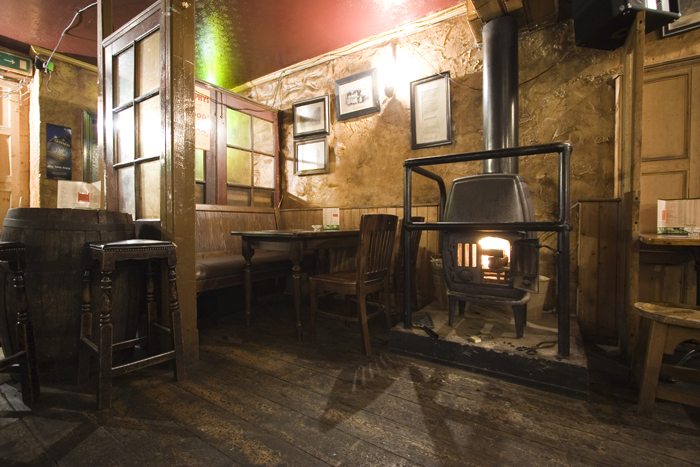 Visit Killarneys vast range of pubs from small fireside snugs to craft brewery's and from traditional music pubs to modern boutique style bars. For something extra, why not experience some of the finest pubs and Irish traditional music in the town of Killarney with a Killarney Music Pub Tour! Brendan O' Sullivan, founder of the tour, was a fiddler with Riverdance, so you can expect the finest calibre of traditional Irish music. The tour lasts two hours and takes you to two of Killarney's liveliest pubs, Courtneys and O'Connors. For bookings contact [email protected] or call 086 3612665 / 087 6129517.
24) Visit a Craft Brewery, Old Style Pub or Whiskey Bar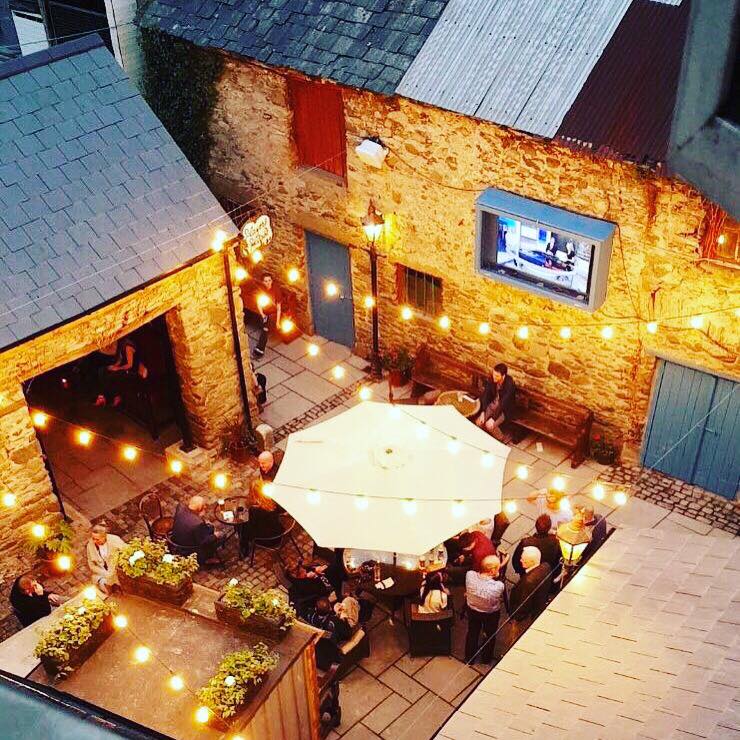 Visit the Killarney Brewing Company for a wildly entertaining Craft Brewery Tour and Tasting. The Independent Brewery gives an hour long tour of their aptly named beers such as Devil's Helles or Brazen Banshee. And they serve delicious wood fired oven pizza! What more could you want! Visit one of Killarneys newest pubs in what was one of Killarneys oldest shops and most photographed building, J. M. Reidy, with its old world charm and lovely courtyard area. For a more modern twist, visit Killarneys Celtic Whiskey bar and sample amazing whiskeys, spirits and craft beers.
25) 'Treasure Hunt' and Falconry in Killarney National Park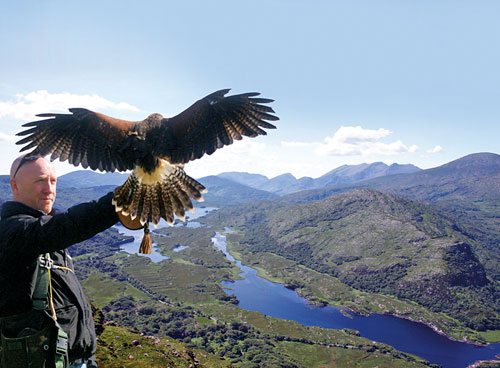 Lastly, rather that your usual tourist attractions and scenic views, why not try something different and unique. First up, how about an exciting Treasure Hunt in Killarney National Park which can be done on foot, by bicycle, by boat, by jaunting car, on horseback or a combination of any of the five choices?! Perfect for large groups and families and lots of fun! Second up is the exciting and memorable experience of flying a hawk around the grounds of Killarney National Park! Group & private hawk walks are available.
There is so much more we could add to this list!! See links below for more
Top 10 Outdoor Activities in Killarney
Top 10 Family Friendly and Easy Walking Routes  in Killarney
Top 10 Hikes and Walking Trails in Killarney
Top 10 Cycle Routes in Killarney
Top 10 Hidden Gems and places off the Beaten Track in Killarney
Top 10 Scenic Drives around Killarney
Top Annual Events in Killarney
Top 10 Day Trips and other suggested Itineraries in Killarney
Top Wedding Venues, Hotels and Photo Locations in Killarney