Tralee and the Bay Area
Blessed with Irelands best beaches, Tralee and the Bay Area, Co. Kerry is a unique collection of great holiday destinations along 100km (60 miles) of the Wild Atlantic Way scenic drive from Brandon Point in the west to Kerry Head in north. Backed by some of the Irelands highest mountains and best walking routes, the Bay Area has over 60km of sandy beaches, some of Irelands best watersport destinations, great cycles, fishing, golf and more. Download a high quality version of the below map here Tralee and Bay Area Map.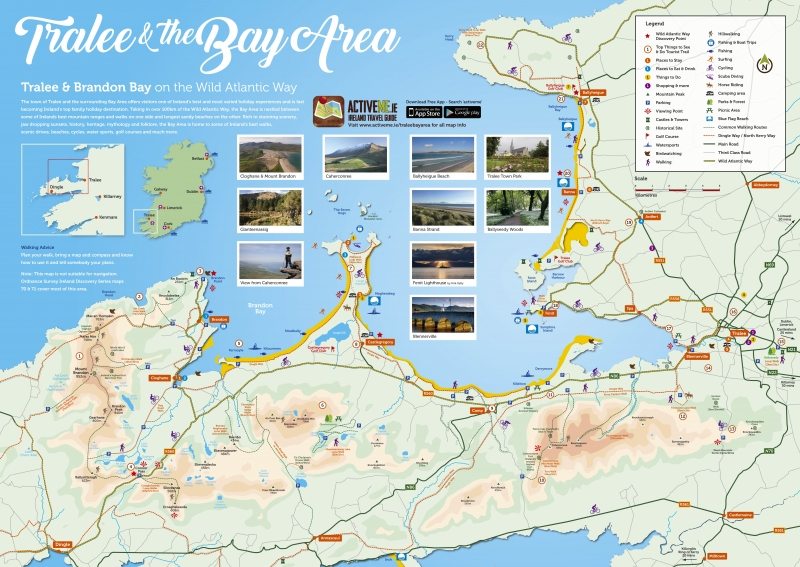 Covering an area of approx. 285 sq km, the relatively shallow Bay Area comprises both Brandon Bay and Tralee Bay divided by the Maharees peninsula. The Tralee Bay Area makes up nearly 5% of the total length of the Wild Atlantic Way route and contains over 60km of pristine sandy beaches, some of the longest continuous sandy beaches in Ireland and in Europe. The Tralee and Bay area includes a unique collection of great holiday spots and hidden gems and below are a collection of local businesses supporting the Tralee and the Bay Area as one of Irelands best holiday destinations. These businesses are listed below west to east.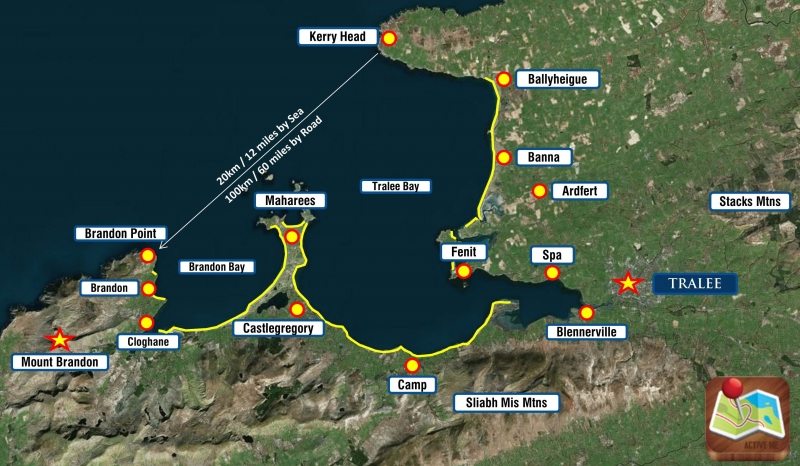 Great Places to Stay:
Great Places to Eat and Drink:
Great Things to See and Do:
Great Shopping and More
Best Things to See and Do in Tralee Bay Area from West to East                       
Mount Brandon Walk from Faha or Cloghane
Brandon Point view point, bird watching and tower walk
Sás Creek Walk from Teer, Brandon
Conor Pass scenic drive and walks
Fermoyle and Kilcummin Beaches
Glanteenassig lake, woods & loop walk
Maharees peninsula – watersports, surfing & walks
Castlegregory Blue Flag beach
Camp on the Dingle Way & Kerry Camino Walking Trails
Caherconree Fort & Mtn Walks
Killeltin Beach & Ancient Oratory on the Dingle Way
Tonevane Loop Walk and Horse Riding
Short Mtn Drive & Scotia's Grave walk
Blennerville Windmill
Ballyseede Woods Loop Walks
Tralee Town and several attractions
North Kerry Way Walk & Canal Walk
Fenit Beach & Lighthouse Tour
Ardfert Cathedral
Banna Blue Flag Beach and Camping
Ballyheigue Blue Flag Beach & Golf Club
Kerry Head – drive, walk and cycle
Best Easy and Family Walks in the Tralee Bay Area (from west to East)
Glanteenassig Lake Loop Walk (2km/<1hr)
Fenit Shore Walk to Lighthouse view (2km/<1hr)
Ballyseedy Woods Loop Walks (2km/<1hr)
Tralee Canal, River & Valley Loop Walks (~7km/2hr)
Beaches, Banna, Ballyheigue, Maharees & more (avg 3km/1hr)
Tralee Town Park (2km/<1hr)
Tonevane Loop Walk (2km/<1hr)
Scotia's Grave Walk (1.5km/<1hr)
Dingle Way Walk – various short sections (~4km/1hr)
North Kerry Way – Canal to Spa and back (6km/2hr)
Best Moderate and Mountain Walks in the Tralee Bay Area
Mount Brandon walk from Faha (8.5km/4hr)
Caherconree Fort (4k/2h) Family Friendly & Mtn Walks (6k/3h)
Sás Creek Walk (9k/3h) – part Dingle Way
Más an Tiompáin Mtn (12k/5h) – part Dingle Way
Kerry Head Loop Walk (20k/5h)
The Dingle Way walk – 70k Bay Area trail
Baurtregaum Mtn Loop (13k/6h)
Croaghskearda Mtn Walk (10k/4h)
Maharees Loop Walk (14k/4h)
North Kerry Way – Tralee to Kerry Head (48km)
Best Cycles and Drives in the Tralee Bay Area
Wild Atlantic Way around Bay Area
Tralee to Dingle & Slea Head Loop
Caherconree & Short Mtn Loop
Kerry Head Loop
Conor Pass Mountain drive
Tralee, Fenit & Ardfert Loop
Ring of Kerry
Kid Friendly – Cycle Ballyseede Woods
Kid Friendly – Cycle Banna Beach at low tide (check online)
Kid Friendly – Cycle Tralee Town Park & Tralee Greenway
Best Beaches and Fishing Spots in the Tralee Bay Area
Fermoyle and Kilcummin Beaches
Maharees 'Back Beach'
Magherabeg/Castlegregory Blue Flag
Killeltin & Derrymore Beaches
Fenit Blue Flag and 'back' Beach
Banna Blue Flag Beach
Ballyheigue Blue Flag beach
Lough Gill Fishing, Castlegregory (Trout)
Fishing shore marks, google 'tralee fishing activeme'
Sea Fishing Charters – Brandon, Maharees or Fenit pier
Festivals and Events in Tralee and Bay Area
Feb – Valentine's 10 Miler Run, Tralee
Mar – Tir Na Nog Children's Festival
Mar – St. Patrick's Day Parade, various locations
Mar/Apr – Tralee Marathon, Half and Full
Mar/April – Tír na nÓg Children's Festival, Tralee
Apr – Cloghane Brandon Walking & Music Festival
Apr – The Banna Beast Challenge Obstacle Race
Apr/May – Dingle Peninsula Cycling Challenge
May – Kingdom County Fair, Tralee
May – Kerry Camino Walking Festival, Tralee
Jun – Dingle Way Walking Challenge
Jun – Féile na mBláth & Park Family Festival, Tralee
Jun – St. Brendan's Medieval Festival, Ardfert
Jun- Kerry International Horse and pony Racing, Tralee
Jul – Brandon Bay Half Marathon & 10k – Beach Run
Jul – Castlegregory Summer Festival, Maharees
Jul – Ballyheigue Summer Festival, Ballyheigue
Jul – Feile Lughanasa Celtic Harvest Festival, Cloghane
Aug – Rose of Tralee International Festival
Aug – Rose of Tralee 10k Run
Aug – Heritage Week, various events
Sept – Tralee Food Festival
Sept – Kerry Culture Night
Oct – Castlegregory Walking Festival
Oct – Kerry Film Festival – October
Oct – Christie Hennessy  Music Festival, Tralee
Oct – Halloween Hunted Hall, Kerry County Museum
Oct – Annual Steam Threshing Festival, Blennerville
Nov – National Circus Festival of Ireland, Tralee
Dec – Christmas Spraoi in Tralee
Dec – The Festive Hall, Kerry County Museum
Tralee Farmers Market – Saturday 10-2:30
Castlegregory Country Market – Sun 10am to 1 – June to Sept
Blennerville Famers Market – Sun 11am to 3
Please check event dates as some may change
Destinations in the Tralee Bay Area
The villages of Brandon and Cloghane are nestled at the foothills of Mount Brandon and are an ideal walking base and are main points on the Dingle Way walking trail. Click here for local businesses and more information. Read more here.
Castlegregory and the Maharees peninsula are famous for great beaches, watersports, wildlife, golf, fishing, horse riding, the Dingle Way Walking Trail walking and ancient heritage on the Seven Hogs Islands. Click here for local businesses and more information.
Camp is blessed with unspoiled sandy beaches perfect for swimming, great mountain walks, scenic cycles, the Dingle Way walking trail, ancient forts and stories of Irish Mythology.
Walk from Blennerville, with its famous windmill and visitor centre, to Tralee on a beautiful 2km Canal walk. The area is also a popular area for bird watching, walking, horse riding and cycling.
Tralee town is a great holiday destination whatever the weather and especially for families. Fill your day with great things to see and do, including the Town Park, County Museum, Aquadome, Wetlands, Siamsa Tire, Greyhound Stadium, the scenic canal walk  and more. Tralee is a great base to explore Kerry & Wild Atlantic Way.
Fenit is an ideal seaside village, home to a great Blue Flag beach, watersports activity centre, kids playground, great walks, pier and charter fishing and now with boat tours to the picturesque Fenit Lighthouse.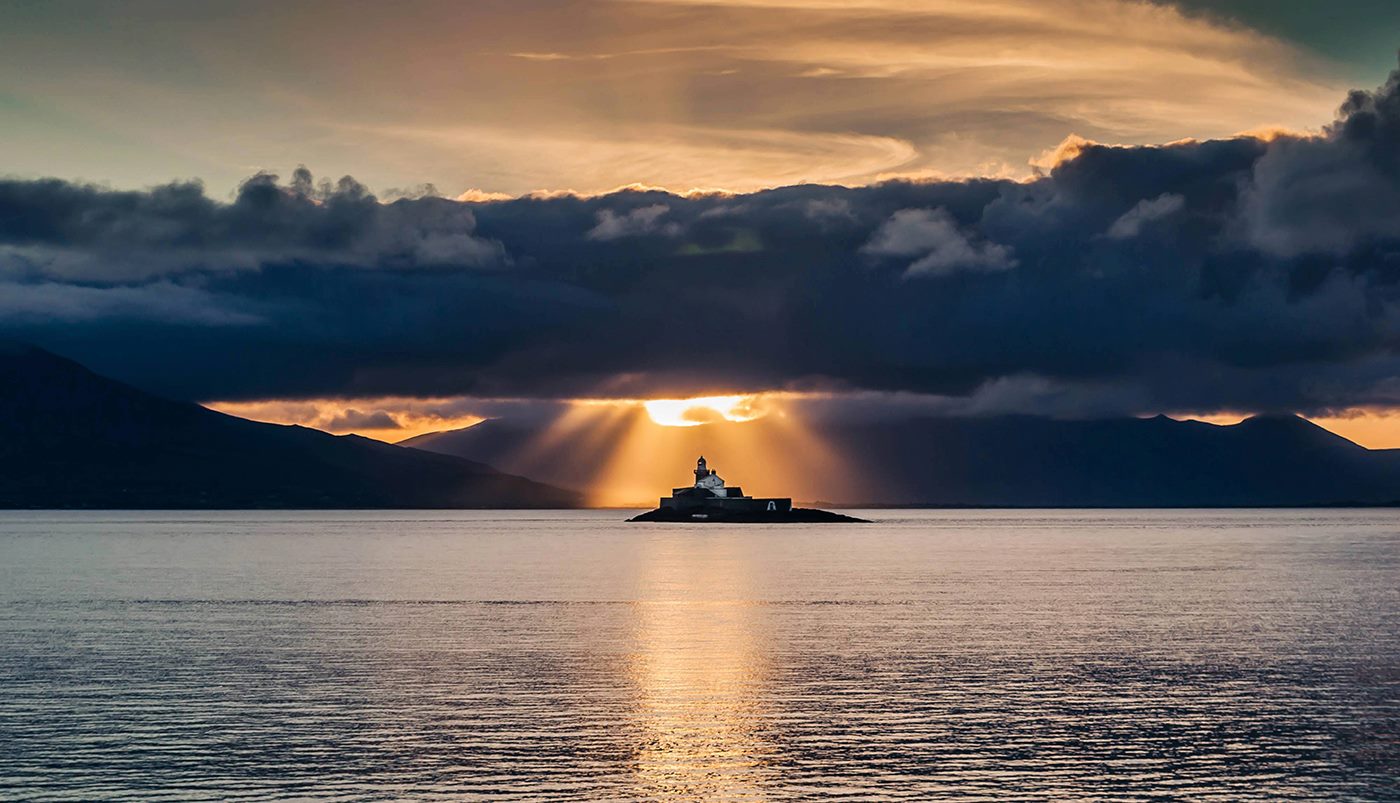 Steeped in history, heritage and mythology, Ardfert village, a great rest stop on the Wild Atlantic Way is the Medieval Capital of Kerry with the ruins of Ardfert Cathedral built in 1111AD. Born near Fenit, St. Brendan the Navigator was educated in Ardfert around 500 AD and founded a monastery in the 6th century.
Backed by stunning sand dunes and jaw dropping views of the Bay Area and Mountains in the distance, Banna Strand Blue Flag beach was voted Irelands best 2017 by Tripadvisor and for good reason. Walk for miles, enjoy a dip and watersports at this amazing holiday destination.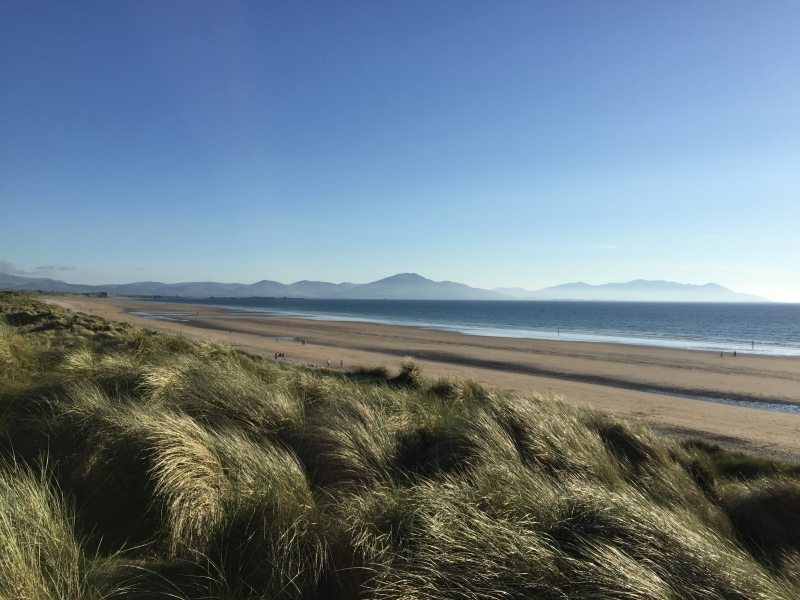 The ever popular seaside village of Ballyheigue boasts a glorious 3km long Blue Flag beach, stunning views from the Golf Course and the scenic Kerry Head drive, rich in ancient heritage.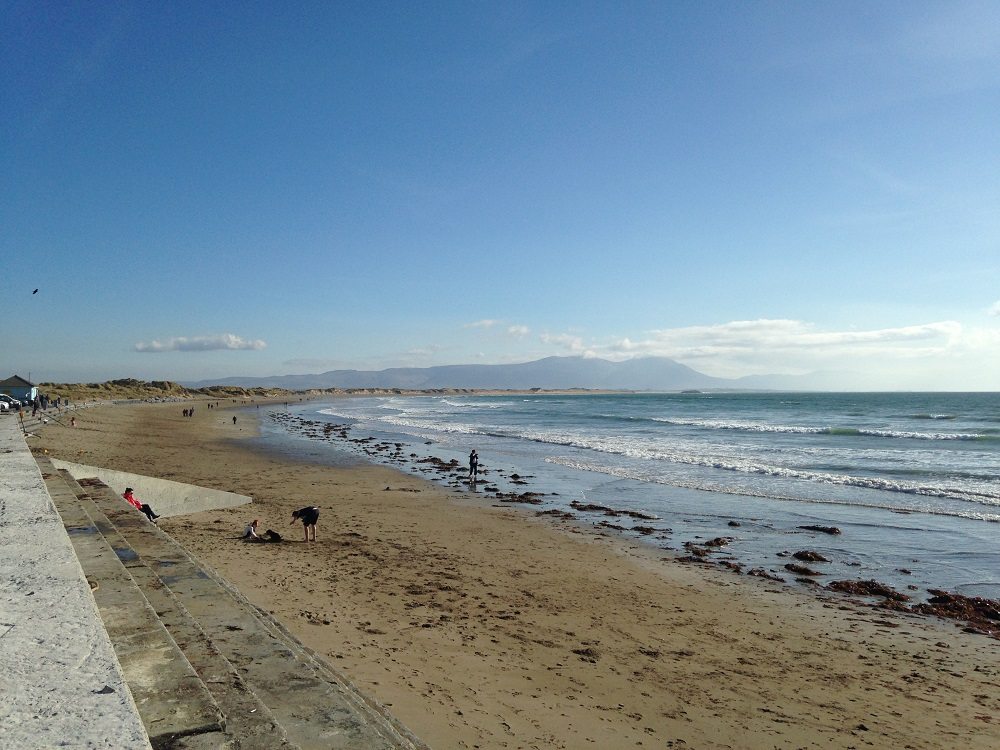 Tralee is the starting point for the Dingle peninsula and Slea Head scenic drives
15 mins from Kerry Airport, Farranfore
30 mins from Killarney Town, Lakes, National Park and Carrauntoohil Mountain
25 mins from the world famous Ring of Kerry scenic drive and cycle and the Kerry Way Walking Route
40 mins from Dingle Town and the great Things to See and Do on Dingle Peninsula
Tralee is the starting point for both the Dingle Way and North Kerry Way long distance walking routes
Tralee is 2 hours from Cork City, 3 Hours from Dublin and 3 Hours from Galway

Tralee is Ireland's Family Holiday Capital with loads of family friendly fun and great things to do for kids even on rainy days:
Best Beaches in Irelands – Over 70km of sandy beaches in the Bay Area
5 Blue Flag beaches in the Bay Area
Watersports around every corner, from surfing to kayaking
Family Friendly walking and cycling routes including the Tralee Town Park, Ballyseedy Woods and more
Other family friendly walks including Tonevane, beaches, Fenit Promenade, Canal to Blennerville
Explore the lakeside Glanteenassig Woods and climb the Stack Mtns (Hills!)
Great Kids Playgrounds – Tralee Town Park, Ardfert, Cloghane, Ballyheigue, Camp, Castlegregory, Fenit, and more
Tralee Aquadome
Kerry County Museum with kids
Tralee Bay Wetlands Centre
Playdium Kids Adventure Centre
Buddies Bowling
Cycling on Banna Beach at low tide
Best Places to Visit and Top Things to Do around the Tralee Bay Area:
Kerry County Museum
Blennerville Windmill and Model Railway
Tralee Bay Wetlands Centre
Fenit Beach, Pier and Lighthouse Walks
Tralee Town Park
Aquadome Indoor Water Park
Banna Strand Beach
Tralee Golf Club
Killelton ancient Oratory and ruined village
The Playdium Kids FunZone
Scotias Grave, Slieve Mish Mountain Valley
Sea Fishing Boat Charter from Brandon and Fenit
Short Mountain Scenic Viewing Spot
Ardfert Cathedral
Siamsa Tire National Folk Theatre
St Johns Church
Más an Tiompáin Ogham Stone
Sás Creek, Brandon
Ballyseede Woods
Brandon Point
Kerry Head
Sean Óg's Pub – music and craic
Caherconree Mountain and ancient Stone Fort
Diving in the Maherees
Horse Riding in Tonevane
Surfing in the Maherees, Brandon Bay
Blue Flag Beaches of Fenit, Castlegregory, Banna and Ballyheigue
Swimming in
Tralee Court House
Best Long Distance Walking Routes Around Tralee:
Best Hikes and Walking Routes Around Tralee, Dingle and North Kerry: