Author:

ActiveME

Created:

November 8, 2016

Updated:

December 12, 2017
Categories:
Distance

164 miles

Time

0 s

Speed

0 mph

Min altitude

3 ft

Peak

778 ft

Climb

4,416 ft

Descent

4,419 ft
From a landscape and people who inspired the works of WB Yeats to prehistoric ancient tombs and Irish Mythology, the Yeats County and Lough Gill Scenic Loop Drive or Cycle in Co. Sligo is a 185 km / 115 mile scenic road trip and heritage trail through some of the most scenic, interesting and awe inspiring areas on Irelands Wild Atlantic Way. Starting and ending in the centre of Sligo, this drive give you a great mix of Irish culture, scenic views, literary history, beaches, Irish mythology, mountains, walks, ancient tombs, cycles, watersports and more. See the online map of the route at the end and take this Sligo driving route with you on our free App for iPhone and Android and share your photos on the ActiveMe facebook page.

Places to Stay: coming soon
Places for Food and Drink: coming soon
Places for Entertainment: coming soon
Tours or Local Guide: coming Soon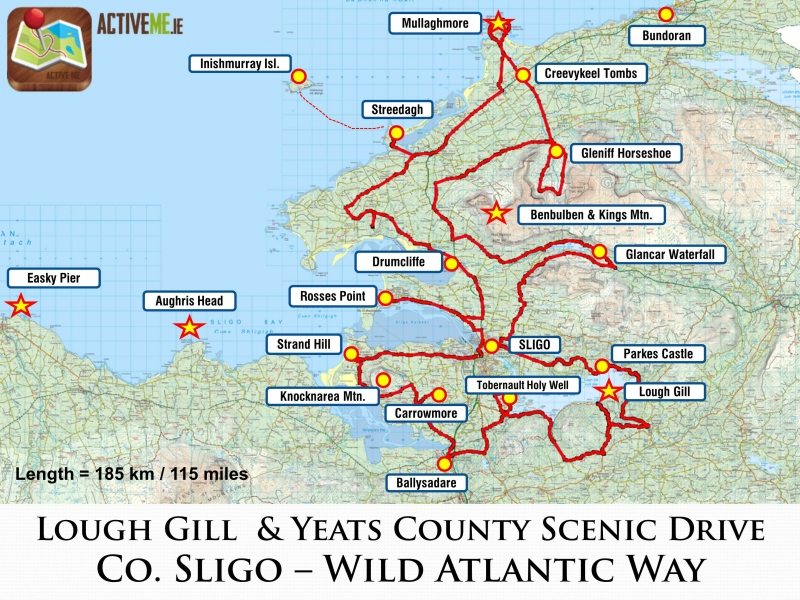 Starting in the centre of Sligo, the first place on the tour is a walk through Sligo Abbey located in the centre of town. Built in 1253, Sligo Abbey appears in two stories by WB Yeats and was in fact a Dominican Friary. Sligo also has connection to Bram Stoker of Dracula fame.  His mother was born here in 1818 and her diary is on display in the Abbey Visitor Centre. To the very west on the tour is Strandhill Beach and village, a world renowned surf location and a surfers paradise for both the novice and experienced surfer but unfortunately swimming here is unsafe. This seaside resort also have a great 18 hole golf course.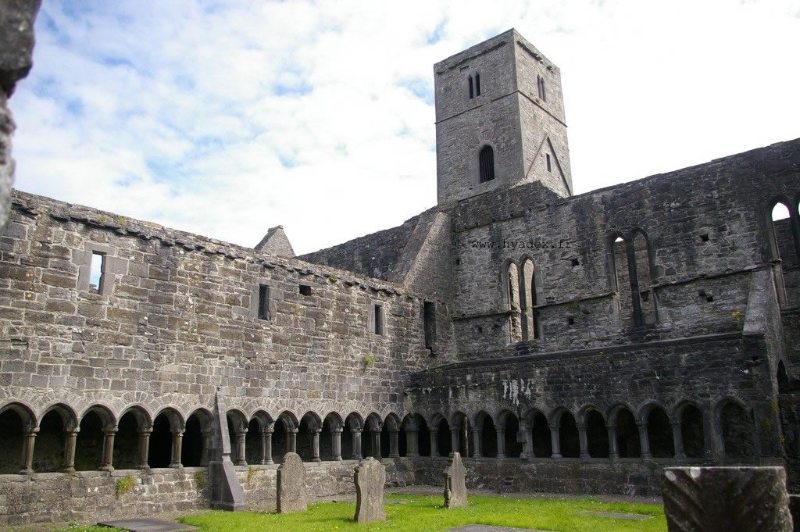 Bram Stokers mother Charlotte Thornley survived a major cholera epidemic in 1832 when around 8,000 people died in Sligo and were buried in mass graves. Her ghastly tales of this terrifying time are said to have had a major influence on Bram Stoker and his most famous book, Dracula, published in 1897. Like a scene from Dracula itself, she recalled in her diary that 'the living struggled to bury the dead' and that a tower of bodies were piled on top of a 15th century high altar as this was the only sacred place left. With many buried quickly in shallow graves, it is claimed that she saw body parts were still protruding from the ground and limbs broken to fit into coffins.  In fact the word Dracula comes from the Irish word Droch Ola, which literally means Bad Blood.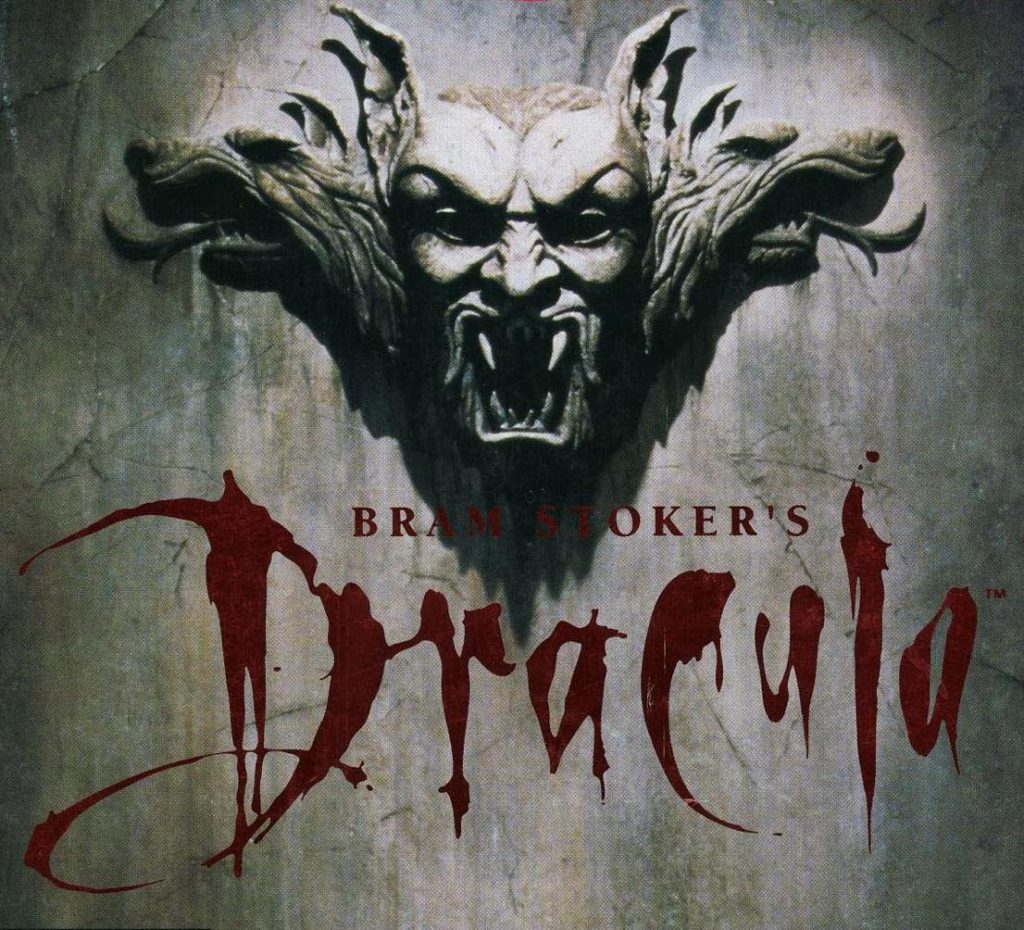 Overlooking Strandhill beach and mentioned in many works of WB Yeats, Knocknarea Mountain (Cnoc na Rí) is an easy 1 hour / 2.5km introduction to hill walking and Irish Mythology. At the top is a huge Cairn steeped in Irish mythology and known as Queen Maeve's Cairn (Meadhbh in Irish) or Tomb / Grave with spectacular views of the Sligo and Wild Atlantic Way coastline. Thought to be 5,000 years old, Irish folklore however suggests it was built for the mythical Iron Age Queen Maeve in 100 AD, best known for the famous story Táin Bó Cúailnge (Cattle Raid of Cooley) to steal Ulster's prize stud bull and whose father, Eochaid Feidlech was the high king of Ireland.
This entire area is rich in ancient Irish history and our next stop Carrowmore Megalithic Cemetery, one of the most important and significant prehistoric cemeteries in Europe with several Dolmens and Passage tombs as important as Newgrange and others around Ireland.  To the south is Ballysadare village, renowned for its connection with WB Yeats who stayed here many times, taking much inspiration from the area including his well know poem, 'Down by the Sally Gardens'.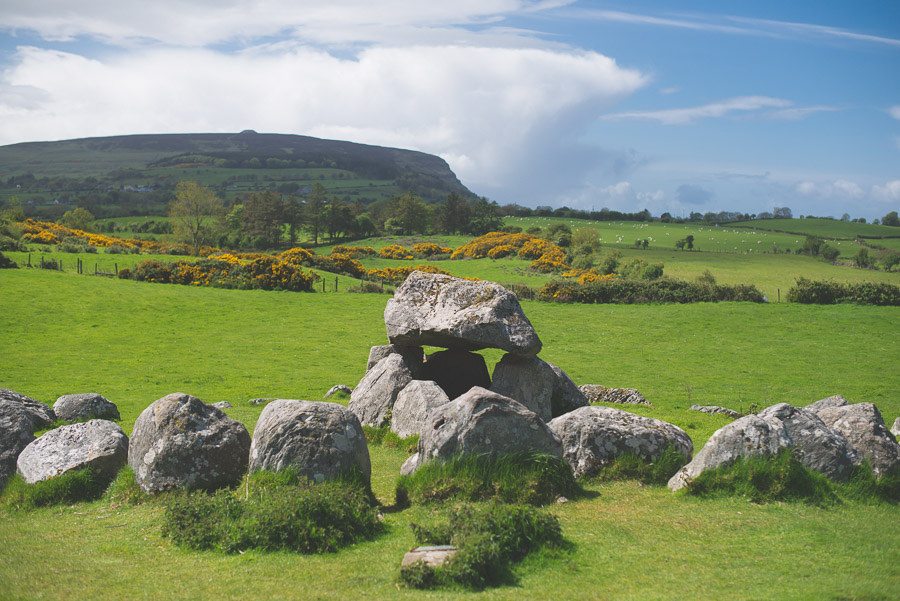 From here you travel north east towards Lough Gill, visiting two scenic viewing spots in addition to the serene Tobernalt Holy Well which has a pagan history well before the arrival of Christianity and was an important meeting place and where catholic priests celebrated mass in secret during the Penal Times where England imposed harsh laws to force out and stop Catholics practicing their faith. At approximately 8km long (5 miles) and 2km wide (1 mile), the picturesque Lough Gill is rich in heritage,  a joy to drive around and the views are simply breathtaking. A birdwatchers paradise, the lake is surrounded by the wooded hills and mountains of Slieve Killery and Slieve Daean with plenty of walks, nature trails, viewing spots and places to see such as Dooney Rock, the lovely village of Dromahair, the ruins of Creevelea Friary, the 17th century Parkes Castle and around 20 islands including the Isle of Innisfree made famous by W.B. Yeats. You can take a waterbus from near Parkes Castle to Innisfree.
Heading north from Lough Gill the impressive cliffs of Kings and Benbulben Mountain loom overhead as you follow the N16 east into the scenic and Glencar Valley where you circle the tranquil Glencar Lake visiting the impressive 30m Glencar Waterfall and scenic viewing spot which, inspired W. B. Yeats to write the following lines, 'Where the wandering water gushes, From the hills above Glen-car, In pools among the rushes, That scarce could bathe a star...'. Skirting the base of Kings Mountain, the route now travels north east passing the iconic Benbulben Mountain (526m) and distinctive cliffs, vertical gullies and plateau of Kings Mountain (462m) also known as Fionn mac Cumhaill (McCools) Table from Irish Mythology somewhat similar to Table Mountain in South Africa.
Why not put on your boots, hire a guide and try the 8km (3-4hr) loop walk to Benbulben and Kings Mountain and experience one of the best mountain walks in Ireland in terms of views, history, heritage and local stories. Well known in Irish Mythology these mountains are said to be the dwelling of the giant Fionn mac Cumhaill (Finn McCool) and his band of Fianna warriors who lived in the 3rd century. The mountain is also said to be Diarmuid and Gráinne's final resting place. During WWII,  2 planes crashed close to Benbulbin, a US plane on 9th Dec 1943 which killed 3 but where locals residents saved 7 men and on 21 Mar 1941, all 9 were killed when an RAF flying boat crashed here.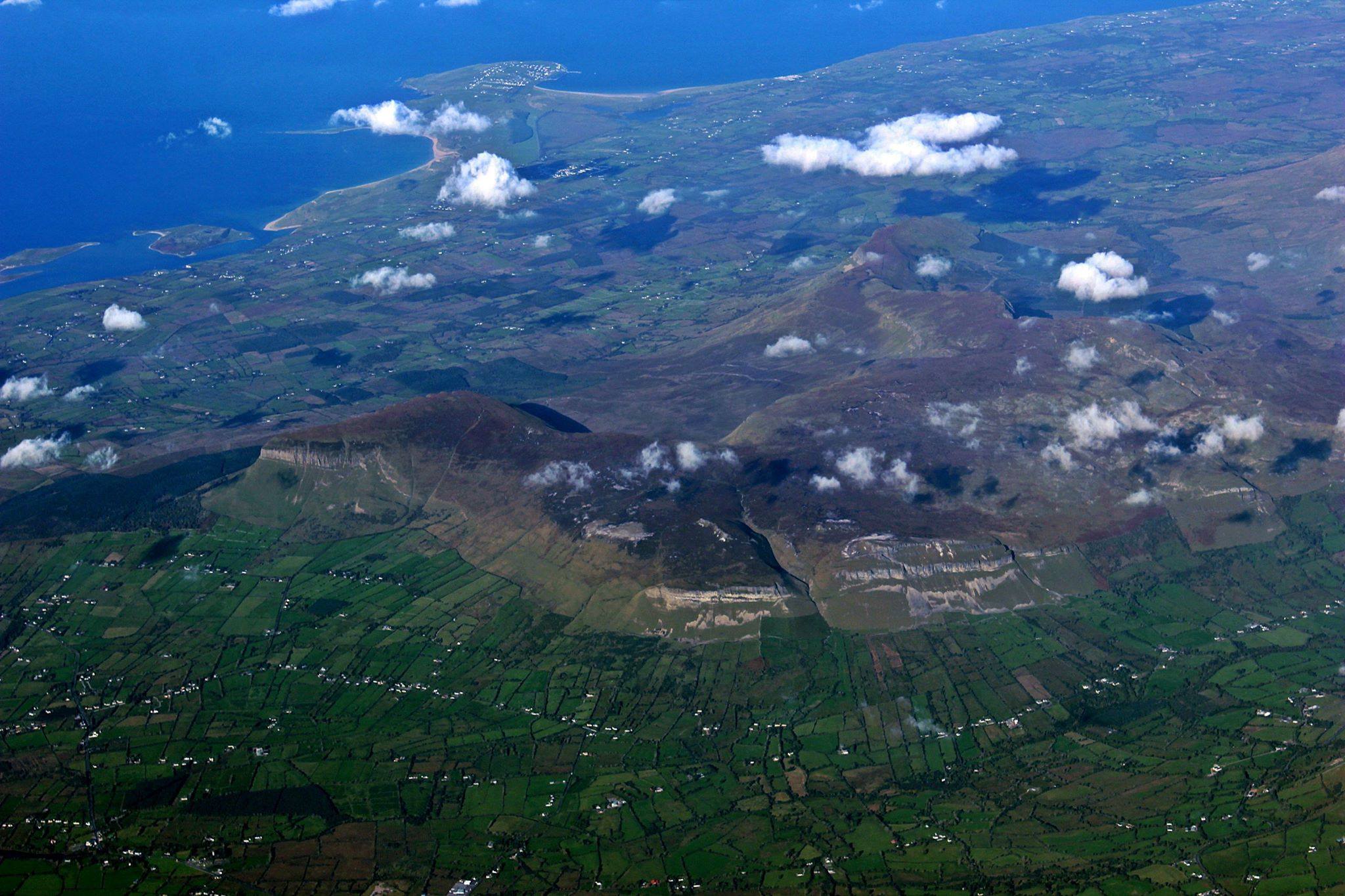 The next stop on the tour is the Gleniff Horseshoe scenic drive in the valley between Truskmore (647m), Benwiskin (514m) and the Kings Mountain plateau. So peacefull and quiet now, its hard to believe now but this area was a hive of industry and mining up until the 1950's. There was even a railroad built from here to Mullaghmore to transport materials and goods. From the valley floor, you can see an arched cave about 400m up on the mountain slopes, Irelands highest cave, said to be the last hiding place of Diarmuid and Grainne of Irish Mythology, on their perpetual flight from Fionn MacCumhaill leader of the warrior Fianna. There are many stories of Diarmuid and Grainne from around Ireland including Loop Head and Slievenamuck near Tipperary among others.
This Legend of Irish Folklore and Mythology goes that Grainne, daughter of the High King Cormac Mac Airt, was married to Fionn at Tara in County Meath. At the wedding feast the fickle Grainne fell in love with the younger warrior Diarmuid, and persuaded him to elope with her. Next day, the vengeful Fionn set out in pursuit of his former comrade in arms and his faithless bride. Fionn's pursuit was relentless but the hunted couple eluded their pursuers for many years. Here on the slopes of Benbulben, Diarmuid met his end. While sleeping in the Gleniff cave, the couple were awakened by the baying of hounds hunting boar on the slopes of Benbulben. Next day, word came that the boar was slaughtering Fionn and the Fianna. Grainne begged him not to go, reminding him of the prophecy that he would meet his death by the great boar of Benbulben. Despite her entreaties, Diarmuid's warrior instinct prevailed and he went out to meet his fate, killing the animal but being mortally wounded. Fionn, coming on Diarmuid in the pangs of death, felt sorry for him but would not save his unfaithful comrade, and thus ended his fabled pursuit of the lovers.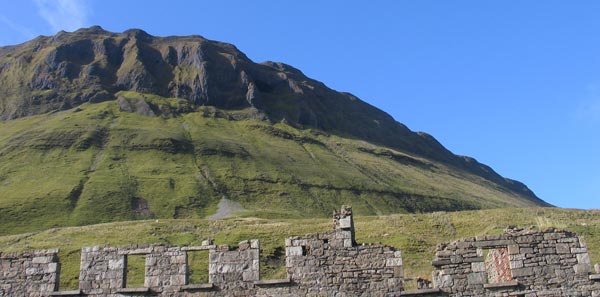 Passing Ballaghnatrillick village heading north west where you meet the main Bundoran Road (N15) you will come to the Creevykeel Court Tomb. Built around 3000 BC it is considered the finest example of a court tomb in Ireland. From here you continue north to the popular holiday destination of Mullaghmore peninsula and village where you can enjoy the fine beaches, try your hand at surfing or join or charter a deep sea angling boat. Mullaghmore is one of the best big wave surfing locations in the world and attracts surfers from around the world during times of big swells. Nearby you will see the private but photogenic Classiebawn Castle which was built in 1874 for the Viscount Palmerston and was then home to the Mountbatten family.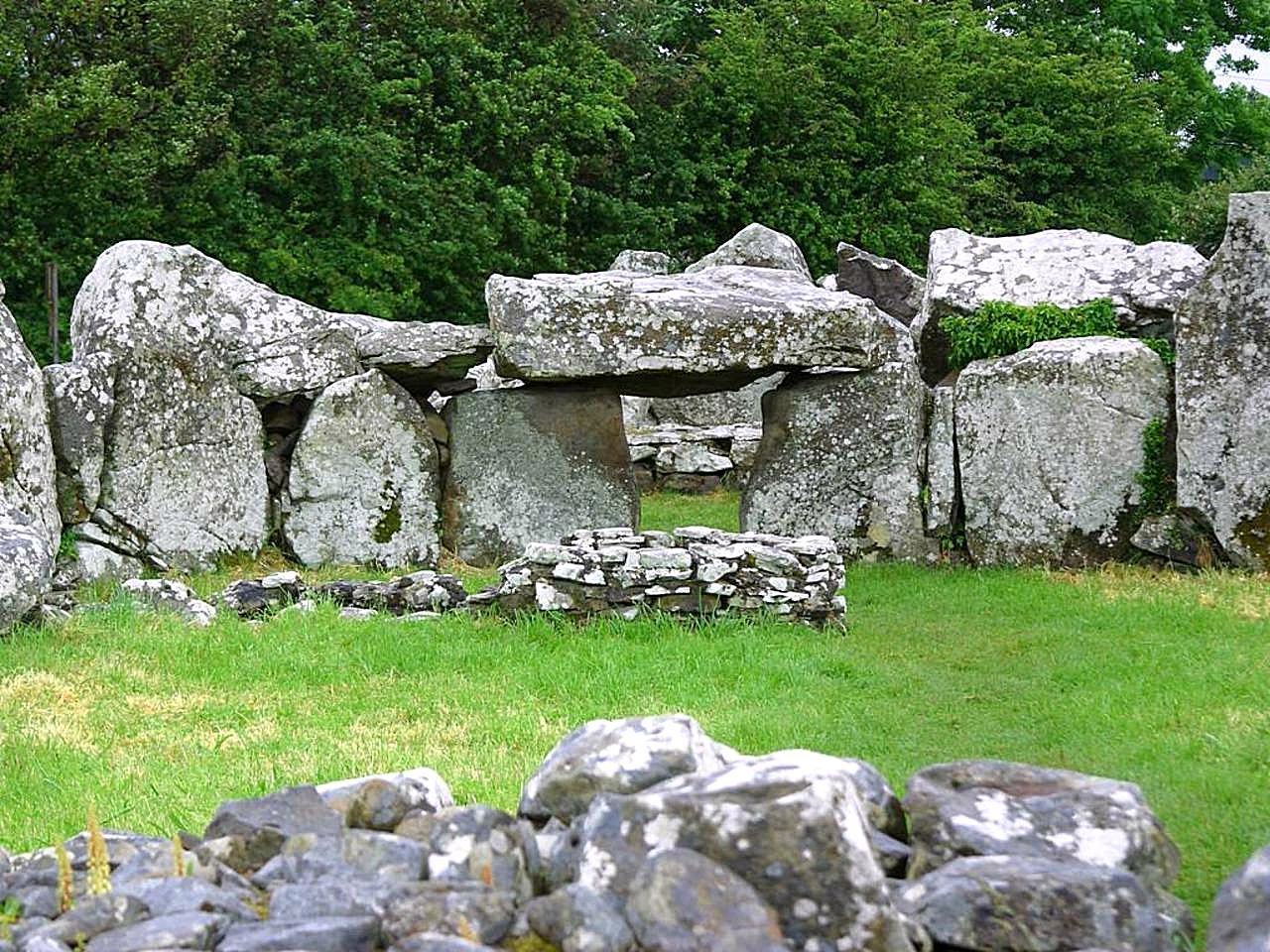 Leaving Mullaghmore, you pass the villages of Cliffony and Grange before arriving at Streedagh beach and sand dunes which is again a popular surf spot. Three Spanish Armada ships foundered off Streedagh point here in 1588. They were the La Lavia, La Juliana and the Santa Maria de Vison. In 2015, after a storm, divers amazingly recovered a bronze cannon from the La Juliana. Off the coast is the deserted Inishmurray Island which has a superbly preserved early christian monastic settlement and boats trips to the island can be arranged with local boatmen.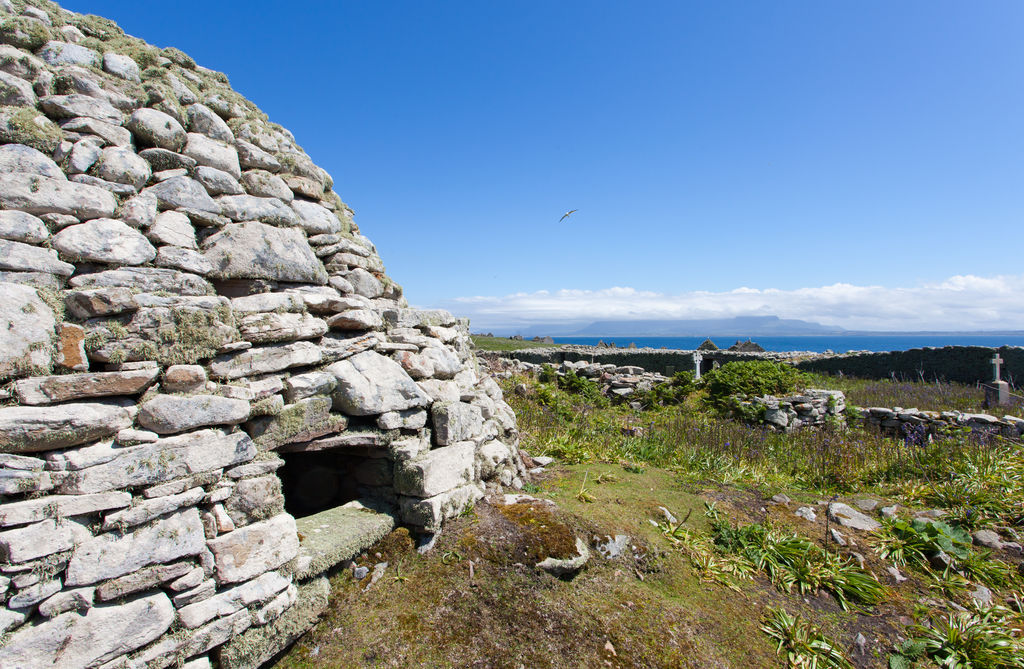 Next is the village of Drumcliffe and a site of an ancient monastic settlement founded by St. Colmcille in the 6th Century which retains only the last stump of an ancient round tower and a fine carved high cross from the 11th century. The churchyard in Drumcliff contains the grave of W. B. Yeats who died in 1939 in France. His headstone bears the epitaph: 'Cast a cold Eye, On Life, on Death. Horseman, pass by!'. The last place on this magnificent tour is Rosses Point which is probably one of Sligo most popular holiday destinations with its  pretty village, great sandy beach, yacht club and a championship golf links course.
Although this scenic drive is 185 km in length, its compact nature allows you to easily explore the entire areas on day trips from a central base. Take this Sligo driving route with you on our free App for iPhone and Android and share your photos on the ActiveMe facebook page.

Using drone footage at its best, here is a superb video by Alan Dennedy which captures many of the sites on the ActiveMe Sligo Scenic Drive through Lough Gill and Yeats County.
Welcome to County Sligo from Alan Dennedy on Vimeo.