Grab your helmet and get set for Ireland BikeFest Killarney, which takes place this June Bank Holiday Weekend, Friday 3rd to Monday 6th June 2016. BikeFest is Ireland's largest free open biker festival. All makes, models and manner of bikes are welcome and motorbike enthusiasts travel from all over the world to celebrate BikeFest.

BikeFest is headquartered at the Gleneagle Hotel, alongside Killarney National Park, where the Bike Village is the main centre of activity. Visitors can browse the many trader stands selling all kinds of specialised biker wares, enjoy music or they can dine at one of the festival's many food outlets. However, the best way to celebrate bikes is on a Ride Out and there's no better backdrop than the picturesque town of Killarney and the County Kerry. Miles and miles of winding roads with amazing scenery around every turn. Once you experience a ride out in Kerry you will understand why it is known as The Kingdom!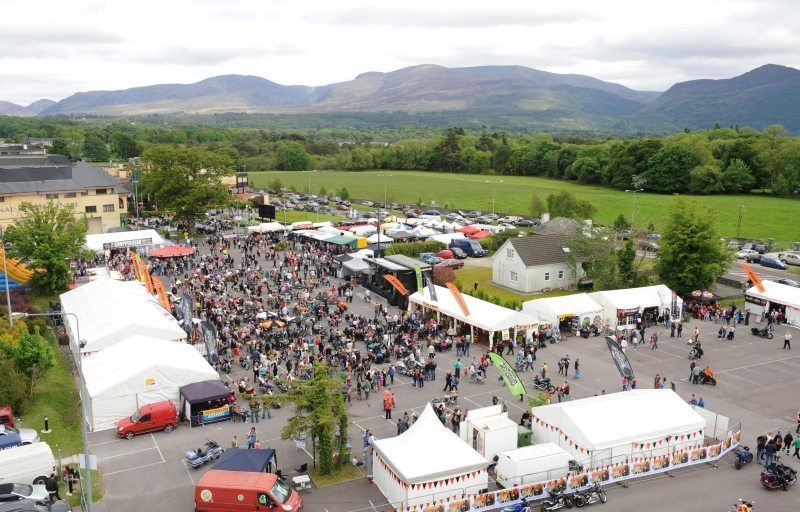 The Village is also the base for the daily Ride-Outs along the Wild Atlantic Way marshalled by Celtic Thunder Chapter Ireland and Gaelic Chapter Ireland, the free Harley-Davidson® demo rides, the Waterford and Dublin Harley-Davidson® Dealers, H.O.G.® and Rider Services, Jumpstart, the Technical Area and the Custom Bike Show. It is also the ideal spot to sit back and relax after a day's touring and listen to the live bands and DJ's perform on the festival's outdoor stage. See more information here www.irelandbikefest.com. Guided Ride Outs By pre-registration only – register with the H.O.G. Chapters in the H.O.G. Hospitality tent, located in the Bike Village. Places are limited so signup early!
You can explore the beautiful surroundings of County Kerry on daily guided and self-guided ride outs. Discover the breathtaking Ring of Kerry or Dingle Peninsula & Slea Head both of which form sections of the Wild Atlantic Way driving route along Ireland's west coast. Create your own routes and venture through Kerry's exciting landscapes. Click on this years Guided BikeFest Ride Outs below for more information, detailed google maps and GPS files:
Celtic Thunder Chapter 75km/3hrs Ride Out tour to Kilgarvan, Kenmare, Molls Gap, Ladies View, Killarney
Celtic Thunder Chapter 85km/2hrs Ride Out tour to Killorglin, Caragh Lake, Glencar, Beaufort, Killarney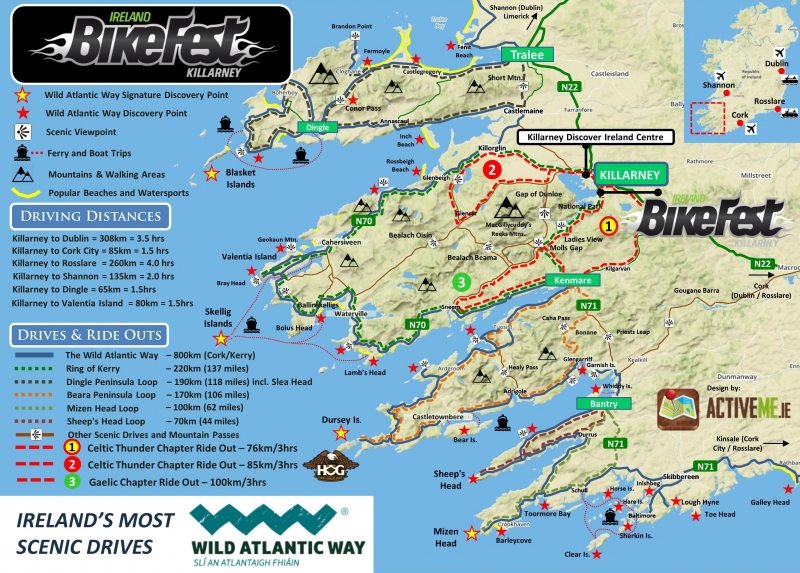 A sample of the other Self-Guided Routes available include:
Tweets about BikeFest Killarney