Author:

ActiveME

Created:

January 23, 2014

Updated:

December 12, 2017
Categories:
Distance

3,836.90 km

Time

0 s

Speed

0.0 km/h

Min altitude

1 m

Peak

268 m

Climb

4593 m

Descent

4505 m
Enjoy our free Wild Atlantic Way travel guide, route map and GPS info for this scenic coastal drive, walk or cycle along Ireland's Wild Atlantic Coastline.  This signposted route stretches 2,750 km (1,700 miles) along the remote winding west coast of Ireland from Kinsale in Co. Cork in the south to Co. Donegal in the north where it connects to the Causeway Coastal Drive and onto Belfast. Use our guide below to plan and book your perfect holiday itinerary.
The overall route map including discovery points is shown below and scroll down to the end of the page to see our google route map, directions and to download the GPS route. You can also view and follow the Wild Atlantic Way route on our Free ActiveMe App on iPhone and Android now. Photos by the great Valerie O'Sullivan, Photographer with ActiveMe.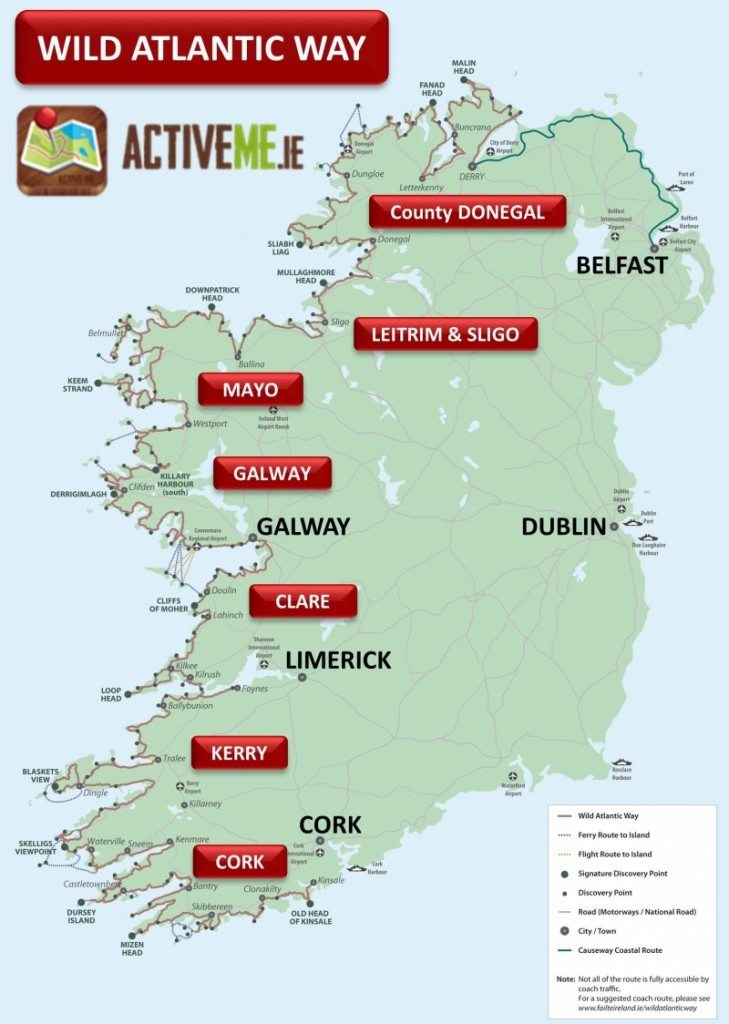 The beautiful seascapes of the Wild Atlantic Way route charts the rich diversity of the precarious and intriguing Atlantic seaboard at the edge of Western Europe. The Atlantic coastline has intrigued and mystified visitors who leave in wonder of how the sea has defined and shaped Ireland and its people for over 10,000 years. From seeing this coastline for the very last time as emigrants left Ireland for a new life in the US in the 1800's to viking raids on the Skellig Islands in 823 AD, the Wild Atlantic Way can tell some of the best stories and provide some the best holiday experiences in the world. Photo: Valentia Island Lighthouse during an Atlantic storm, Co. Kerry by Valerie O'Sullivan.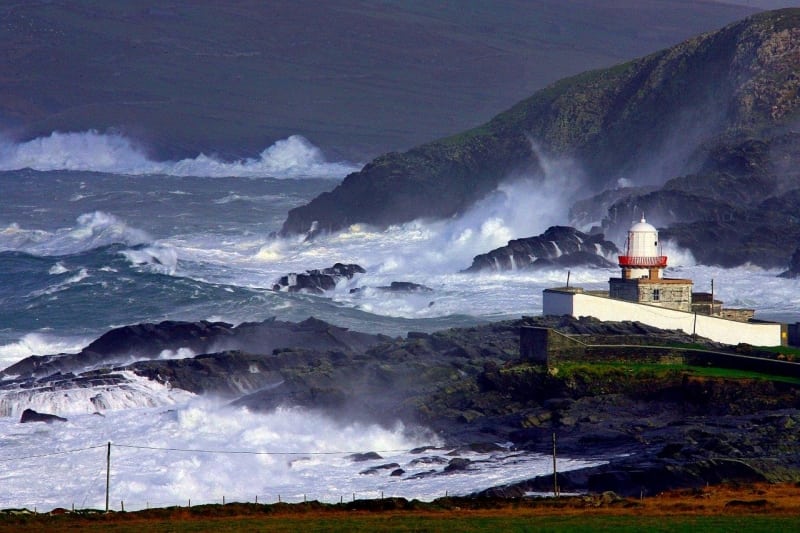 To tell the story of the Wild Atlantic Way and it's people who carved out a living on the coast, you must look at everything from coastal villages, fishing, collecting seaweed, swimming, awarding winning artisan foods, cliff top ancient forts, sport, harvesting the sea, folklore, seafood restaurants, pirates, kayaking, heritage sites, ferry boats to the islands, adventurers, artists, crab fishing, surfers, emmigration, remote island monasteries, story tellers, vikings, boat trips, seaside towns, high kings, Islanders, sailing, colourful seaside cottages, mythology, windswept lighthouses to uninhabited islands. All these experiences serve as a rite of passage on the Wild Atlantic Way. With over 180 key discovery points along the route to visit, don't forget to get out of the car, talk to the locals and find the hiddens gems which will make your holiday a life changing experience.
The Wild Atlantic Way can be enjoyed over a few 'very fast' days to several weeks, with 1,000's of attractions, scenic views, heritage sites and activities including walking, cycling, kayaking, surfing, fishing and more, over 50 Blue Flag beaches, nearly 20 long distance walks, over 120 Golf courses and over 500 festivals and events to enjoy during each year.
Below are a number of suggested itineraries for each county which you can use to plan and book your holiday in Ireland and if you need to rent a car to experience the Wild Atlantic Way then visit www.carhire.ie. If you find a better price elsewhere Carhire.ie will beat it.

Wild Atlantic Way Route Maps and Guides by County 
The following are detailed route maps and guides for each county on the Wild Atlantic Way.
Sligo and Leitrim – Route Map and Guide (coming soon)
Donegal – Route Map and Guide (coming soon)
These county by county route guides contain more accommodation options, attractions, photos and hidden gems to help you plan and book your ideal holiday itinerary in greater detail.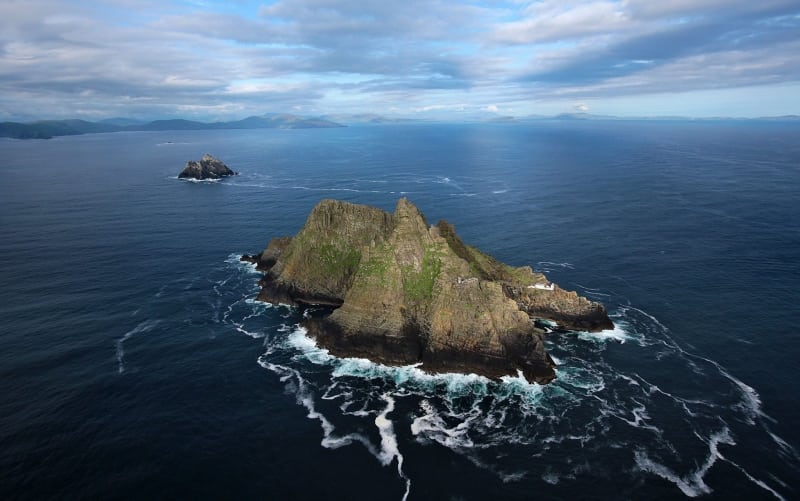 Photo: Take the unique boat trip to the Skellig Islands UNESCO World Heritage Site and bird colony, Co. Kerry and now a Star Wars film location by Valerie O'Sullivan. Below is a list of the top attractions, things to see and do, accommodation and more for each county along the entire Wild Atlantic Way. Many more attractions, photos and hidden gems are contained in our detailed guides for each County above.
Ideally you need a full week or more to explore Cork's Wild Atlantic Way coastline from Kinsale to Kenmare in Co. Kerry but if you have less time available on your holiday, you can pick and choose from the suggested itinerary below or see a larger list top Attractions and Things to See and Do on the detailed Cork guide here: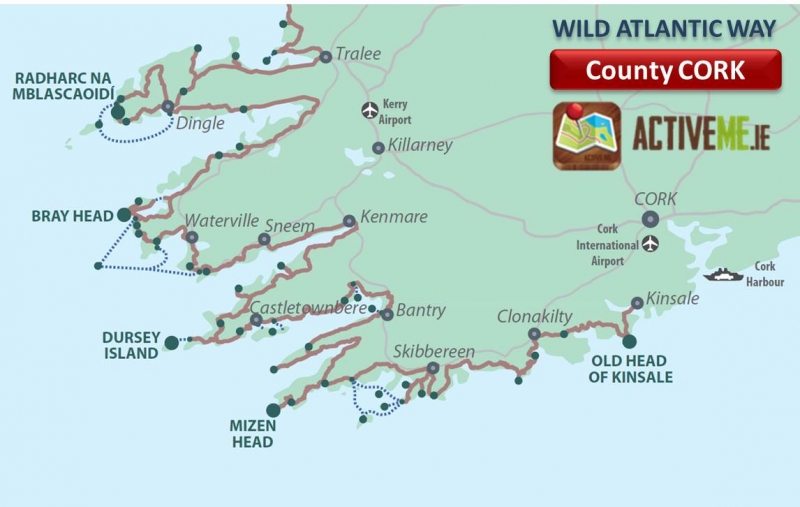 Kinsale - Town Centre, Charles Fort, James Fort and Beach
Galley Head – Views and Fort
Toe Head – Lighthouse and Fort
Sheeps Head Way Walking Trail and scenery
Seefin Mountain and Viewpoint – Myth and Legend
Whiddy and Garnish Island
Hungry Hill Walk
Bere Island
Kenmare Bay Views, Gleninchaquin and Bonane
Photo: Mizen Head, Cork by Valerie O'Sullivan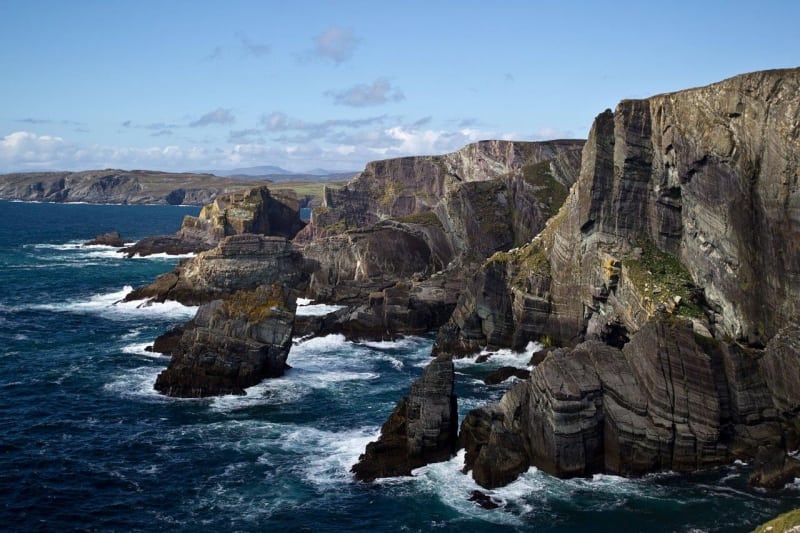 Great Places to Stay along the Route (coming soon)
Kinsale
Clonakilty
Skibbereen
Mizen Head
Sheeps Head
Bantry
Glengarriff
Beara Peninsula
Kenmare
Other Places to stay on the detailed guide
Special Places to Eat and Drink along the Cork route (coming soon)
Kinsale
Clonakilty
Skibbereen
Mizen Head
Sheeps Head
Bantry
Glengarriff
Beara Peninsula
Kenmare
KERRY
The Kerry Way walking trail (130km) – the world's best long hike
Skellig Islands boat trip
Valentia Island – Bray Head, Culoo, Tetrapod Fossils, Fogher Cliffs and Beginish Island
Cahergal, Leacanabuaile, Staigue and Loher Ancient Stone Forts
Beaches Derrynane, Ballinskelligs, Glanleam, Rossbeigh, Inch, Banna and Ballybunnion
MacGillycuddy Reeks Mountains and Irelands highest Mtn. Corrán Tuathail (1,039m)
Killarney National Park, Muckross, Gap of Dunloe and Torc Waterfall
Dingle town, Fungi the Dolphin, Basket Islands, Mt. Brandon and Dingle Way Walk
Tralee Beaches, Rose of Tralee, Aquadome, Playdium, Wetlands Centre - family friendly
Photo: Hogs Head, Kerry by Valerie O'Sullivan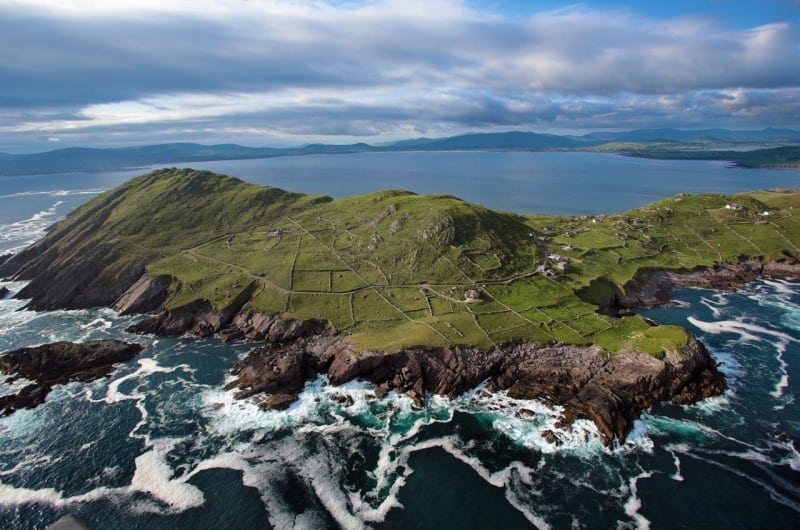 Kilrush – See Dolphins in the Shannon
Loop Head and Kilkee Beach – Snorkel the Pollock Holes natural swimming pool
Cliffs of Moher, Coastal Walk and The Burren
Doolin Ferry to the Aran Islands and Doolin Cave
Lahinch Beach and Surfing
Photo: Cliffs Of Moher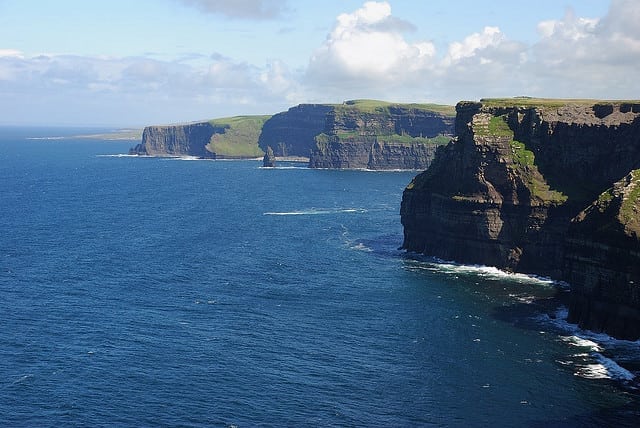 Dunguaire Castle and Kinvarra
Spanish Arch and Galway City
Salthill Promenade and Carraroe Beach
Ferry to the Aran Islands
Derroura Mountain Bike Trails
Killary Harbour
Connemara National Park and Kylemore Abbey
Photo: Dun Aengus Fort, Aran Islands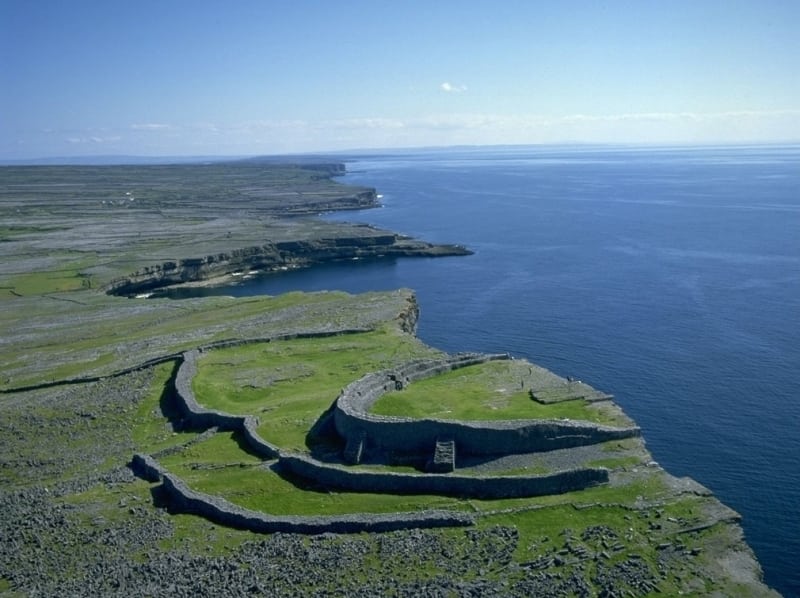 MAYO
Clare Island and Clew Bay
Croagh Patrick Mountain
Keem Strand
Achill Island
Greenway Walking and Cycling Route
Ceide Fields
Photo: Clew Bay from Croagh Patrick Mountain, Co. Mayo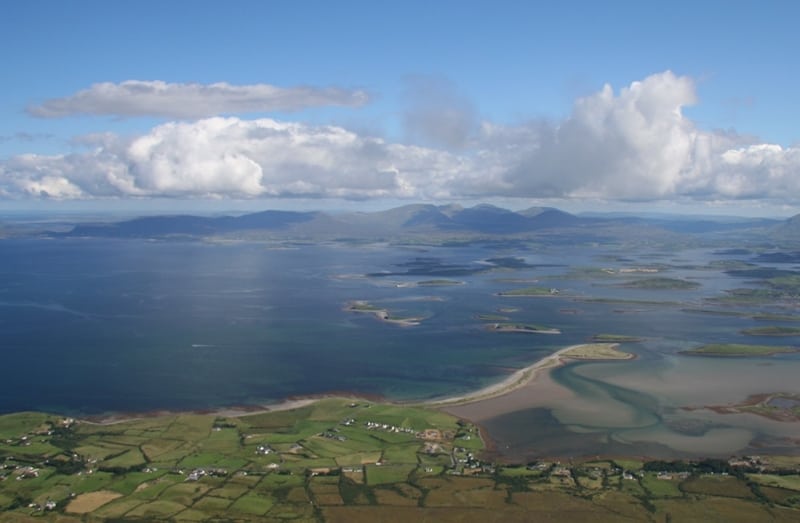 SLIGO and LEITRIM
Mullaghmore Head, Beach and Surfing
Queen Meaves Tomb and Benbulben Mountain
Photo: Mullaghmore, Co. Sligo by Valerie O'Sullivan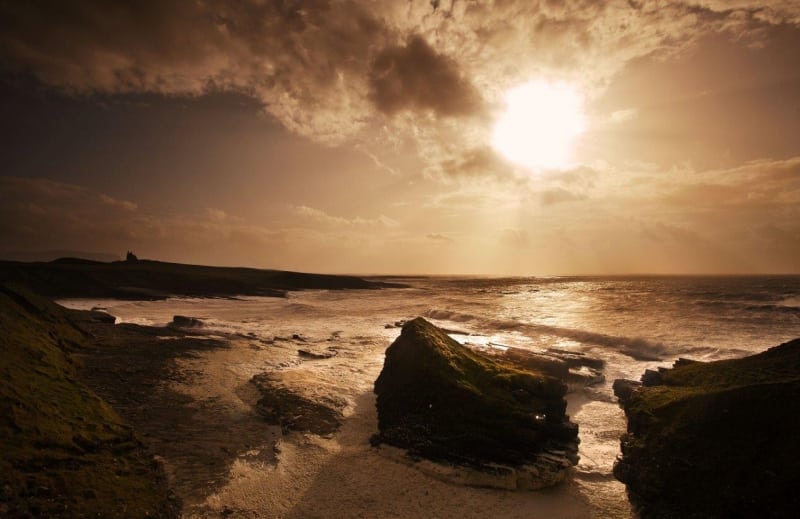 DONEGAL
Bundoran Beach and Surfing
Sliabh League Cliffs
Tory Island
Fanad Head and Ards Forest Park
Inishowen Peninsula, Malin Head and Five Fingers Strand
Photo: Dunree Strand: Co. Donegal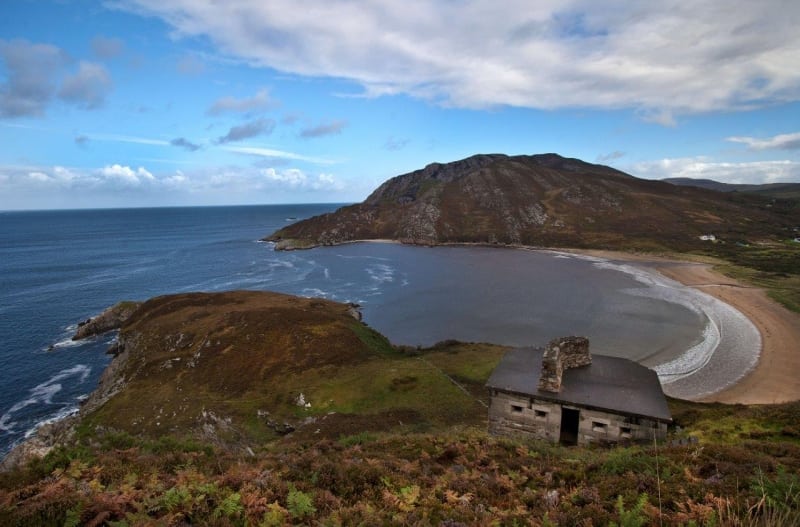 Check out the most recent Failte Ireland video for the Wild Atlantic Way.
In Seamus Heaney's (1939 –2013) poem 'Lovers on Aran' he poses the question 'Did sea define the land or land the sea?' The Wild Atlantic coastline has intrigued and mystified visitors to Ireland and helped shape the people of the west of Ireland. Fishing, collecting seaweed, artisan foods, kayaking, swimming, walking, cycling, snorkelling, diving, adventuring, artists, story tellers, seaside towns, blue flag beaches, camping, myth and legend, folklore, islands, cottages and windswept lighthouses. The Wild Atlantic Way has everything you'll need in a holiday and more.
From cliff top views to great hikes and from historic cities to picture perfect coastal villages and some of the best surfing in the world, the Wild Atlantic Way drive caters for visitors of all ages and tastes. Slow down, meet the people and experience the real Ireland.
Wild Atlantic Way Facts
- The Wild Atlantic Way is the longest signed coastal route in the world at 2,750 km (1,700 miles) in length with plenty side routes, loops and activities.
- the Wild Atlantic Way travels the entire west coast from the picturesque town of Kinsale in Cork through counties Kerry, Clare, Galway, Mayo, Sligo, Leitrim and ends in Donegal
- join the Wild Atlantic Way at any number of points along its length, complete it in either direction and enjoy the many shorter side loops and dozens of attractions and activities
- A map of the Wild Atlantic Way is shown below and you can also download the gpx file (GPS) for your cars Sat Nav or follow it using GPS on our FREE Travel Guide App called ActiveMe Ireland on iPhone and Android App
- The Wild Atlantic Way provides visitors with stunning scenery at every turn and letting them experience the wild nature of Irelands Atlantic shore be it glorious sunshine or the even more impressive huge Atlantic swells battering the coast during bad weather.
The Wild Atlantic Way will be Ireland's first long-distance driving route, stretching from the Inishowen Peninsula in Donegal to Kinsale in County Cork, and offering future visitors an opportunity to truly discover the west coast.The 2,500km final route was unveiled following a comprehensive public consultation process and includes 156 strategically placed discovery points for tourists along the way.  While the route unveiled today comprises the main spine of the Wild Atlantic Way, a series of looped itineraries off the spine are also planned to further develop the experience for visitors.  - See more at: http://www.failteireland.ie/Utility/Media-Centre/Ring-unveils-final-route-for-Wild-Atlantic-Way.aspx#sthash.SIOu8OeS.dpuf