Author:

ActiveME

Created:

September 21, 2016

Updated:

December 12, 2017
Categories:
Distance

758.28 km

Time

0 s

Speed

0.0 km/h

Min altitude

1 m

Peak

158 m

Climb

2174 m

Descent

2176 m
The Co. MAYO stage of the Wild Atlantic Way scenic coastal drive is nearly 550km long, stretching from Killary Harbour, one of only 3 glacial Fjords found in Ireland, in the south to the country town of Ballina in the north with some of Irelands best beaches, walks, cycles and over 25 Discovery points to experience along the way. You can view and follow the Wild Atlantic Way route map below and on our Free App on iPhone and Android and share your photos on the ActiveMe facebook page.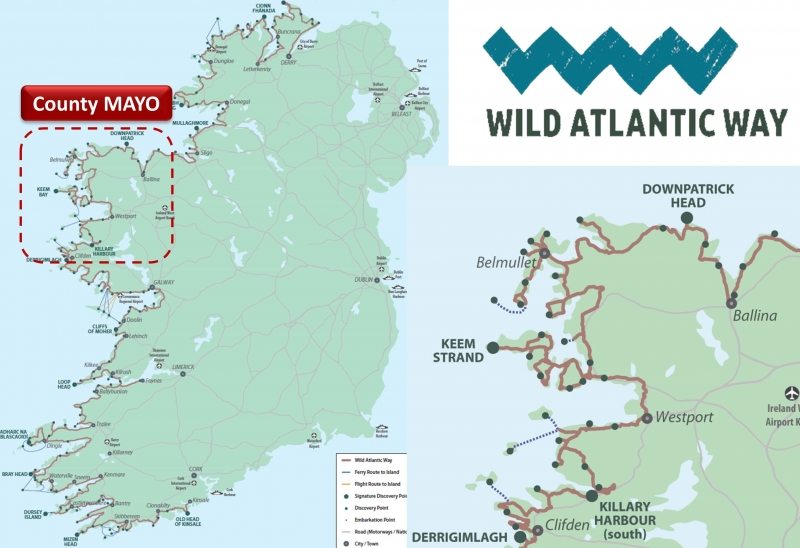 Simply put, Mayo is pure wild beauty with some of the most remote places in Ireland to discover on the Wild Atlantic Way. Whether it is the Ceide Fields, Europe oldest field system, to Annagh Head, Irelands oldest place at nearly 2 billion years old to the Croaghaun Cliffs, Irelands highest on Achill Island you will not be short of things to see and do. Mayo is Ireland's 3rd biggest county but on the other hand it is the 2nd least populated by area giving you that remote and peaceful feeling on your visit. If you would like to see your tourist business on this guide please contact us.

If you need to Rent a Car to experience the Wild Atlantic Way in Mayo then visit www.carhire.ie. If you find a better price elsewhere they will beat it.

Below are some of the best things to see and do along Mayo's Wild Atlantic Way coast, starting in the south of Mayo at the stunning Killary Fjord Harbour, 1 of only 3 natural Fjords in Ireland and a great holiday destination in itself. With adventure centres each side of the Fjord and scenery to die for, why not try your hand at some watersports, walks, cycles or enjoy boat tours and maybe you will see a wild Dolphin close up. Leaving here heading inland, you can try to get a better sense of the devastating Great Famine that visited Ireland between 1845 and 1852 when the potato crop failed repeatedly and a combination of other factors resulted in over 1 million people dead and 1 million emigrating. With UK landlords and others exporting enormous quantities of food throughout the entire period of the Famine among many other atrocities, many consider the Great famine a actual genocide where nobody has yet to be held responsible. The west of Ireland suffered most during the famine and here you can visit the Doo Lough Famine memorial where up to 400 people died of hunger as they walked to find food relief.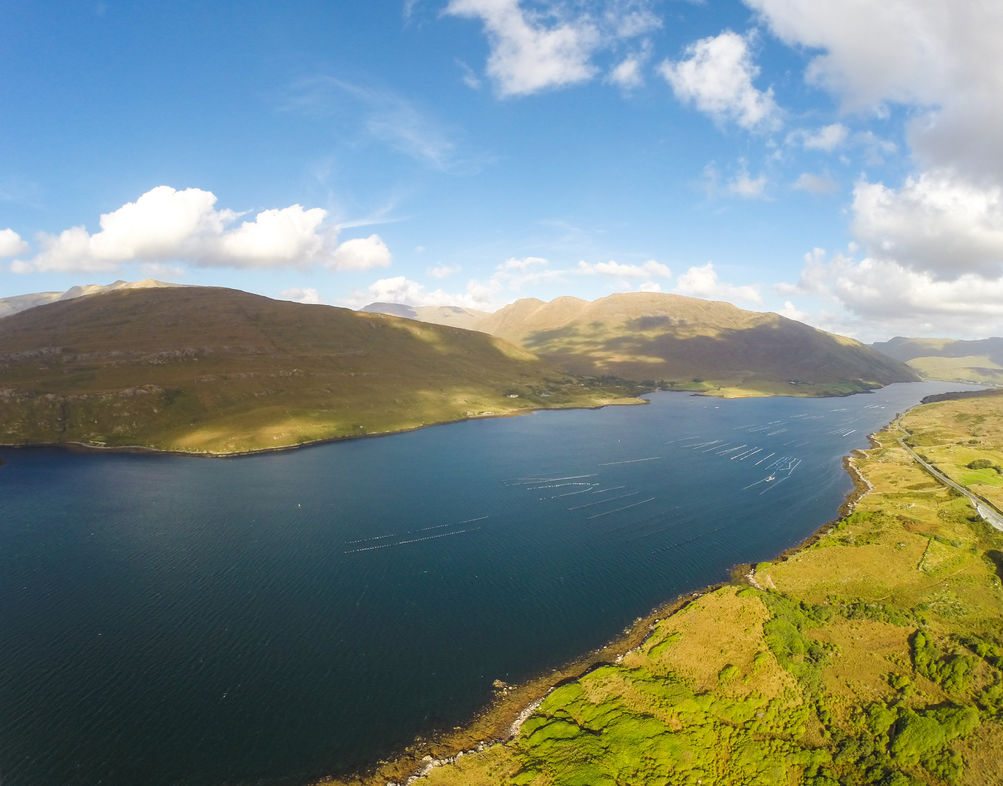 On a lighter note, your next stop on the Mayo Wild Atlantic Way should be west towards the Mayo coast with sandy beaches at every turn such as Doovilra Beach (Silver Strand), White Strand Beach, Carrowmore, Bunlough Strand, Carrownisky Strand and more which are a perfect place for a walk, enjoying the scenery and a spot of fishing. From Roonagh Pier catch a ferry across the picture perfect Clew Bay and visit Clare Island or Inisturk Island or a sea fishing trip on several Charter Fishing boats. Clare Island was once home to the famous pirate Queen Grace O'Malley in the 1500's and the largest of Clew Bay's 365 islands which were once rolling hills or drumlins but now sunken underwater with only their summits visible. Although the population of Inishturk Island is less than 100 people it boasts beehive stone huts from 1500 BC, a British Napoleonic signal tower built in 1805, great loop walks, fishing, scuba diving, lovely sandy beaches and a viking fort rich in folklore whereby the viking leader invented a beer using the local heather plant that was so delicious that he drowned his own son and then himself to protect the recipe.
With Mayo's Wild Atlantic Way Route, Clew Bay, and the Atlantic ocean to one side and the majestic Croagh Patrick Mountain on the other side, be sure to visit the Old Head beach and nature reserve and woodlands for some relaxing walks or if you are feeling more energetic why not walk the famous Pilgrim Path to the summit of Croagh Patrick mountain at 764 metres (2,507 ft) or alternatively just have a look at the visitor centre or take a few photos from Murrisk viewpoint!! Originally a pagan pilgrimage mountain since 3,000 BC, in particular during the summer solstice, it like many pagan sites in Irelands, were adopted and converted to a Christian pilgrimage site and is associated with Saint Patrick who is said to have fasted on the summit for forty days in the 5th century. Sitting on potentially over 300,000 ozs of gold worth nearly €400m Croagh Patrick really is a special mountain. Even if you haven't cycled in years just go for it and hire a bike for the unmissable Great Western Greenway off-road walking and cycling path which starts in the picture perfect town of Westport, heading north for nearly 45km (27 miles) along the coast passing Newport and Mulranny (or Mallaranny) all the way to Achill Island with great Clew Bay views for much of the ride and if fishing is your thing there are great coastal fishing spots along the coast. South of Mulranny visit the local Blue Flag beach or continue to a site commemorating where 5 ships from the Spanish Armada floundered in 1588. The San Nicolas Prodaneli and El Gran Grin ships both sank here at the mouth of Clew Bay carrying nearly 700 men and it is thought that only 16 sailors survived and like many other old wrecks along Irelands Wild Atlantic Way coast, it is likely that the survivors were quickly enslaved or killed by locals.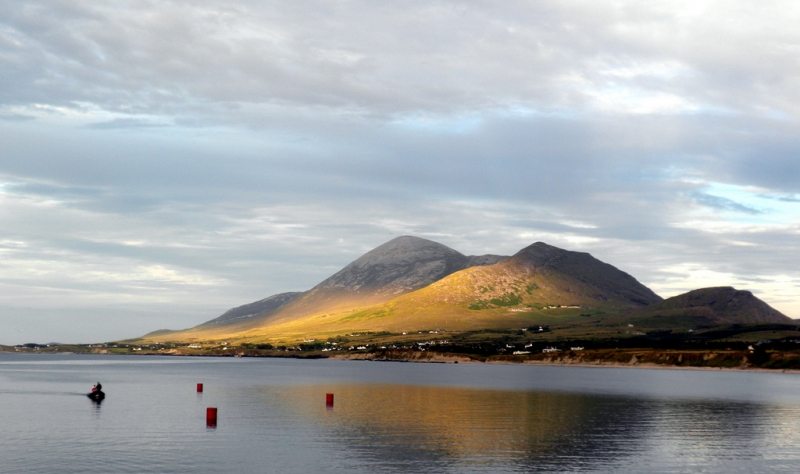 Where to start about Achill Island on Mayo's Wild Atlantic Way? Like Valentia Island in Co. Kerry, Achill Island is a self contained tourism paradise and is by far one of the best holiday and vacation destinations in Ireland and the Wild Atlantic Way. With a population of around 3,000 people and Irelands largest island, evidence shows that Achill has been home humans for well over 5,000 years with megalithic tombs, forts and other settlements dotted around the island. Its rich history, fascinating stories and jaw dropping scenery make it a huge draw for tourists along with several of Irelands best beaches such as Keem Bay, Keel, Dooega, Dugort, Golden Strand and Dooniver Strand many of which have Blue Flags. Walking to the Croaghaun sea cliffs (688 m or 2,257 ft) near Keem Bay on the western end of Achill you'll experience the highest cliffs in Ireland and third highest in Europe towering over 400m higher than the Cliffs of Moher, it is hard to get much wilder than this exposed, scenic, remote and peaceful spot on the Wild Atlantic Way. With great places to stay and eat and mighty craic and traditional music to be had at the local pubs you can always walk or cycle off these excess calories with some great hiking and quiet cycling routes around the island visiting some hidden gems you could miss if stuck in a car such as the idyllic Inis Bigil Island accessed by ferry from either Achill Island or the Mayo mainland.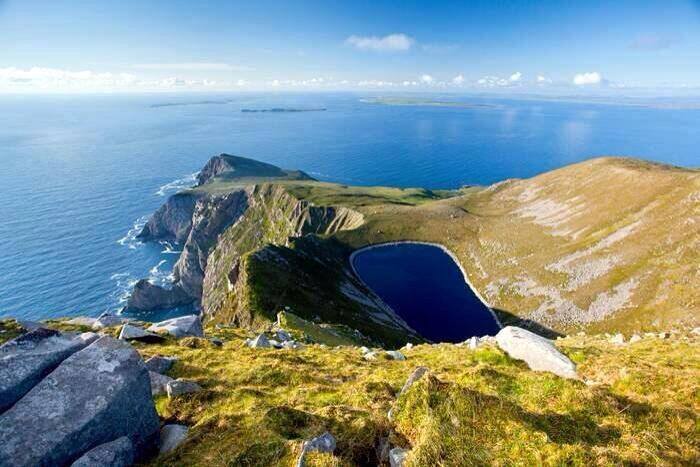 Sadly leaving Achill behind, we again head north on county Mayo's Wild Atlantic Way to Ballycroy National Park consisting of 11,000 hectares of Atlantic blanket bog, mountainous terrain of the Nephin Beg range and one of Ireland's last true stretches of untouched, houseless and roadless wilderness. To explore Irelands true wilderness, hike the 53km Bangor Trail in an area known now as Wild Nephin, an area being set aside as Ireland's first designated national wilderness and considered the loneliest place in Ireland. With so little artificial light in the area, Wild Nephin is also seeking to become a Dark Sky Reserve similar to the Skellig Coast are in south Co. Kerry where the stars are brighter than you have ever seen in Irelands, its something to behold. The Bangor Trail is an ancient path through the desolate landscape of the Ballycroy National Park along the slopes of the Nephin Beg hills and the shores of Lough Feeagh and the Scardaun Loughs. There is now a new hut for campers at close to the halfway point (31km) of the trail near Letterkeen Woods. From here we aim for the coast again to Ceann Ramhar or Doohoma Head near Erris, a hidden gem voted by 'The Irish Times' as one of the best place in Ireland to go wild! With a population of only 8 people, Claggan Island is Irelands newest island only officially declared an island in 1991 and a unique place accessed via a narrow sandy causeway.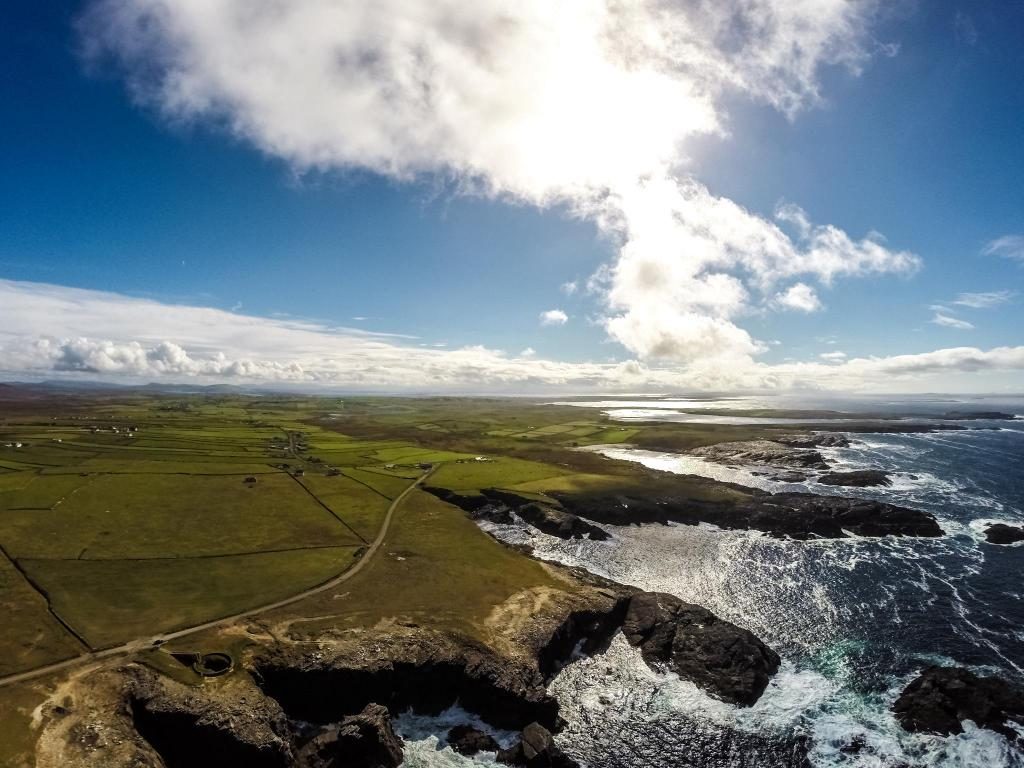 The north coast of county Mayo's Wild Atlantic way is next on your journey and this is truly a hidden gem on the Wild Atlantic Way. A distinct lack of beaches compared to other parts of Mayo is made up for by miles of towering cliffs, walks and ancient history. First heading for Carrowteige and Portacloy Beach, it is well worth your while leaving your car and prepare to get wind in your hair on the Portacloy Cliff Top Loop Walk to Benwee Head or Barr na Binna Bui with its 255m (835 ft) high cliffs where spectacular views of 4 islands off the coast called the Stags of Broadhaven come into sight. Although impressive that these island are 1.6 billion years old and home to large seabirds colonies, our next stop, The Ceide Fields, is the most extensive Stone Age site in the world, containing the oldest known field systems in the world at nearly 6,000 years old (4,000 BC), over 1,500 years older than the pyramids of Egypt. The stunning 45m high Dún Briste Sea Stack (The Broken Fort) and Downpatrick Head are located just north of Ballycastle.  The stack was said to have been separated from the mainland in 1393 as a result of a major storm but the story is a little different according to Irish folklore and mythology. A pagan chieftain named Crom Dubh who lived on the stack, refused to convert to Christianity and St. Patrick hit the ground with his staff, separating the stack from the mainland, leaving Crom Dubh to die. The headland was a WW2 lookout post number 64 and served as an basic GPS system for the allies.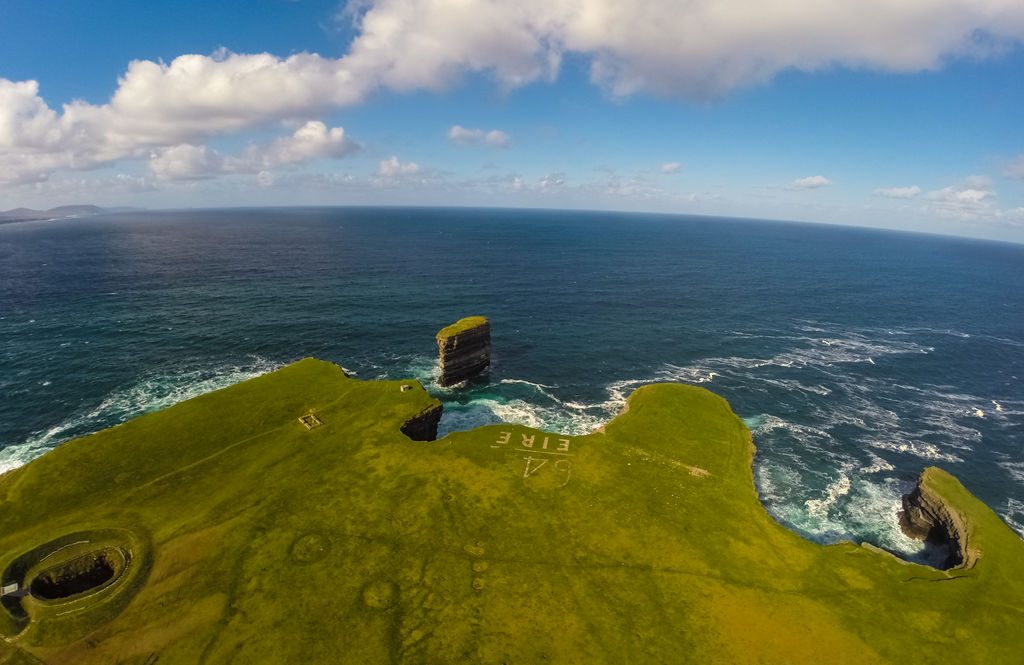 Nearing the end of our Mayo Wild Atlantic Way journey, you now head south for a walk on the beautiful Lackan Strand, the site of the French landing at Kilcummin Strand in 1798 and the start of General Humbert's march to Ballina to assist Irish rebels during the 1798 rebellion. Before you arrive at the pretty village of Killala Quay which played an important part in this rebellion be sure to visit Kilcummin Harbour surf spot and also Ross Beach. At Killala you can enjoy a walk on the pier and views over the harbour where there are sometimes seals looking back at you. Be sure to visit Moyne Abbey as it is one of most impressive ecclesiastical ruins in Ireland. Founded in 1460, the friary was home to the Franciscans of the Strict Obedience and was one of the chief houses of study for young Irish Franciscans. From here your journey on the Mayo leg of the Wild Atlantic Way comes to a nice end in the town of Ballina near the border with Co. Sligo and the beginning of the counties Sligo and Leitrim leg of the Wild Atlantic Way.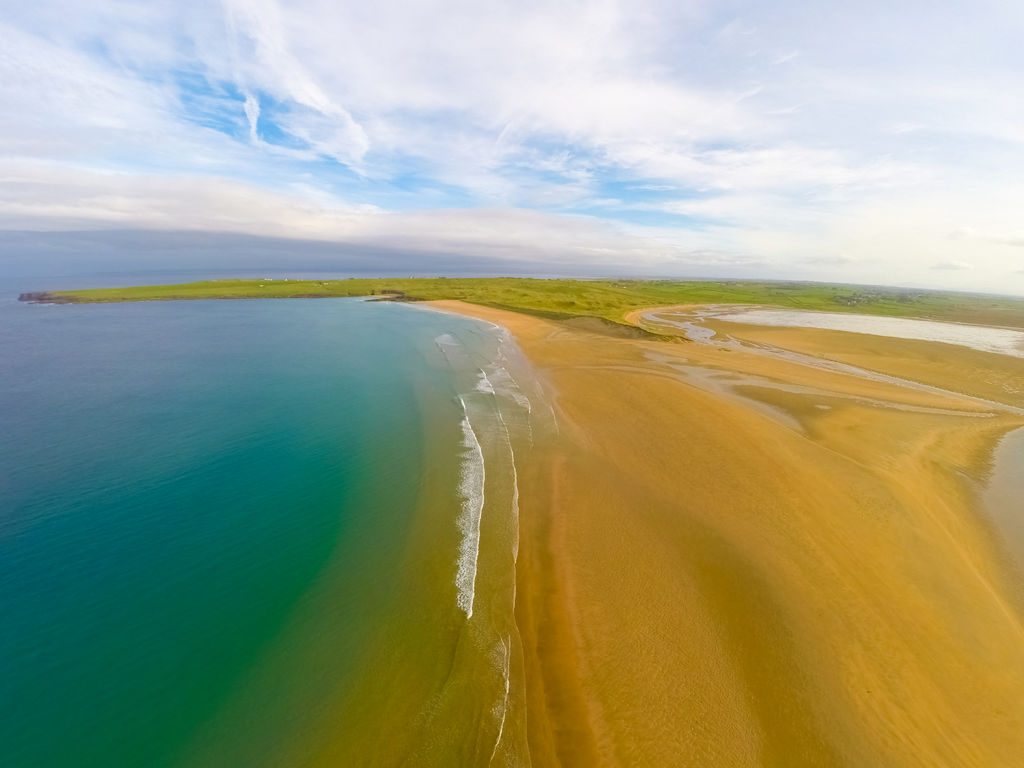 Great Places to Stay on the Wild Atlantic Way in Mayo (coming soon)
Killary Harbour and Leenaun
Westport
Newport
Mulranny
Achill Island
Claggan Island
Bangor
Belmullet
Mullet Peninsula
Ballycastle
Killaha
Ballina
Other Places to stay near the route
Special Places to Eat and Drink on the Wild Atlantic Way in Mayo (coming soon)
Killary Harbour and Leenaun
Westport
Newport
Mulranny
Achill Island
Claggan Island
Bangor
Belmullet
Mullet Peninsula
Ballycastle
Killaha
Ballina
Other Places to stay near the route