Author:

ActiveME

Created:

February 21, 2013

Updated:

December 12, 2017
Categories:
Distance

54.85 km

Time

0 s

Speed

0.0 km/h

Min altitude

79 m

Peak

263 m

Climb

541 m

Descent

542 m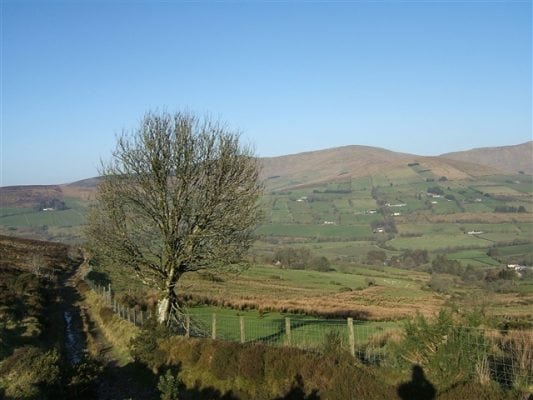 Stage 17 of the The Ulster Way from Gortin to Moneyneany, also known as the Central Sperrins Way, is a moderate 2 day or strenuous 1 day (37 km) walking route in County Tyrone in Northern Ireland. This hike is through the centre of the Sperrin Mountains and the scenic Glenelly Valley along mostly quiet back roads and paths. The Sperrins are the largest area of upland in Northern Ireland. If you have time don't miss a walk to Sawel and Dart Mountains, the highest points in the County (see this walking route at the bottom of the page). The final section of this walk is along a public road so can be avoided if wished by public transport.
The Ulster Way is a long distance walking trail throughout all 6 counties in Northern Ireland with small sections of the walk in Ireland. It could be considered the longest of Irelands National Waymarked Trails at approximately 1,006 km (625 miles) long but unfortunately it is not a continuous walk. Several long sections are busy road links which can only be completed by car or alternative transport. The walking route officially begins and ends in Belfast but you can join the trail at any number of points along its length. The Ulster Way comprises some great and well known waymarked walks in their own right including the Lagan Towpath in Belfast and the Causeway Coast Way among many others.
Typically the entire route is broken down into 16 seperate walkings stages covering 740 km and 10 road links. At 20km per day, these walks could be undertaken over 6 weeks but it is rare that the entire Ulster Way is attempted in one go. We have broken some of these longer stages into smaller parts to allow everyone irrespective of fitness or time available to experience one of the most varied walks in Ireland.
There are plenty of routes to suit walkers from beginners to advanced so find a route that is right for you or your group. Plan your walk by checking the weather and sunrise sunset times on our website https://www.activeme.ie/useful-info/planning-a-trip/ and please remember you are only as fast as the slowest member of your group!
Use our Map of Ireland and Sat Nav tool to get directions to any of the stage start points and our detailed maps and GPS on our ActiveME iPhone and Android App to find and follow the walking route live on screen and keep on track. At all times, our maps and App should be used in conjunction with proper map and compass navigation techniques. Feel free to send us your photos and add you own star rating, comments or suggestions below.