Author:

ActiveME

Created:

April 15, 2014

Updated:

December 12, 2017
Categories:
Distance

11.40 km

Time

0 s

Speed

0.0 km/h

Min altitude

33 m

Peak

220 m

Climb

227 m

Descent

227 m
It is both UNFORTUNATE and EMBARRASSING that PUBLIC ACCESS IS CURRENTLY CLOSED to this walk.
The Tomies Wood Loop Walk is an easy to moderate, family friendly 3 to 4 hour (9km) marked loop trail through these beautiful woods on the slopes of Tomies Mountain (735m) and on the shore of Lough Leane, the largest of the Killarney Lakes, Co. Kerry in the south west of Ireland. The majority of the walk is on a clear and obvious gravel path so you can't go wrong.  View the route map below and also on our 
Free Apps on iPhone and Android here
. 
This trail is steeped in Irish Mythology with Tomies Mountain and Woods said to be the summer hunting grounds of Fionn McChoumhaill and his followers the Fianna who were legendary warriors and hunters. Legend also has it that the cairns of stones on the summit of Tomies Mountain which overlooks Tomies Wood (above Photo) are the burial place of an ancient Irish Chieftain.
This scenic walk rates as the one of the finest Killarney national park walks. The trail takes you on a grass road that meanders through Tomies Wood before crossing the North Bridge and returning by the South Bridge including a visit to O'Sullivan's Cascade, a waterfall that is rated by some to be much more spectacular when in full flow than the famous Torc Waterfall in Muckross. A claim you will have to decide for yourself!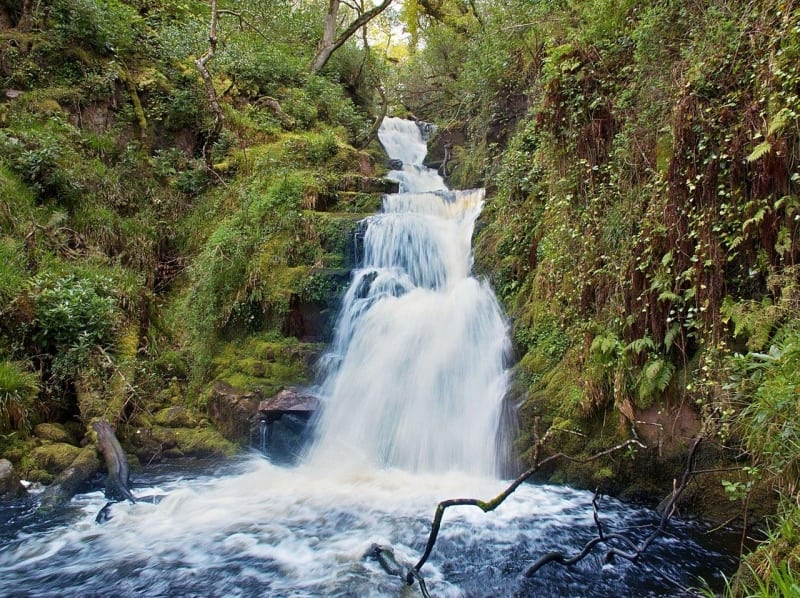 There is also an alternative route which is well worth thinking about. At the southern end of the loop (half way point) you can leave this loop path and enter the thick Rhododendron Forest before descending the eastern slopes of Shehy Mountain (762m) to see the ruins of rarely seen, inaccessible and historic Glena Cottage which is now in ruins (Photos below) on the shore of Lough Leane before finishing with a cup of tea at Dinis Cottage. See this route here. Glena Cottage has a unique history. Originally built by Lord and Lady Kenmare for the use of friends and visitors to the Lakes, it is mentioned in the 1822 travel book called A Guide to the Lakes of Killarney. It was made famous in 1861 when Queen Victoria visited and had lunch during visit to Killarney. Supposedly a huge amount of money was spent to make the cottage and other services fit for Royalty and this nearly broke the bank for the family. Glena Cottage was unfortunately burned down in 1922 and was never restored. Since then the woods and taken over and all is left are the stone ruins of a once famous house.