Author:

ActiveME

Created:

September 18, 2013

Updated:

December 12, 2017
Distance

0.00 m

Time

0 s

Speed

0.0 km/h

Min altitude

0 m

Peak

0 m

Climb

0 m

Descent

0 m
The iconic Rock of Cashel also known as Cashel of the Kings and St. Patrick's Rock is a historic and mythological castle and religious centre in County Tipperary in Ireland's midlands and is a must see on any holiday in Ireland's Ancient East. Originally in Pagan Ireland, the Rock of Cashel was the ancient seat of the Kings of Munster for 700 years prior to the Norman invasion, including the famous Brian Boru, it later became one of the key Christian centres of medieval Ireland. The Rock of Cashel is a main stop on Ireland's Ancient East and is operated by the OPW who have regular guided tours and an entrance fee to visit the site. 
According to Irish mythology, the Rock of Cashel originated in the Devil's Bit mountain, 20 miles (30 km) north of Cashel. The mountain contains a noticeable gap in its summit and folklore says that the devil took a bit from the mountain when fleeing Saint Patrick from a cave within the mountain. This chunk of the mountain was subsequently dropped by the devil creating the famous Rock of Cashel. The Devils Bit mountain is when St. Patrick banished Satan from a cave. Other folklore and mythology suggests the Rock of Cashel is the 'missing' top of Mangerton mountain in Killarney Co Kerry, known as the devils punchbowl.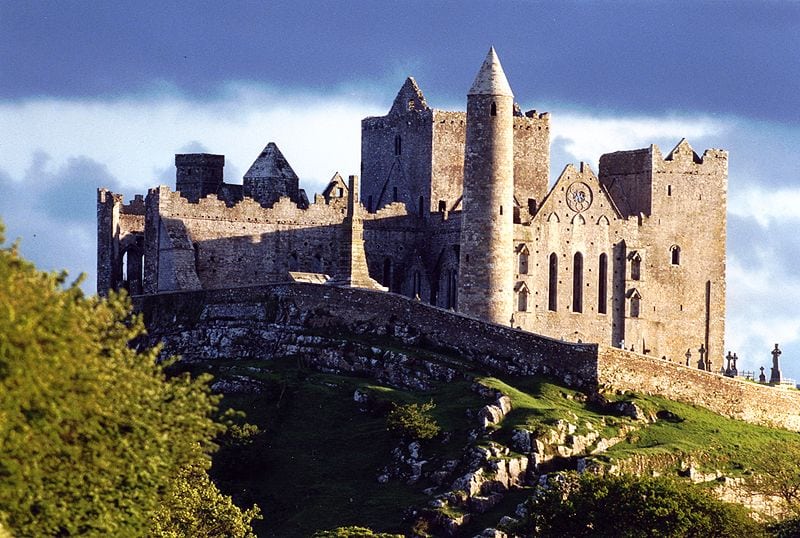 The Rock of Cashel more formally St. Patrick's Rock, it is also known as Cashel of the Kings. Reputedly the site of the conversion of Aonghus, the powerful King of Munster to Christianity by St. Patrick in the 5th century AD marking the end of Paganism in Munster and the beginning of Christianity. The oldest and tallest of the buildings on the rock is the well preserved round tower (90 feet), dating from c.1100. Most of the other buildings on the current site date from the 12th and 13th centuries when the rock was gifted to the Church. The buildings represent both Hiberno-Romanseque and Germanic influences in their architecture.