Author:

ActiveME

Created:

April 30, 2013

Updated:

May 31, 2019
Categories:
Distance

281.88 km

Time

0 s

Speed

0.0 km/h

Min altitude

1 m

Peak

256 m

Climb

1862 m

Descent

1873 m
The world famous Ring of Kerry is a 'must do' scenic tourist drive or cycle in County Kerry, in the south west of Ireland. The Ring of Kerry is a 180 to 200 km driving and cycling loop with follows the coastline along the Wild Atlantic Way.
Starting from Killarney, cars should drive clockwise around the Ring of Kerry (Iveragh Peninsula) to avoid any delays from Tour Buses which MUST travel anti-clockwise around the Ring of Kerry due to narrow roads. Take our route map, Gps directions and guide with you by downloading our Free App on iPhone and Android. This is the also the route for the Ring of Kerry Charity Cycle held in July each year.
The official Ring of Kerry signs the route from Cahersiveen to Waterville but DO NOT 'miss' the 'unmissable' Skellig Ring scenic drive which takes in the wonderful Valentia Island accessed by ferry just outside Cahersiveen and a bridge near the picturesque village of Portmagee. From there visit the Glen and Ballinskelligs with its great Blue Flag beach and all things these places offer.  Valentia Island is a holiday in itself with all the things to see and do, so don't miss it (see photos).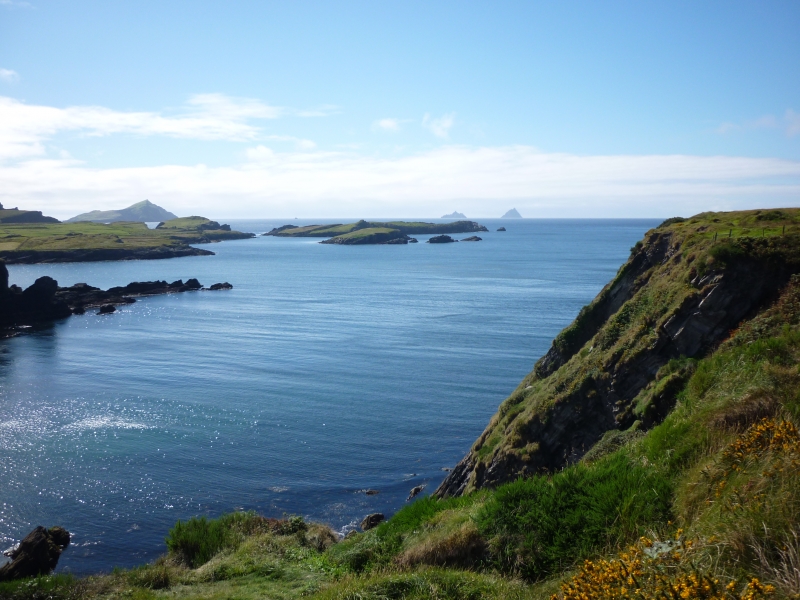 If you need to Rent a Car to experience the Ring of Kerry then visit www.carhire.ie. If you find a better price elsewhere they will beat it.

Remember...Take your time to experience everything on offer by staying overnight along the Ring of Kerry
From Killarney, the Ring of Kerry passes through Kenmare, Sneem, Caherdaniel, Waterville, Ballinskelligs, Portmagee, Valentia Island, Cahersiveen, Glenbeigh and Killorglin and back to Killarney. Here are just some some popular attractions and points of interest you can visit clockwise around the Ring of Kerry from Killarney. Click on the links for more information, maps and photos. 
Killarney - Ross Castle - fish, boat or kayak, Killarney National Park and The Blue Pool 
Killarney - Muckross House and Lakes and Muckross Abbey
The Kerry Way walking trail (210km / 140 miles) – the world's best long hike
Enjoy Ladies View and Molls Gap (scenic viewpoints) and mouth watering Pancakes 
The wonderful Kenmare Town - Music, Watersports and 4,000 year old stone circle
The friendly Sneem Village - Geopark, Walking, Storytelling Festival and ancient Church 
Derrynane House home of Daniel O'Connell and Derrynane Blue Flag beach 
Bolus Head and Hogs Head Loop Walks
Coomanaspig Mountain scenic viewing spot and the colourful Portmagee Village
Portmagee and Valentia Island - Boat trip to the Skellig Islands
Valentia Island – Skellig Experience Heritage Centre and Knightstown Village
Valentia Island – Bray Head walk, Natural Swimming Pool and Culoo Fishing Cliffs  
Valentia Island – Lighthouse and Geokaun Mountain and Fogher Cliffs (600ft)
Valentia Island – Knocknadobar Mountain, Valentia Slate Quarry and Glanleam House, Gardens and Beach
Valentia Island – 385 million year old Tetrapod footprints fossil
Valentia Island - the nearby uninhabited Beginish and Church Island. Take a spectacular boat tour with Kerry Aqua Terra
Cahersiveen - Cahergal and Leacanabuaile Ancient Stone Forts 
Cahersiveen - White Strand Beach, Cuas Crom Harbour and Ballycarbery Castle 
Glenbeigh - Mountain Stage scenic views, Rossbeigh Beach and Drung Hill
Killorglin - Puck Fair in August and fishing on Caragh Lake
MacGillycuddy Reeks Mountains and Irelands highest Mtn. Corrán Tuathail (1,039m)
Take a horse and cart trip or go rock climbing in The Gap of Dunloe, and finish back in Killarney
There is also an established long distance walking route named The Kerry Way, which takes its own route, and a signposted Ring of Kerry cycling path which uses older quieter roads where possible. The Kerry Way roughly follows the scenic driving route of the Ring of Kerry.
In short, the Ring of Kerry scenic drive on the Iveragh Peninsula has everything. From the mountains to the shoreline, the walks to water sports, the eating, drinking and other entertainment you can't go wrong. Stop off in any of the towns along the way and you'll be in heaven.

Great Places to Stay on the Ring of Kerry (coming soon)
Killarney
Fossa
Killorglin
Glenbeigh
Cahersiveen
Valentia Island
Portmagee
Waterville
Caherdaniel/Derrynane
Sneem
Kenmare
Other Places to stay near the route
Special Places to Eat and Drink on the Wicklow Way (coming soon)
Killarney
Fossa
Killorglin
Glenbeigh
Cahersiveen
Valentia Island
Portmagee
Waterville
Caherdaniel/Derrynane
Sneem
Kenmare
Other Places to stay near the route
Other great Things to See and Do on the Wicklow Way (coming soon)
Guided Climb to Carrauntoohil
Boat Trip to the Skelligs
To get directions and to follow the route, use our Map of Ireland and Sat Nav tools on our website and our GPS maps on our free ActiveMe iPhone and Android App.  Feel free to send us your photos and add you own star rating, comments or suggestions below.