Author:

ActiveME

Created:

March 28, 2013

Updated:

December 12, 2017
Categories:
Distance

15.61 km

Time

0 s

Speed

0.0 km/h

Min altitude

145 m

Peak

925 m

Climb

964 m

Descent

965 m
This MacGillycuddy Reeks Loop walk, going up The Bone and down the Heavenly Gates is a strenuous but very rewarding 5 to 6 hour (12.5 km) walking route on Irelands highest mountains near the picturesque town of Killarney, County Kerry in the south west of Ireland.  This is one of the more interesting and varied hikes on the Reeks, with some nice scrambing required on The Bone, great views and if you have the time and energy you can also include Irelands highest mountain, Carrauntoohil (1,040m) on this loop but allow an extra 1 hour for this starting from the top of the Devils Ladder.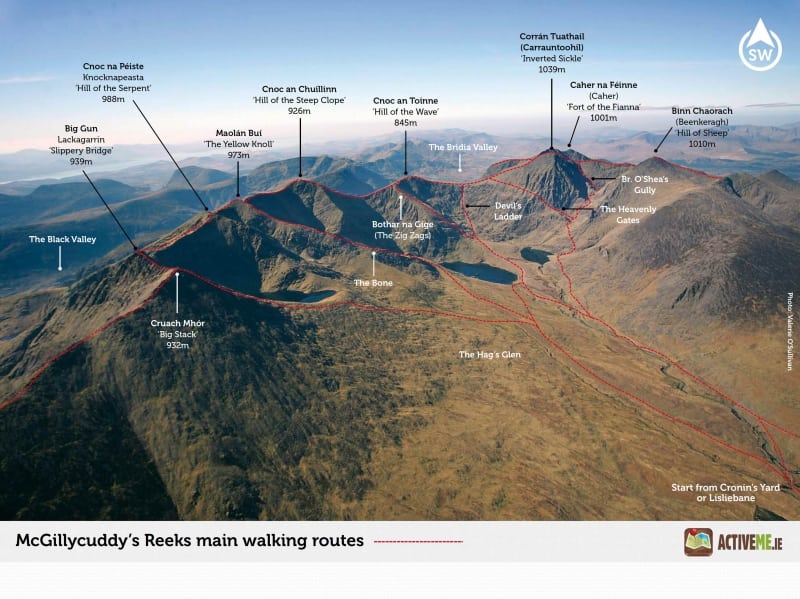 We did this loop walk on a crisp, cold and clear December day with blue skies and no wind, perfect walking weather and great views. From Cronins yard follow the Carrauntoohil path until you see the sign for the Cronins Yard Loop Walk.  Follow the path to the left, heading straight over sometimes boggy ground for The Bone with minor scrambling to the summit of Máolan Buí Mountain (973m) on the Eastern Reeks.
It is recommended to take a break at the top of Máolan Buí (Irelands 6th highest mountain) to take in the amazing scenery and greats 360 degree views of Killarney National Park, the Black Valley, Kenmare Bay, Iveragh Peninsula, Carrauntoohil, the Dingle Peninsula and off towards north Kerry. Please remember that there isn't much shelter to be had on the eastern Reeks so if its windy and cold you may want to wait for lunch until you can find some.  We had very little wind but still felt a chill whilst huddling behind a small mound of rocks.
Next go west following the obvious ridge path taking in the summits of Cnoc an Chuillinn East (926m), Cnoc an Chuillinn (958m) and Cnoc na Tionne (845m) and negotiate a rather boggy area just before reaching the col at the top of the Devils Ladder (734m). From here head towards the summit of Carrauntoohil for approx 100m on a well worn path before turning right onto the sometimes less than obvious path for the Heavenly Gates at grid V 806 839 or keep going on the trail to the summit of Carrauntoohil.

We had seen sun on this path for the entire day but a few hundred metres in, there were patches of ice on the gravel sections which did require a little care (3 points of contact at all times I hear you say!). The Heavenly Gates is a spectacular decent route from the Reeks and is well worth it but as always be carefull. The last bit is a bit of a slog back to Cronin's yard but well worth it.
Use our Map of Ireland and Sat Nav tool to get directions to the start point and our detailed maps and GPS on our ActiveME iPhone App and Android App to find and follow the walking route live on screen and keep on track. At all times, our maps and App should be used in conjunction with proper map and compass navigation techniques. You are also advised to taking into account the weather and have permisson to access the lands. Feel free to send us your photos and add you own star rating, comments or suggestions below.