Author:

ActiveME

Created:

January 20, 2014

Updated:

December 12, 2017
Categories:
Distance

16.73 km

Time

0 s

Speed

0.0 km/h

Min altitude

0 m

Peak

72 m

Climb

172 m

Descent

171 m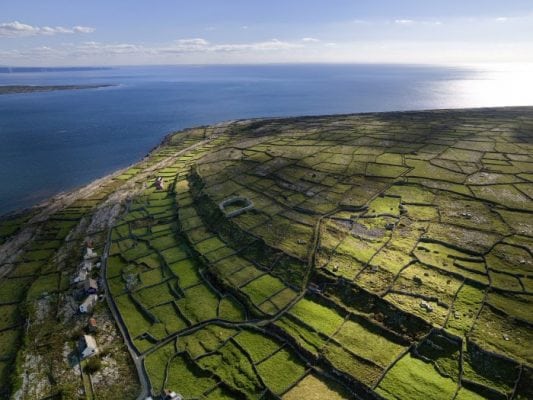 The Lúb Dún Fearbhaí Looped Walk is an easy to moderate 4 to 5 hour (12.5km) walk on Inis Meain or Inishmaan Island, the second largest of the Aran Islands of the west coast of Co. Galway., Ireland. These stunning islands are home to some great people, attractions and activities to keep you busy for weeks!
From the pier, the route follows the purple arrows. The green and blue arrows are for shorter loops. The route passes a number of points of interest including:
- After approx 1 hour walking, Synge's Chair, a stunning viewing point at the edge of a sheer limestone cliff, is a short 45min detour to your right but well worth it and you can join back with the loop after. 
- After joining the route again, Dún Chonchúir is a spectacular stone fort again on your right after 300m 
- Shortly afterwards, pass Teampaill na Seacht Mac Rí on your right. This church ruin was an important place of pilgrimage in the past and the saint is said to be buried beside the church.   
- ruins of Cill Cheannannach church built nearly 1,200 years ago and Dún Fearbhaí Fort, the more neglected of the two forst on the island but the one which the loop walk is named after. 
- Tra Leitreach is a nice sheltered beach