Author:

ActiveME

Created:

August 27, 2015

Updated:

December 12, 2017
Categories:
Distance

131.76 km

Time

0 s

Speed

0.0 km/h

Min altitude

1 m

Peak

112 m

Climb

821 m

Descent

821 m
The Loop Head Heritage Trail is 4 to 5 hour (50 to 90km) cycling or driving route starting from Kilkee town and following the coastline of the Loop Head Peninsula visiting the superb points of interest, scenic views, attractions and heritage sites along the way. The Loop Head Peninsula, on the Wild Atlantic Way, is nestled between the busy Shannon river on one side and the vast Atlantic Ocean on the other. Drive, cycle or walk around Loop Head, immerse yourself in the archaeological sites, rich maritime and military history, religious heritage and local folklore, all of which makes up who the community on Loop Head are. Look out for the animals and birds that inhabit this Special Area of Conservation. Marvel at the cliffs, castles, lighthouses and scenery that has attracted visitors here for over 200 years. You will be blown away! 
Take the route with you on our free App for iPhone and Android and share your photos on the ActiveMe facebook page.  For more information please visit https://wildatlanticway.omeka.net/ for detailed descriptions of each heritage site, additional photos and audio clips.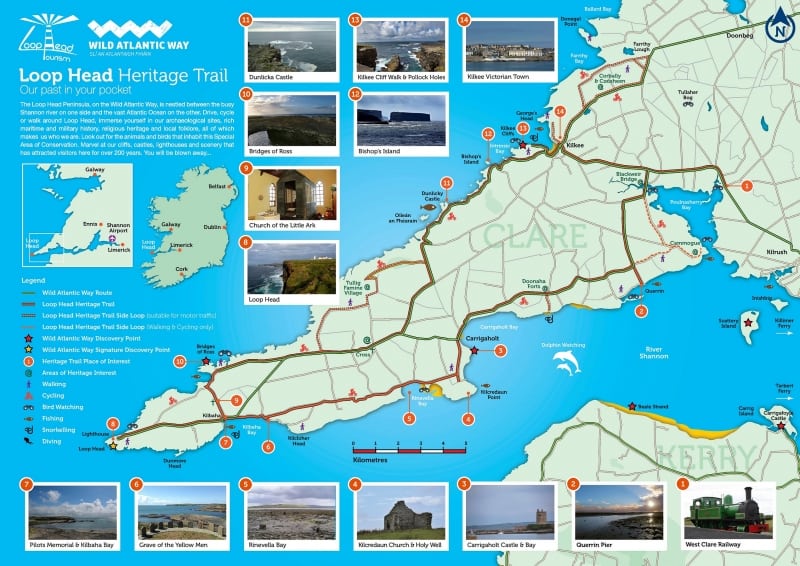 Firstly the route travels south following the rugged northern coastline and cliffs then to the more sheltered southern coastline before returning to Kilkee with the option of continuing north past Kilkee to visit Corbally and Cosheen, areas rich in heritage and scenery.  The Loop Head Peninsula Heritage Trail and Cycle Route includes 18 local heritage attractions among other points of interest and great stories along the way. There are also a number of shorter route options available to suit all levels of fitness and available time. Starting from Kilkee the main sites on the Heritage Trail include:
West Clare Railway
Querrin Pier
Carrigaholt Castle and Bay - Wild Atlantic Way Discovery Point 
Kilcredaun Church and Holy Well
Rinvella Bay
Grave of the Yellow Men
Pilots Memorial and Kilbaha Bay
Loop Head Lighthouse - Wild Atlantic Way Signature Discovery Point
Church of the Little Ark
Bridges of Ross - Wild Atlantic Way Discovery Point
Bishops Island
Dunlicka Castle and Point
Kilkee Cliffs and Pollock Holes - Wild Atlantic Way Discovery Point
Kilkee Victorian Town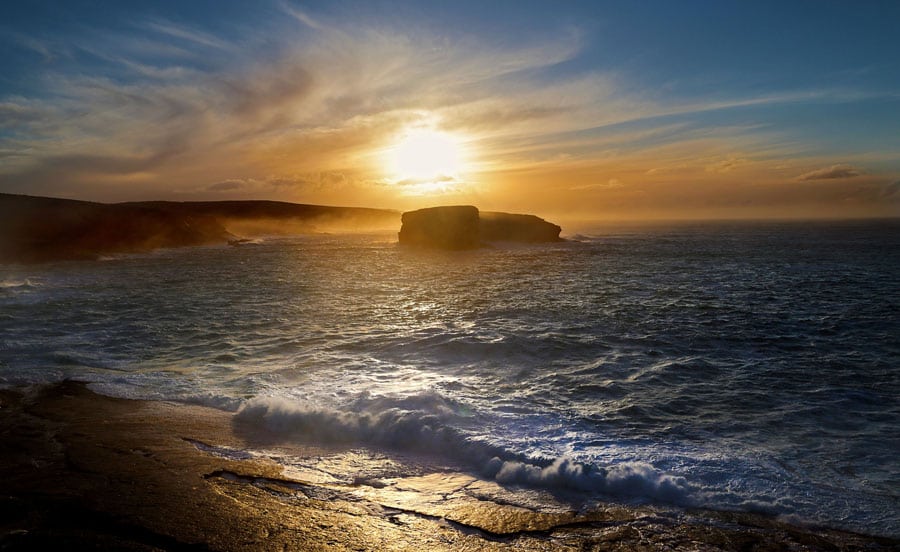 Loop Head is also designated as Ireland's Eden, a European Destination of Excellence in 2010 and won the Irish Times Best Place to Holiday in Ireland Award in 2013. The Loop Head Tourism group and community in general are dedicated to best practice in sustainable tourism. In addition to the main Heritage Sites there are many more things to see and do and great stories on the trail including: 
Diarmaid and Grainne's Rock,
Cuchulainn's Leap,
The most ringforts by area in Ireland 
Napoleonic Gun Battery,
Promontory forts,
World War 2 look out posts,
WW2 EIRE sign,
John Francis Reilly, The Flighty Boy Clare man who spied for Germany during WW2
Great beaches and much more.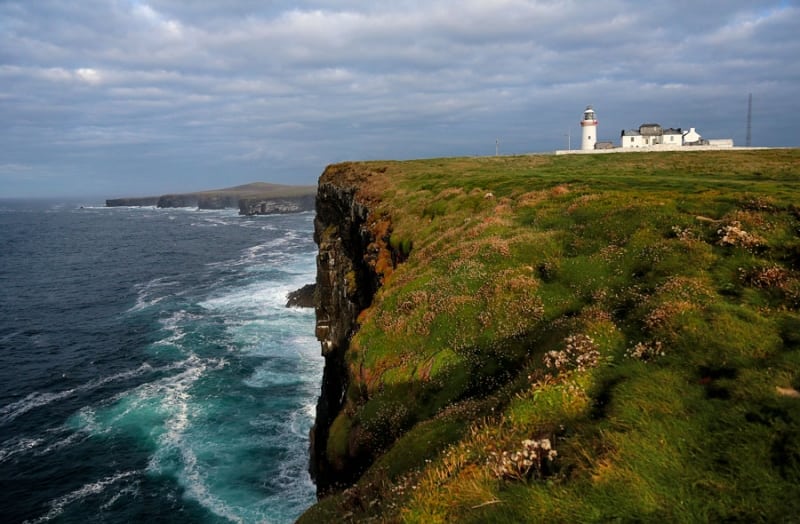 The flora and fauna of the area is of great interest and it is one of Europe's best Bird Watching spots for migratory birds. The geology of the area has also attracted significant attention for over 100 years with many spectacular formations, sea stacks and other features.