Author:

ActiveME

Created:

April 21, 2014

Updated:

December 12, 2017
Distance

0.00 m

Time

0 s

Speed

0.0 km/h

Min altitude

0 m

Peak

0 m

Climb

0 m

Descent

0 m
The stunning Dún Briste Sea Stack (The Broken Fort) and Downpatrick Head are located just north of Ballycastle, Co Mayo in the north west of Ireland. It is a Signature Discovery Point on the Wild Atlantic Way scenic coastal drive and provides a great stopping point for photos and exploring the nearby coast.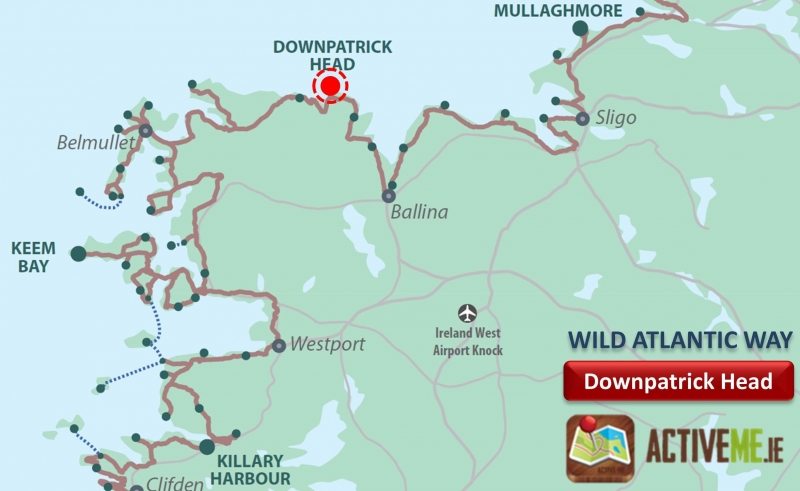 The sea stack itself is 45m high and 228m from the shore and was separated from the mainland in 1393 as a result of a major storm. The story is a little different according to Irish folklore and mythology. Crom Dubh, a pagan chieftain lived on the sea stack and when he refused to convert to Christianity, St. Patrick hit the ground with his staff and the stack separated from the mainland, leaving Crom Dubh to die.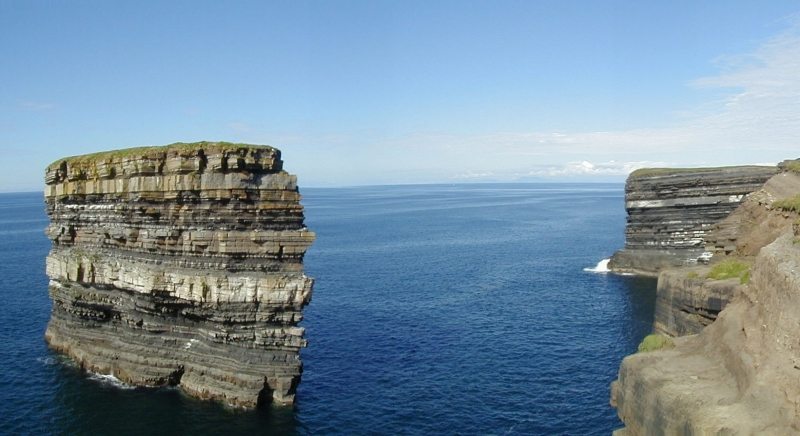 From Downpatrick Head which stands 126ft above the sea, you have fantastic views of the high cliffs, Wild Atlantic and the Staggs of Broadhaven to the west, and high cliffs along the shore.  The headland like 82 others on the Irish Coastline was a World War 2 lookout post and has a small hut, number 64, and an EIRE sign written in stone on the ground that can only be seen properly from air. This look out post is now used for bird watching.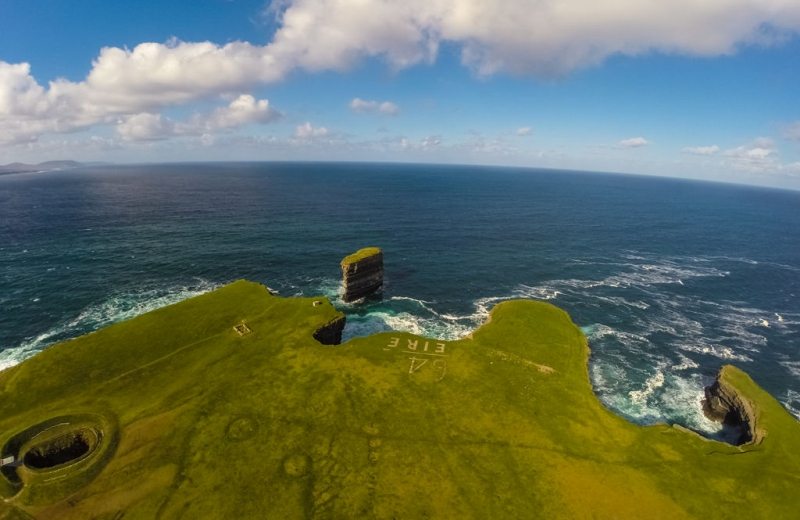 The connection with St. Patrick is also evident with the the ruins of a church, a holy well, and a stone cross mark the site of an earlier church founded by St. Patrick. Pilgrims visit Downpatrick Head on the last Sunday of July - 'Garland Sunday' to celebrate mass. In addition to the statue of St Patrick erected in the 1980's,  this site is also on the Tír Sáile Mayo Sculpture Trail with a piece called 'Battling Forces' located here. Adjacent to the headland, there is also a spectacular blow-hole known as 'Poll na Seantainne' where the power of the atlantic can be seen, experienced and felt first hand as shown in the great aerial photo by Raymond Fogarty.