Author:

ActiveME

Created:

June 8, 2015

Updated:

December 12, 2017
Distance

0.00 m

Time

0 s

Speed

0.0 km/h

Min altitude

0 m

Peak

0 m

Climb

0 m

Descent

0 m
Croaghaun
 sea cliffs (688 metres or 2,257 ft), the highest in Ireland and third highest in Europe are located at the western end of Achill Island, Co. Mayo in the north west of Ireland and on the Wild Atlantic Way scenic tourist route. It is hard to get much wilder than this exposed, scenic, remote and peaceful spot. Download our
Free iPhone or Android App
to help your trip.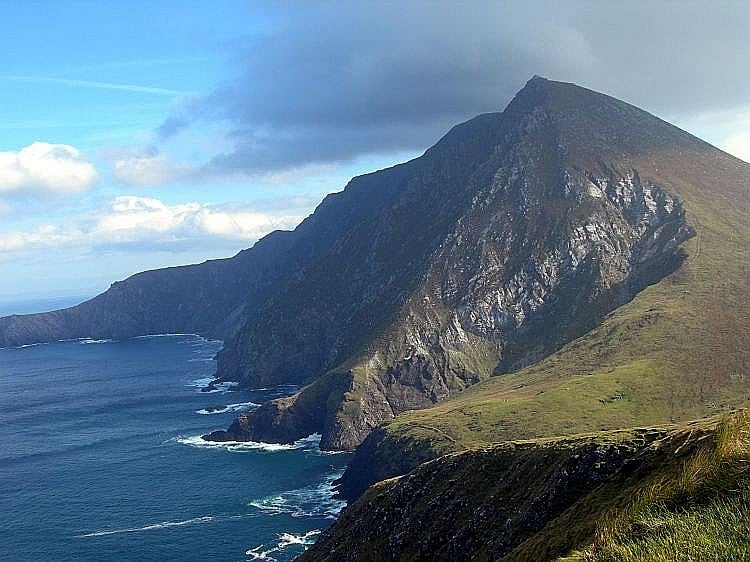 Croaghauns sea cliffs on the northern side of Croaghan mountain are the highest sea cliffs in Ireland and UK as well as the third highest sea cliffs in Europe after Hornelen in Norway at 860 metres (2,820 ft) and Cape Enniberg on the Faroe Islands at 754 metres (2,474 ft).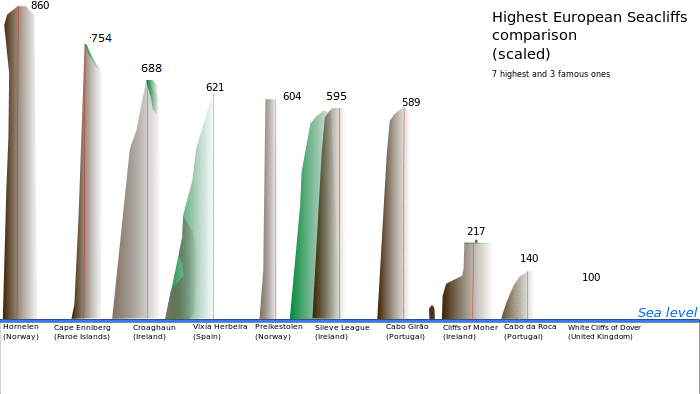 The most unique and most rewarding aspect to these cliffs is that the only way to see them is by hiking the mountain or by boat. Maybe this is why they are relatively unknown compared to others that you can see by car and also why many claim in error that the stunning Sliabh League cliffs in Donegal at 601 metres (1,972 ft) are the highest cliffs in Ireland and also Europe. At 688m, the Croaghaun cliffs are actually nearly three times the height of the world famous Cliffs of Moher in Co Clare (214m or 702ft) and nearly 100m taller than the famous Slieve League cliffs in Donegal. Photo credit: the wonderful Great Western Greenway Cyclign and Walking Trail, Co Mayo www.greenway.ie The Corrie lake on Croaghaun Mtn
Located near the amazing Keem Bay beach, the Croaghaun cliffs are home to awe inspiring scenery, the highest and most scenic corrie lake in Ireland, Bunnafreva Lough West (Loch Bhun na Fréimhe Thiar or guessed translation 'Lake of the Lower Roots' ) at 350m or 1,148ft and two families of Peregrine Falcons (the fastest creatures on Earth) best seen in September and October. Just to the south again there are yet another set of stunning sea cliffs called the Menawn Cliffs with a cliff walk to Dooega Head.
To get to the cliffs take the scenic drive or cycle to the Keem Bay car park at the foot of Croaghaun. Fortunately for some and unfortunately for others it is on foot from here to the summit but its well worth it.
Depending on how you define sea cliffs, here are a few spectacular Irish sea cliffs I know of to whet the appetite. These are in order of height and not their popularity or how well known they are. Most are along Irelands Wild Atlantic Way western coastline.
Croaghaun sea cliffs, Achill Island, Co Mayo are 688m or 2,257 ft - highest in Ireland
Sliabh League cliffs in Donegal are 601m or 1,972ft (or 595m from other sources)
Cnoc na mBristí Cliffs west of Brandon Head, Co Kerry are 460m or 1,509ft
Sás Creek cliffs east of Brandon Head, Co Kerry are 390m or 1,280ft
Benmore and Achill Head cliffs, Co Mayo are 332m or 1,089ft
Slievetooey cliffs west of Glenties, Donegal are 310m or 1,017ft
Kerry Cliffs and Coomanaspic Cliffs, Portmagee, Co Kerry are up to 290m or 951ft
Benwee Head cliffs in Co Mayo are 255m
Bray Head cliffs, Valentia Island, Co Kerry are 241m or 792ft
Fogher Cliffs on Geokaun Mountain in Valentia Island, Co Kerry are 230m or 755ft
Cliffs of Moher, Co Clare 214m or 702 feet - vertical drop
Inishowen Head to Malin Head cliffs, Co Donegal are up to 210m or 689ft
3 Sisters & Sybil Head cliffs, Dingle Peninsula, Co Kerry are up to 206m or 676ft
Bray to Greystone cliff  Co Wicklow, upper walk are up to 200m or 656ft
Horn Head cliffs, Co Donegal over 180m or 600ft
Foilanima cliffs, Dursey Island, West Cork are up to 160m or 524ft
Bolus Head (50m) to Ducalla Head cliffs, south Kerry are up to 150m or 492 ft
Mizen Head Cliffs in West Cork are 120m or 394ft
Causeway Coast Cliff Walk, Co Antrim up to 120m or 395ft
Beenteenane cliffs, Toe Head, West Cork are up to 105m or 345ft
Ceide Fields Cliffs on co Mayo are 100m or 328ft
Three Castle Head, Mizen Head, West Cork are up to 100m or 328ft
Dún Aonghasa cliff on Inis Mor, Aran Islands are 87m or 285ft - vertical drop
Reanies Bay Cliffs, Barrys Head, Kinsale Co Cork are up to 80m or 262ft
Coolim Cliffs, Seven Heads, Courtmacsherry, Co Cork are 80m or 262ft
Goats Head cliffs, Glandore, West Cork are up to 80m or 262ft
Kilkee to Loop Head cliffs in Co Clare up to 79m or 257ft - vertical drop
Old Head of Kinsale cliffs, Co Cork are up 78m or 256ft
Mine Head cliffs near Dungarvan Co Waterford are 74m or 244ft
Ardmore Head cliffs, Co Waterford are 55m or 180ft
Bolus Head, Waterville, South Kerry is 50m or 164ft - vertical drop
Howth Cliffs, Dublin are 48m or 157ft
Many others...................