Author:

ActiveME

Created:

November 4, 2016

Updated:

December 12, 2017
Categories:
Distance

8.77 km

Time

0 s

Speed

0.0 km/h

Min altitude

23 m

Peak

733 m

Climb

709 m

Descent

709 m
The Croagh Patrick Mountain (764m or 2500 ft) Pilgrim Path and Hiking Trail is a moderate to strenuous 7km (3-4 hr) walking route to the ever popular, spectacular and iconic peak of Croagh Patrick Mountain which rises above Clew Bay and the surrounding landscape near the popular tourist town of Westport on Irelands Wild Atlantic Way. County Mayo's 3rd Highest mountain, Croagh Patrick is known by some as Irelands Holy and Sacred mountain and is perhaps the most famous and certainly one of the most climbed of Ireland's mountains with up to 1 million people climbing the majestic peak of Croagh Patrick. See our Croagh Patrick walking route map and trail profile at the bottom of the page and don't forget to take the Croagh Patrick walking route with you on our free App for iPhone and Android and share your photos on the ActiveMe facebook page.

Places to Stay Nearby: coming soon
Places for Food Nearby: coming soon
Places for Entertainment Nearby: coming soon
Local Walking Guide or Tour Guide: coming soon
Local Transport or Bike Hire: coming soon
Other greats Things to See and Do in the Area: coming soon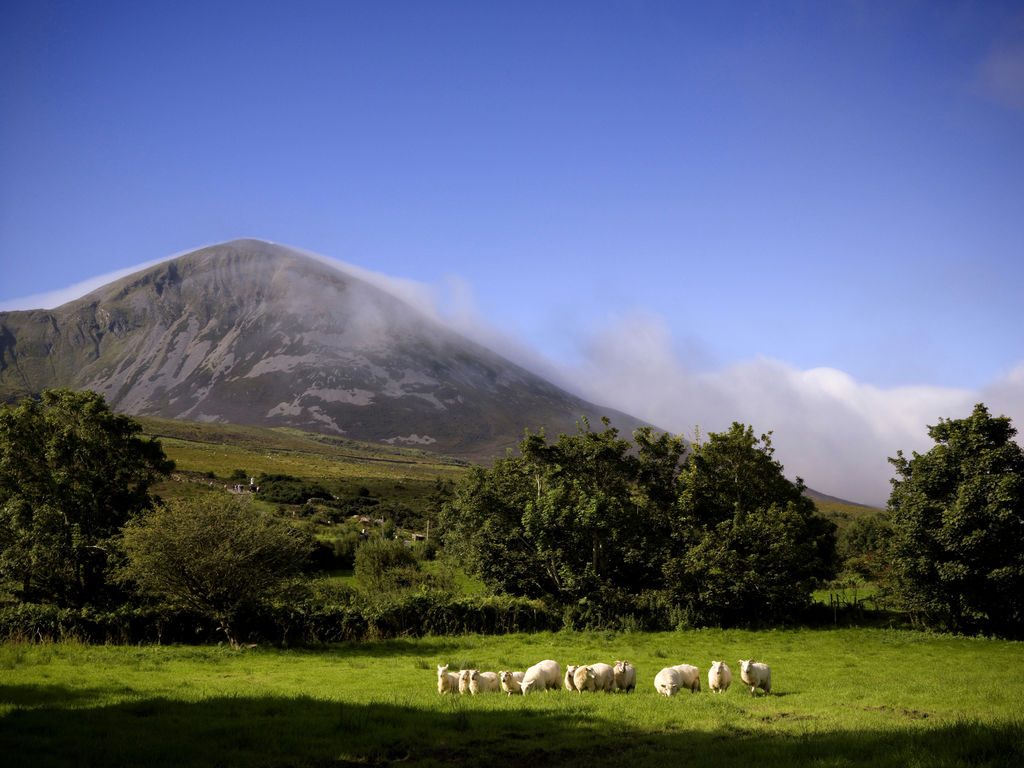 Croagh Patrick Pilgrimage
Croagh Patrick, the Hill of Patrick, is best known for its association with Saint Patrick, Ireland's patron saint, who is said to have fasted for 40 days at the summit in 441AD. Each year, the Reek attracts about 1 million pilgrims and hillwalkers but around 25,000 pilgrims climb Croagh Patrick on the last Sunday in July every year, known as Reek Sunday. Reek Sunday or Garland Sunday is the last Sunday in July, pilgrims climb the holy mountain with many in their bare feet. However, people from Westport traditionally make the pilgrimage two days before, on Garland Friday. In 1905, a small church was built at the top by local men and Mass is celebrated here on Reek Sunday.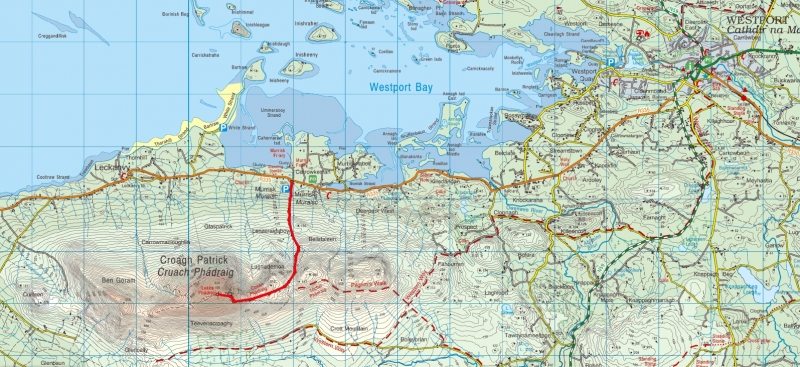 Croagh Patrick History
Known as Cruach Phadraig in Irish and locally as The Reek, Croagh Patrick was in the past covered in woods and known by an ancient pagan name, Cruachán Aigle or Eagles Mountain long before its link with Saint Patrick. Croagh Patrick is thought to have been an early pagan pilgrimage mountain since around 3,000 BC, in particular celebrating the pagan festivals of the summer solstice and harvest festival of Lughnasadh (Halloween). Like Mount Brandon in Kerry, Croagh Patrick itself was an early ancient pagan trail celebrating the pagan Celtic harvest festival of Lughnasadh taking its name from the Irish god Lugh, one of the gods of the Tuatha De Danann and is the origin of the modern celebration of Halloween.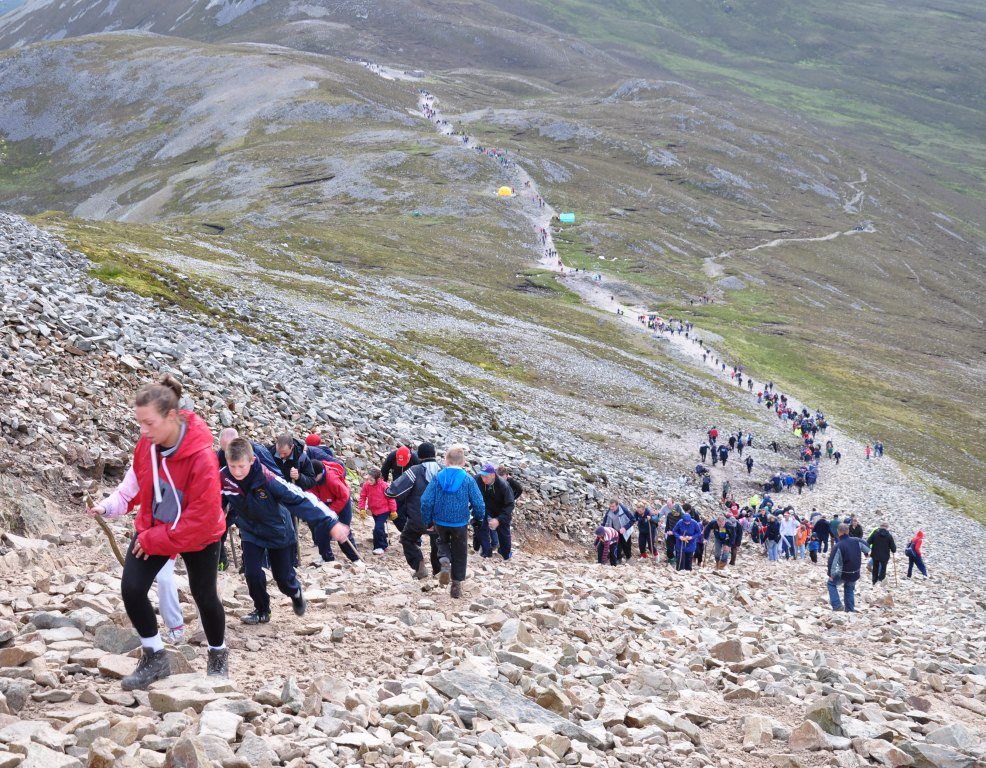 To ease the transition and to help convert people, early Christians in Ireland readily fused Pagan Gods with Christian Saints. St Brigit seamlessly evolved from an earlier pagan goddess Bríg or Brigid, a member of the Tuatha Dé Danann and daughter of the Dagda who was a goddess of spring growth, fertility, healing, poetry and smithcraft. Pagans worshipped the sun and weather in Ireland and Irish Mythology had no "first man and woman" Adam and Eve story, just wave after wave of invasion stories and legends.
At the base of the mountain is a place called Murrisk which is the traditional starting point for both the ancient pagan trail and modern pilgrim path. A path leading to the mountain is called Bothar na Mios or the road of the dishes possibly due to pilgrims cooking food here before their climb. Grainne Uaile, the famous pirate and Sea Queen of the West, was baptised in Murrisk Abbey nearby. At the foot of Croagh Patrick is a place called Log na nDeamhan or the Serpents Hollow where it is said St Patrick banished the snakes from Irelands long ago. These hollows are in fact a result of the sea encroaching and making holes in the land.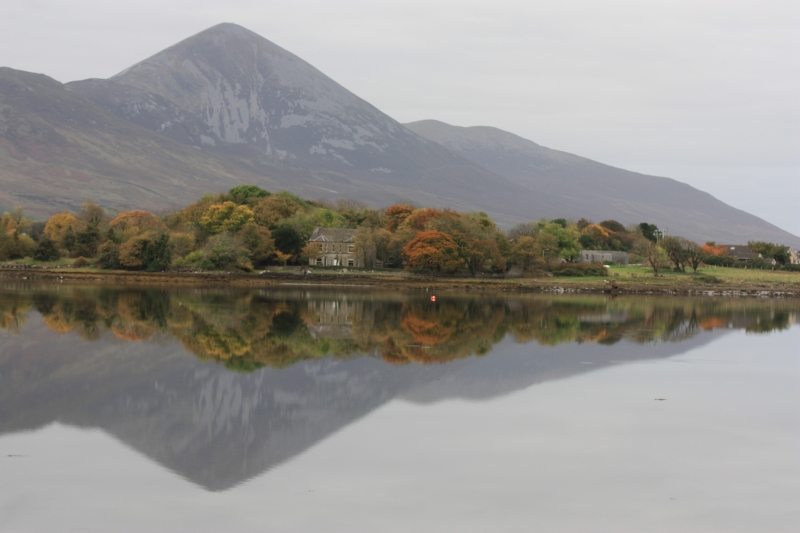 The start of this walk is in Murrisk, located 8km (5 miles) west of Westport on the Louisburgh Road (R335) and is the most popular route to the summit with an obvious and well worn path to the top. Starting from the signposted carpark, the route is a 7km (4.3 miles) long trail of loose stone which requires sturdy boots if you have them. Although not considered difficult and unsafe, this is a tough but rewarding hike and a proper mountain walk. You should be rain-gear and layers of clothes as with all mountains, the temperature can be much lower at the top and the wind can be quite strong. You can also visit the Croagh Patrick Visitor Centre which includes a coffee shop, restaurant and craft shop and the all important hot showers, secure lockers and good parking are also available. Guided tours are also available and must be booked in advance.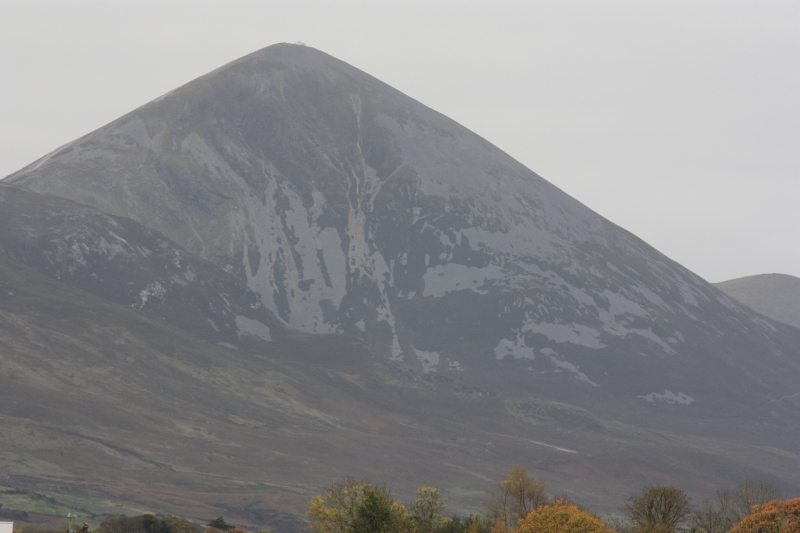 Other sacred ancient Pagan Trails and modern Christian Pilgrim Paths and pilgrimage trails located on mountain tops along the west of Ireland and the Wild Atlantic Way include:
Croagh Patrick is in fact the southern part of a U shaped valley created during the last Ice Age over 10,000 years ago by a huge glacier flowing into Clew Bay. Of significant international geological importance, Clew Bay is unique and one of only a few drowned drumlin landscapes in the world where we see sunken drumlins (hills) resulting in over 300 islands in the bay, the largest being Clare Island. Drumlins are low, elongated hills created by the passing glacier and now only the top of these hills are viable in the bay. Croagh Patrick really is a special place and is also important for another geological reason. The mountain sits on potentially 300,000 ozs of Gold worth nearly €400m.
Other Croagh Patrick Walks and Heritage Trail
If the 7km Pilgrim Path is too short, why not extend the trail by walking the entire mountain ridge from east to west or vice versa. Requiring two cars or other transport, this walk includes sections of the Western Way Long Distance 124km waymarked walking trail from Leenaun to Ballycastle and also some of the Croagh Patrick Heritage Trail, a 61km waymarked trail from the village of Balla in the east to Murrisk at the foothill of Croagh Patrick.
Use our Map of Ireland and Sat Nav tool to get directions to the start point of this walk and use our map and GPS info on our Free ActiveME App to find and follow the walking route and keep on track in conjunction with proper map and compass navigation techniques.
Weather in Ireland and especially on mountains is nothing but unpredictable so be sure to check the weather. Although the path is well worn and easy enough to follow, the top of Croagh Patrick can disappear into the clouds in seconds with visibility down to near nothing.  The Met Eireann 5-Day Forecast is very handy and is unusually accurate in the short term!!! If the weather is bad, don't ever be afraid to cancel your mountain walk for something lower like the nearby Greenway or a great beach walk. There are plenty of other routes to suit beginners to advanced walkers in the area, so please find a route that is right for you or your group. Plan your walk by checking the weather, sunrise and sunset times and our hiking checklist on our website here. Please remember that you are only as fast as the slowest member of your group!