Author:

ActiveME

Created:

April 28, 2013

Updated:

December 12, 2017
Categories:
Distance

12.15 km

Time

0 s

Speed

0.0 km/h

Min altitude

105 m

Peak

783 m

Climb

681 m

Descent

678 m
Coumshingaun Loop Walk is a moderate 4 hour (7.5 km) walking route around a natural amphitheatre of splendour and silence, the Coumshingaun Corrie Lake and the surrounding mountains in County Waterford, Ireland. Coumshingaun is one of the finest examples of a corrie or coum in Europe and the Comeragh mountains most famous landmark. Corries were formed by glacier movement during the ice age. Take the map and guide with you by downloading our Free App on iPhone and Android now.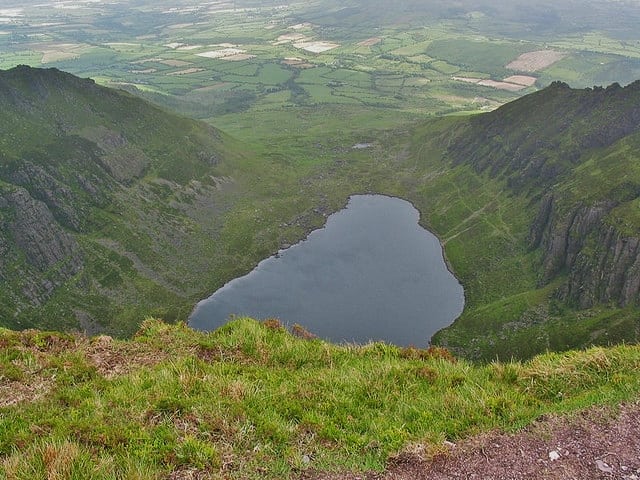 This area is very popular for both hikers and climbers alike with some great rock climbs to be had and also some ice climbing in winter. This walking route starts in the traditional and most gentle approach to the mountain, parking at Kilclooney bridge (Grid.Ref 348115) and entering a gate and crossing a stream. The paths here is not that obvious but keep aiming at the right / northern slopes of the mountain and the track becomes more obvious. An alternative start point for this walk is the official car park to the south in the woods. 
A lovely description of Coumshingaun from the 'Visitors Guide to the Comeragh Mountains' by Patrick Werner, 1978 reads 'It is difficult to know how to write of Coumshingaun itself. Whether you speak of it as the geography textbooks do, as a magnificent example of corrie glaciation with the loch held up by a large black moraine or whether you see it as a guidebook says 'of unknown depth, associated with irresistible currents and evil spirits', in short whether you are practical or romantic, you are certain to be impressed. It is about a mile long, roughly pear shaped, widest at its western, precipitous end and except in winter when small streams flow down the precipices in headlong cascades, not visibly fed from any source . . . The water of the lake is constantly rippled by changing winds, sometimes steely blue in the sun, more often inky black, and always cold, though fish live in it. It is odd to speculate how they came there. I have seen it through a dazzle of sunshine, through swirling clouds of snow, through driving rain hissing off its surface and appearing and disappearing as mists eddied up and down the precipices and I have never failed to find it beautiful. Perhaps it is best to leave it at that'.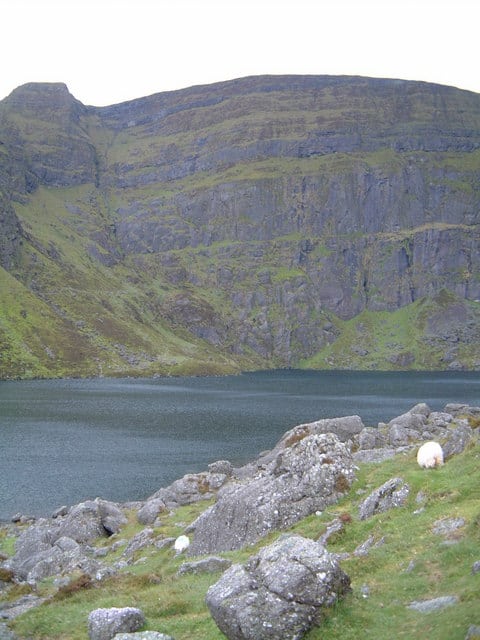 The cliffs behind the lake rise straight up to an awe inspiring 365 metres (1200) feet vertically above the lake. The highest point in the Comeraghs at 792 metres is very close to Coumshingaun and is shown on this map. It is marked by a cairn but is not a summit, merely a high point with great views over the plateau in every direction. 
In years gone by a man named Jim Fitzgerald (1891-1959), a WWI veteran who was also known as the 'Hermit of Lackendara' returned from the war and decided to live the rest of his life here in a cave at the edge of the lake. The Coumshingaun lake has also been used for cold water swimming training by some endurance swimmers. There is a cliff and climbing route here known as Carraig an Fhiolair (Rock of the Eagle) which probably goes back to when Coumshingaun was a breeding site for both Golden and White Tailed Eagles before 1855. Now the mountains are regularly home to Red Grouse, Hen Harrier, Wheatear, Siskin and Crossbill and less common here are White-tailed Eagles, Hobby, Dotterel, Long-tailed Skua, Nightjar, Black Redstart, Ring Ouzel. Here is a nice video on 'Lackendarra Jim' by Tom Fitzpatrick. 
Lackendarra from Tom Fitzpatrick on Vimeo.
Use our Map of Ireland and Sat Nav tool to get directions here and our detailed maps and GPS on our ActiveMEiPhone and Android App to find and follow this walking route.  At all times, our maps and App should be used in conjunction proper map and compass navigation techniques. Feel free to review and add you own comments or suggestions below.
Gallery