Author:

ActiveME

Created:

August 28, 2012

Updated:

December 12, 2017
Categories:
Distance

34.30 km

Time

0 s

Speed

0.0 km/h

Min altitude

29 m

Peak

317 m

Climb

436 m

Descent

343 m
Claidh Dubh - The Black Ditch is an ancient linear earthworks over 20km long dating prior to 100AD. Claidh Dubh ("black ditch"), anglicized Clyduff or Cleeduff has three sections, the longest of which runs north-south for 24 kilometres (15 mi) from the Ballyhoura Hills to the Nagle Mountains passing over the Blackwater River as shown below.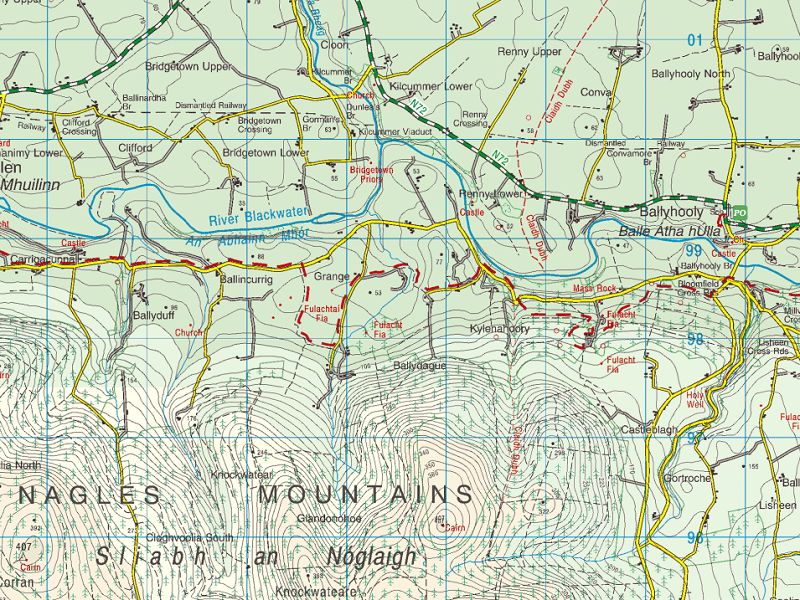 The ditches take their names from Gaelic folklore. One tale says that a huge black boar tore-up the countryside with its large tusks. Another says that the ditches were made by a huge worm. The purpose and function of this and similar earthworks are unclear but they may have indicated some sort of territorial boundaries or boarders, defended ancient roads and trails, acted as protection to cattle from wild animals or obstacles to prevent cattle raids or rustling or maybe some other use. 
Similar earthworks can be found throughout Ireland and the UK. The Black Pig's Dyke (Claí na Muice Duibhe) or Worm's Ditch (Claí na Péiste) is a collection similar linear earthworks in southwest Ulster and northeast Connacht respectively. Visible remnants can be found in Leitrim, Longford, Cavan, Monaghan and Fermanagh. 
North County Leitrim: running northwest-southeast, from Lough Melvin to Lough MacNean, near the villages of Rossinver and Kiltyclogher
Northeast County Longford: running northwest-southeast for 10 kilometres (6.2 miles), from Lough Gowna to Lough Kinale (crossing the N55), near the villages of Dring and Granard.
County Cavan–County Monaghan border: running roughly west-east from the Finn River (near the village of Redhills) to the townland of Corrinshigo (near the village of Drum)
County Cavan: forming a wide semi-circle in the townland of Ardkill More, 3.5 miles east of Bellananagh. This is one of the best surviving examples. Cavan Heritage Group have called for the cessation of operations on a nearby quarry which they maintain is damaging part of the dyke at Ardkill More.
County Fermanagh: part of linear earthwork, in Lislea townland (grid ref: H4836 2706) and in Mullynavannoge townland, (grid ref: H4838 2631 – H4850 2590) 
Earthworks usually consist of a bank (9m/30ft wide) with a ditch on either side (6m/20ft deep). In an excavation of an earthworks in County Monaghan, they revealed that the original construction was of a timber palisade with external ditch and behind the palisade was a double bank with intervening ditch suggesting an extremely large structure. The timber palisade structure was radiocarbon-dated to 390–370 BCE, so all of the earthworks may date to that period. Such dates put to rest the once popular theory that the earthworks were a copy of the Roman frontier in northern Britain (Hadrian's Wall). 
Some have put forward the idea that the earthworks marked the ancient borders. Others suggest that their sole purpose was to prevent cattle raiding, which was very common in ancient Ireland. Two theories have been put forward to explain why there are large gaps between the earthworks. One is that they were simply built across trackways that were often used by cattle raiders, another is that the gaps between them were once heavily wooded and thus no manmade defence was needed.
Gallery