Author:

ActiveME

Created:

August 28, 2012

Updated:

December 12, 2017
Categories:
Distance

10.59 km

Time

0 s

Speed

0.0 km/h

Min altitude

244 m

Peak

509 m

Climb

325 m

Descent

326 m
The Benbulbin and Kings Mountain Loop Walk is a moderate to strenuous 3.5 hour (8 km) walking route to the unique and distinctive plateau of Kings Mountain (462m) also known as Fionn mac Cumhaill (McCools) Table and the spectacular vertical gullies and cliffs at Benbulbin Head (526m). This walk is within a short drive of Sligo in the north west of Ireland. This is a great walking route with spectacular scenery at every turn and is relatively short allowing for a nice half day walk.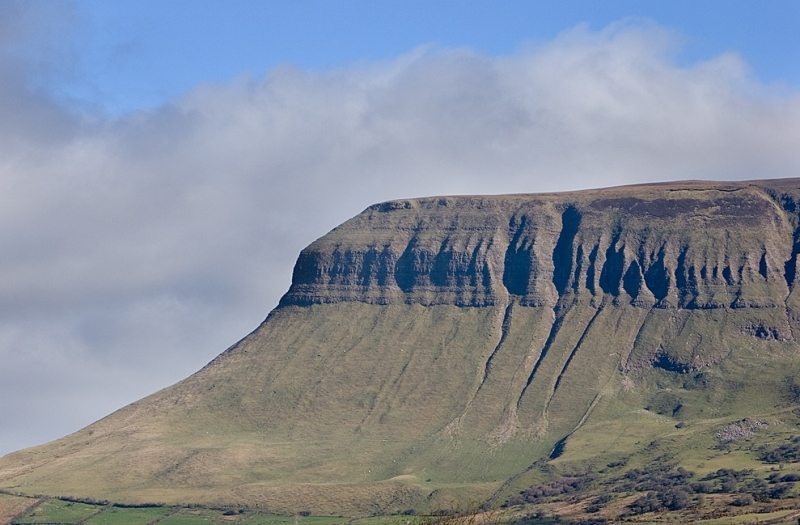 Benbulbin or Benbulben is an anglicisation of the Irish name Binn Ghulbain which mean peak (Binn) of Conall Gulban (Ghulbain) who was a son of Niall of the Nine Hostages. This mountain is part of the Dartry Mountains in an area sometimes called "Yeats Country" after W.B. Yeats the famous writer and poet.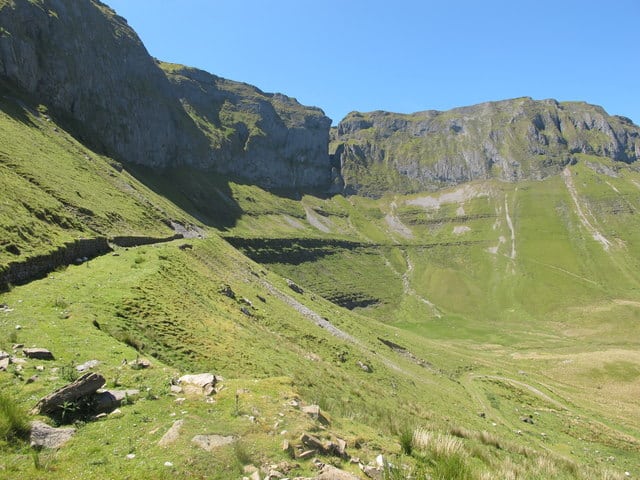 Benbulbin is also well known in Irish Mythology.  It is said to be the dwelling of the Fianna warriors who lived in the 3rd century.  The warrior Diarmuid Ua Duibhne is tricked by the giant Fionn mac Cumhaill (Finn McCool) into fighting an enchanted boar which kills him by piercing his heart with its tusk. The mountain is also said to be Diarmuid and Gráinne's final resting place.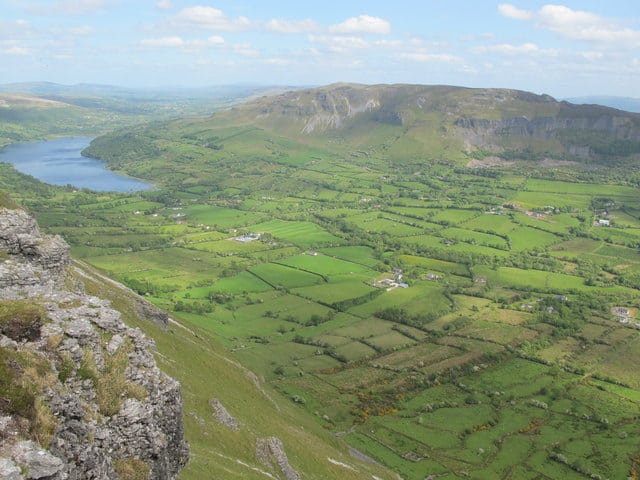 Like many mountain ranges in Ireland during World War II, planes crashed in the Dartry mountains close to Benbulbin. On 9th December 1943, a US Fortress plane crashed killing 3 but where locals residents saved 7 men off the mountain.  On 21 March 1941 an RAF flying boat also crashed in a similar location but all 9 died in the crash.
Use our Map of Ireland and Sat Nav tool to get directions to the start point and our detailed maps and GPS on our ActiveME iPhone and Android App to find and follow the walking route live on screen and keep on track.  At all times, our maps and App should be used in conjunction with proper map and compass navigation techniques.  Feel free to send us your photos and add you own star rating, comments or suggestions below.
Gallery