Author:

ActiveME

Created:

October 10, 2016

Updated:

December 12, 2017
Categories:
Distance

8 miles

Time

0 s

Speed

0 mph

Min altitude

269 ft

Peak

1,617 ft

Climb

1,539 ft

Descent

1,542 ft
The folklore filled walking trail from Annascaul Lake to An Ré Mhor or Cú Chulainns House on the mountain ridge above the lake (500m) is a moderate 9.5km (4 hour) walking route with stunning views of Dingle Bay and the surrounding rugged and secluded mountain landscape at the summit. Located close to the village of Annascaul on the Dingle Peninsula in the southwest of Ireland and only 30mins from Tralee, it is one of the best walking routes on the Wild Atlantic Way. Take this scenic walking route with you on our free App for iPhone and Android and share your photos on the ActiveMe facebook page.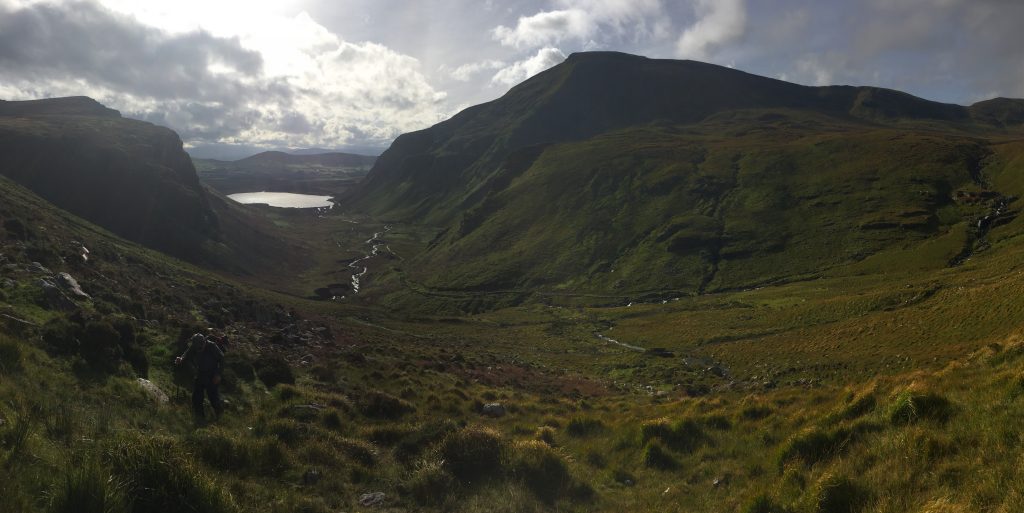 This walk, like many in Ireland, are steeped in Irish Mythology connected with the ancient forts, cairns, standing stones and other ancient places scattered across the land.  Even now, we know little about these ancient structures and the people who built and used them, many nearly 5,000 years old. In the past, Irish Mythology may have been used to explain and understand these ancient places and these stories were then passed on through the ages.
A 23m in diameter and over 5m high, the large stone cairn on the mountain ridge known as Cú Chulainns House is one of 2 hill-top cairns which stand 1 mile (c. 1.6 km) apart on the summit of the E-W mountain ridge which separates Lough Annascaul and the Anascaul valley on the south side of the Dingle Peninsula, from Glanteenassig valley on the northern side. Possibility the resting place for some ancient local king, the cairn is associated with Cú Chulainn, a hero of Irish Mythology often referred to as the 'Hound of Ulster' and believed to be an incarnation of the god Lugh. Born Sétanta, he gained this new name as a child, after he killed Culann's fierce Irish Wolf Hound dog in self-defence by hitting a sliotar down the dog throat and then offered to take its place as a guard dog until a replacement could be reared.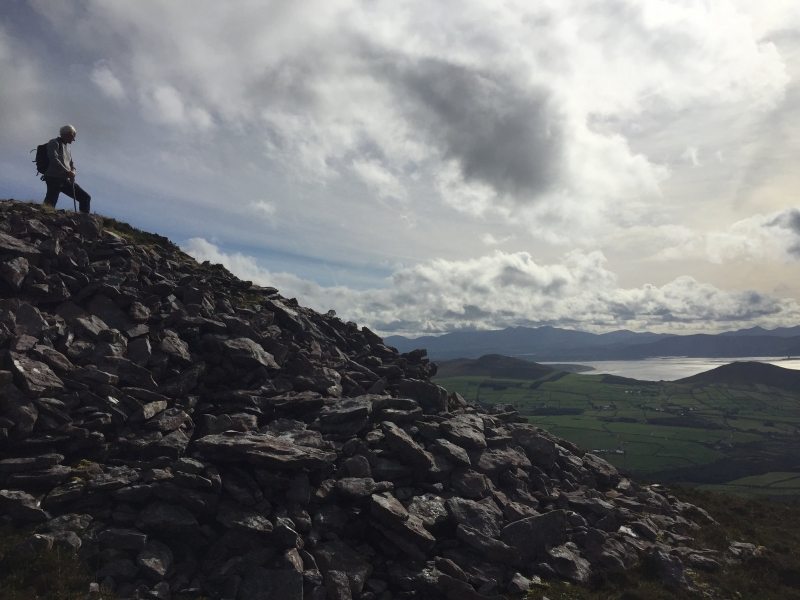 The nearby Caherconree mountain is also associated with Cú Chulainn, when he rescued to his beloved Bláthnaid from Cú Roí Mac Daire, the legendary evil sorcerer and King of West Munster during the era of the Red Branch Nights of Ulster, the early Iron Age 500BC to 100BC. In the story of Aided Con Roí, Cú Roí was first an ally of Cú Chulainn. However after a battle in Scotland, Cú Roí was not given his fair share of the plunder and wanted to claim the princess Bláthnaid as his reward but her lover Cú Chulainn would not agree. Cú Roí then kidnapped Bláthnaid taking her back to his fort, the nearby Caherconree which lead to Cú Chulainn heading south to Kerry. In addition to the cairns of Cú Chulainns House there is also a line of standing stones between the cairns and a smaller stone site to the west known as Cú Chulainns Bed,

After you climb up from the Annascaul Valley with great views of Dingle bay and further afield, you enter the most remote and secluded landscape in Kerry if not all of Ireland.  All views of the sea and civilisation disappear and you are left to enjoy the splendor of Irelands highest valley floor at over 400m and stretching out west from you for nearly 8km of pure wilderness filled with lakes, streams and bogland before meeting the rising Slieveanorra Mountain near the famous Conor Pass mountain road. Along its huge length of untouched wilderness that many people just don't know about, this valley connects with a number of other lower mountain valleys nearby such as Com an Air (valley of the slaughter where the story goes that ancient Irish people used herd deer into the valley to kill them), Loch an Dúin (rich in ancient archaeological finds), Macha na Bó and Glanteenassig (with its great lake and boardwalk trails).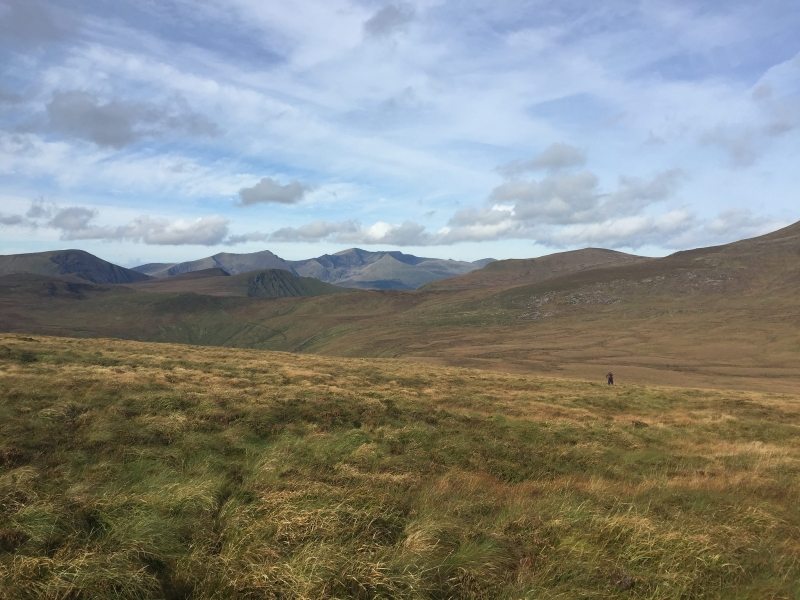 In more modern times, local folklore has people from the Cloghane and Brandon area on the northern side of the peninsula and nearly 20km away, walking, sometimes during the night, from their homes up the Macha na Bó Valley (Maghanaboe) before climbing over the top and down the Annascaul Valley to the village of Annascaul to Mass and dances. Asked if he stayed overnight in Annascaul after the dance, one special Cloghane man who has since passed away replied 'No'. These were different days. That same man knew the local name for every hill and peak in the surrounding lands but unfortunately these were not recorded for posterity before he passed. With modern technology and media, the art of storytelling and passing on ancient knowledge has died. This old knowledge is fast leaving us and if we do not stop and take the time to talk to these people, then these stories and other information will be lost forever unless we record it for posterity.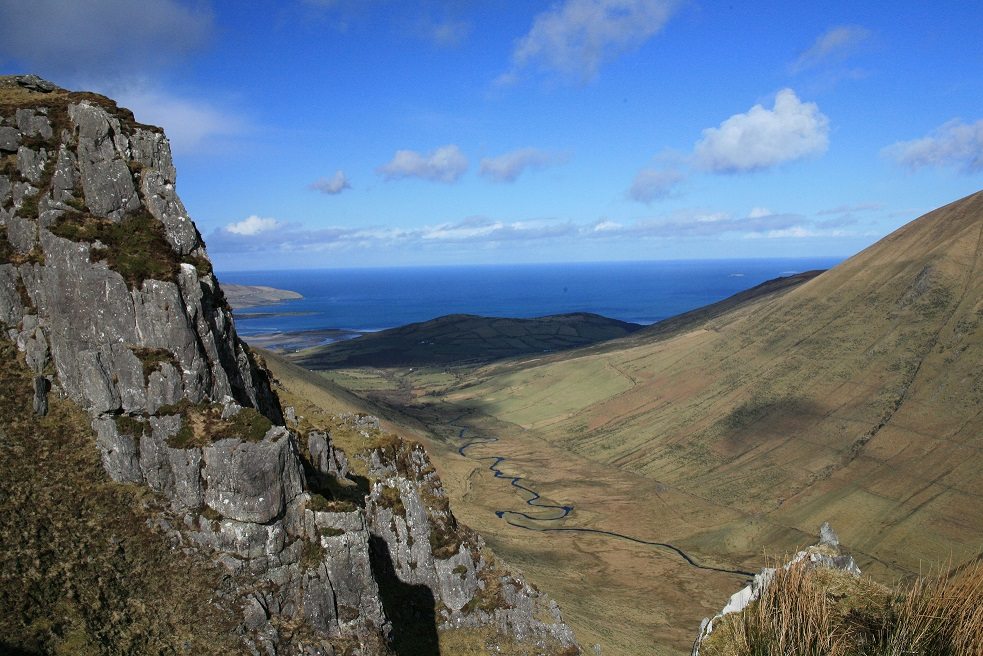 Plan your walk by checking the weather, sunrise sunset times, walking time and our hiking checklist on our website https://www.activeme.ie/useful-info/planning-a-trip/. Please remember that you are only as fast as the slowest member of your group! If the weather is poor don't be afraid to cancel your walk and do some other walk, maybe a low level walk.
Use our Map of Ireland and Sat Nav tool to get directions to the start point and our detailed maps and GPS on our ActiveME iPhone App and Android App to find and follow the walking route live on screen and keep on track. At all times, our maps and App should only be used in conjunction with proper map and compass navigation techniques.