Cuilcagh Mountain Loop Walk and Legnabrocky Trail, Marble Arch Park, Fermanagh, Northern Ireland
Jan 31, 2014 at 10:58 am in Walking/Hiking, Walks by ActiveME
See bottom of this page to get GPS directions, add your review and see local tour guides, businesses and other things to do.
Info
| | |
| --- | --- |
| County: Fermanagh | Route Length (km): 24 |
| Nearest town: Enniskillen | OS Map: 26 |
| Route shape: loop | Route type: Mountain |
| Grade/difficulty: Difficult | Duration: 6.5 |
| Parking: Car park | Wheelchair friendly?: No |
| Family/child friendly?: No | Dog friendly?: No |
| Grid ref. (start): | Grid ref. (finish): |
Summary
The Cuilcagh Mountain Loop Walk is a moderate to difficult 20km (5-7 hour) loop walks following the straightforward boardwalk trail to the summit on the Cuilcagh Mountain (666m) on the Legnabrocky Trail (14km/4-6hrs) and returning via a section of the Ulster Way walking route back to the Cuilcagh Mountain Park or Marble Arch car park. Cuilcagh Mountain or in Irish, Sliabh Chuilceach, meaning 'chalky mountain', is the highest mountain in the Breifne area with its summit on the border between County Fermanagh in Northern Ireland and County Cavan in the Republic of Ireland. See the online route map below and take this route with you on our free App for iPhone and Android and share your photos on the ActiveMe facebook page.

Places to Stay: coming soon
Places for Food and Drink: coming soon
Places for Entertainment: coming soon
Tours or Local Guide: coming Soon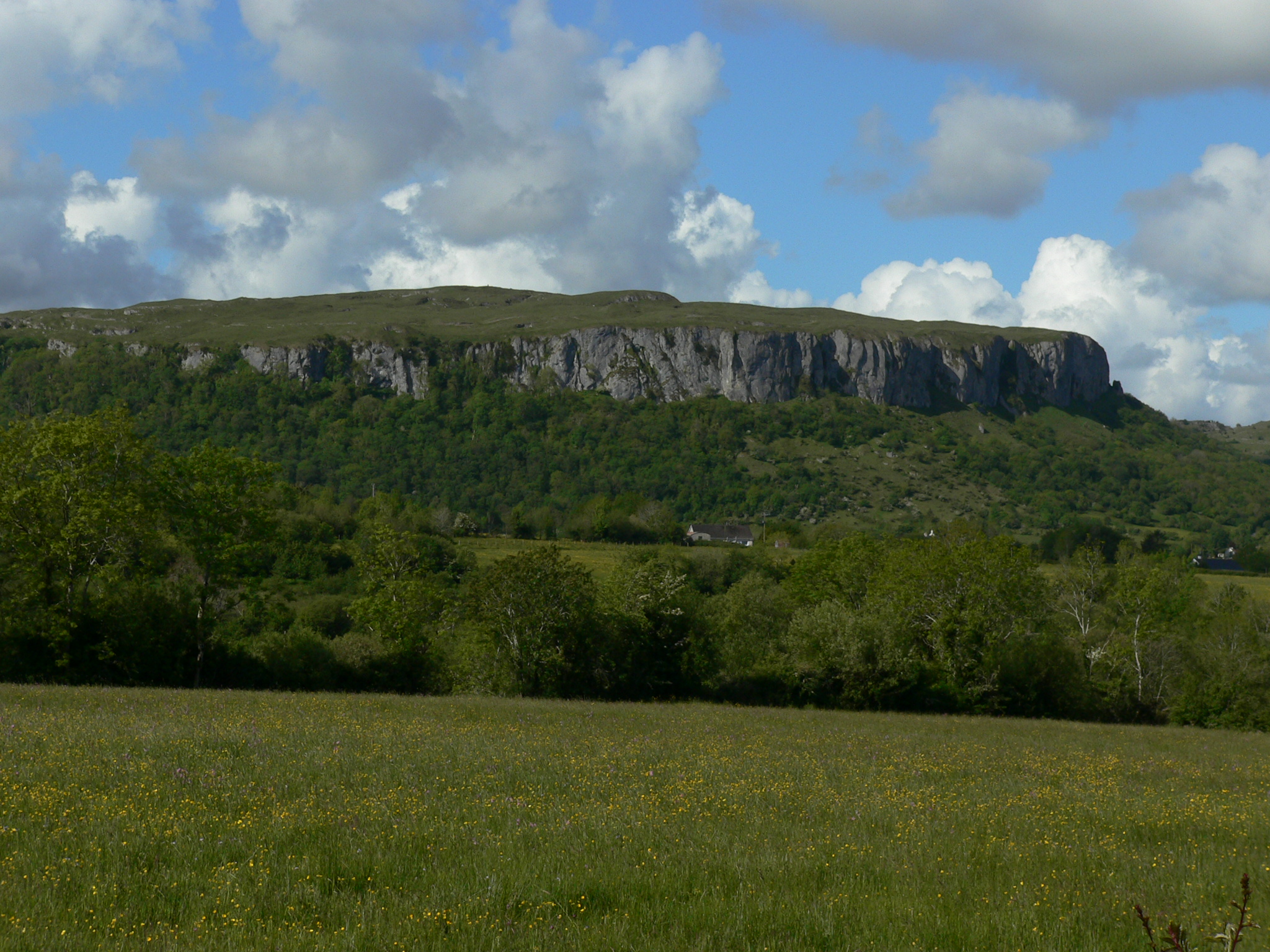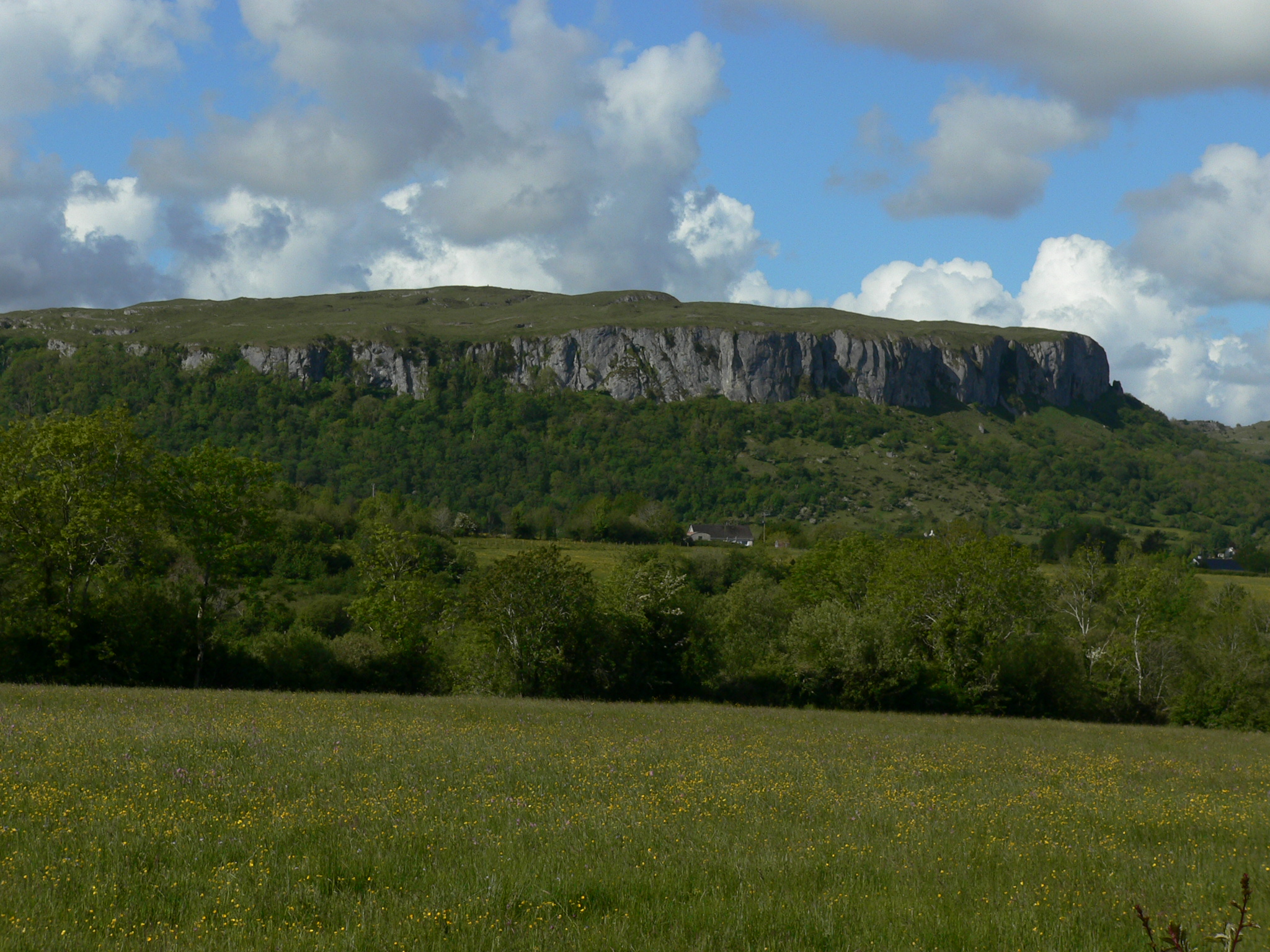 The area is famous for a variety of reasons including Cuilcagh Mountain Park, a 265 hectare UNESCO GeoPark containing important areas of pristine blanket bog, several rare or endangered species of plants and birds and not forgetting its caves including the famous Marble Arch Caves, sinkholes and depressions in the land caused by collapsed limestone caverns. Cuilcagh is a perfect location for walkers, those interested in geology, birdwatchers, photographers, and cyclists. The normal route to the summit is via the Legnabrocky Trail which leads from the Marlbank road to the summit the mountain. Water from the southern slope of Cuilcagh flows underground until it emerges some miles away in the Shannon Pot, the traditional source of the River Shannon.
Although this controversial boardwalk protects the rare blanket bog and biodiversity underfoot and has made the mountain more accessible to people both young, old mobility impaired which is an amazing achievement, some find it an eyesore which detracts from the natural beauty of this remote mountain and more recently has enticed people to the summit of the mountain who are inadequately dressed for the changeable weather and visibility at the summit and are not prepared in term of fitness, emergency navigation and more. The boardwalk has drastically reducing walking times to the summit for all walkers.
The imposing Cliffs of Magho and mountain flanks of Cuilcagh give this walk a very atmospheric feeling providing superb 360 degree views on a good day over  the counties Tyrone, Donegal, Cavan, Leitrim, Sligo and Roscommon. Here you have a great view of Lough Atona, a lake which was carved out by the glacier during the last Ice Age approximately 13,000 years ago.  At the top, a rough mountain path negotiates the wild summit plateau for a few kilometers before reaching the summit which has an ancient cairn (burial mound) dating from the Bronze Age 2,500 – 500 BC. The mountain top is grit stone exposed on the cliffs which sweep down to a lower layer of sandstone and shale all covered by one of the largest expanses of blanket bog in Northern Ireland.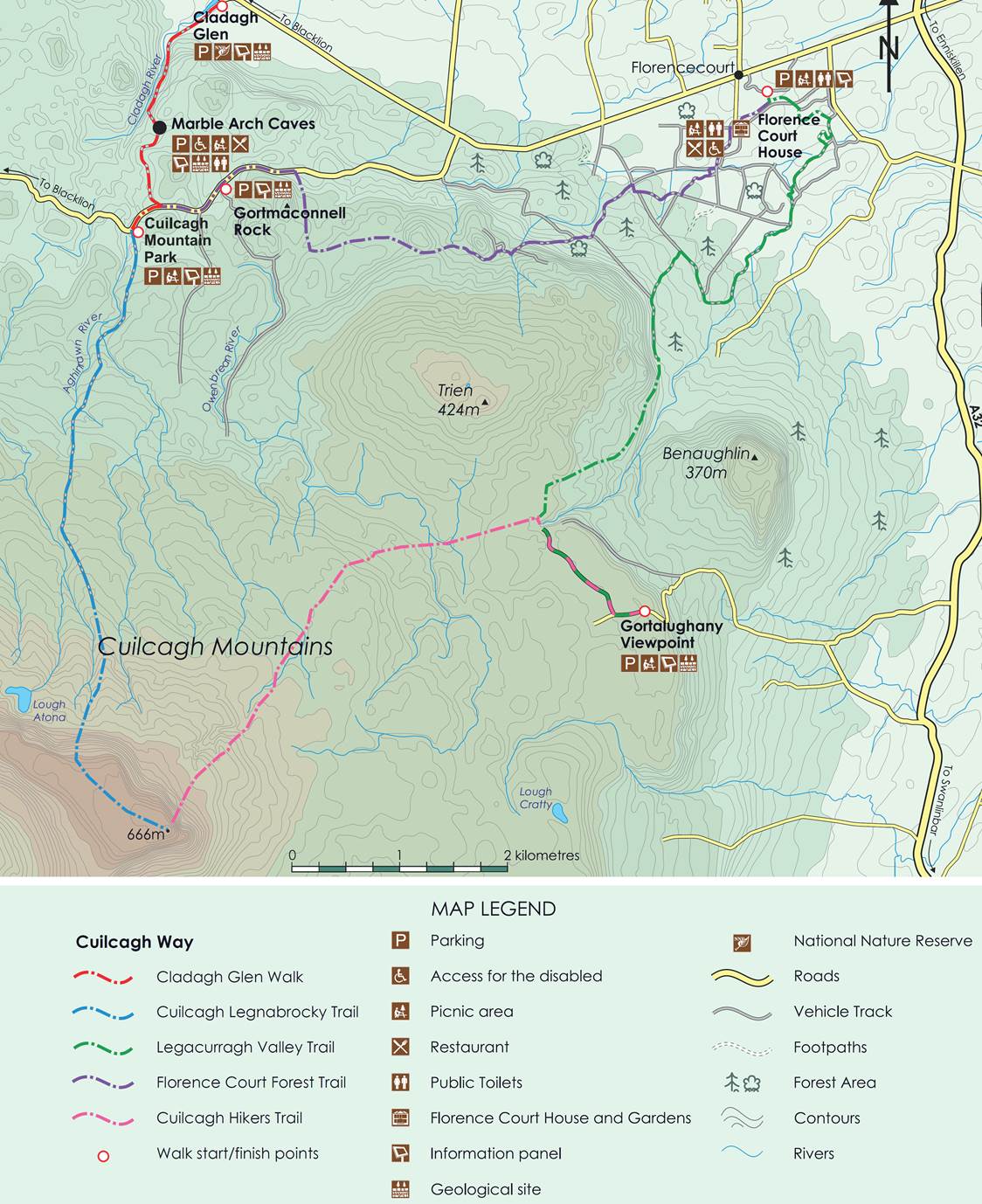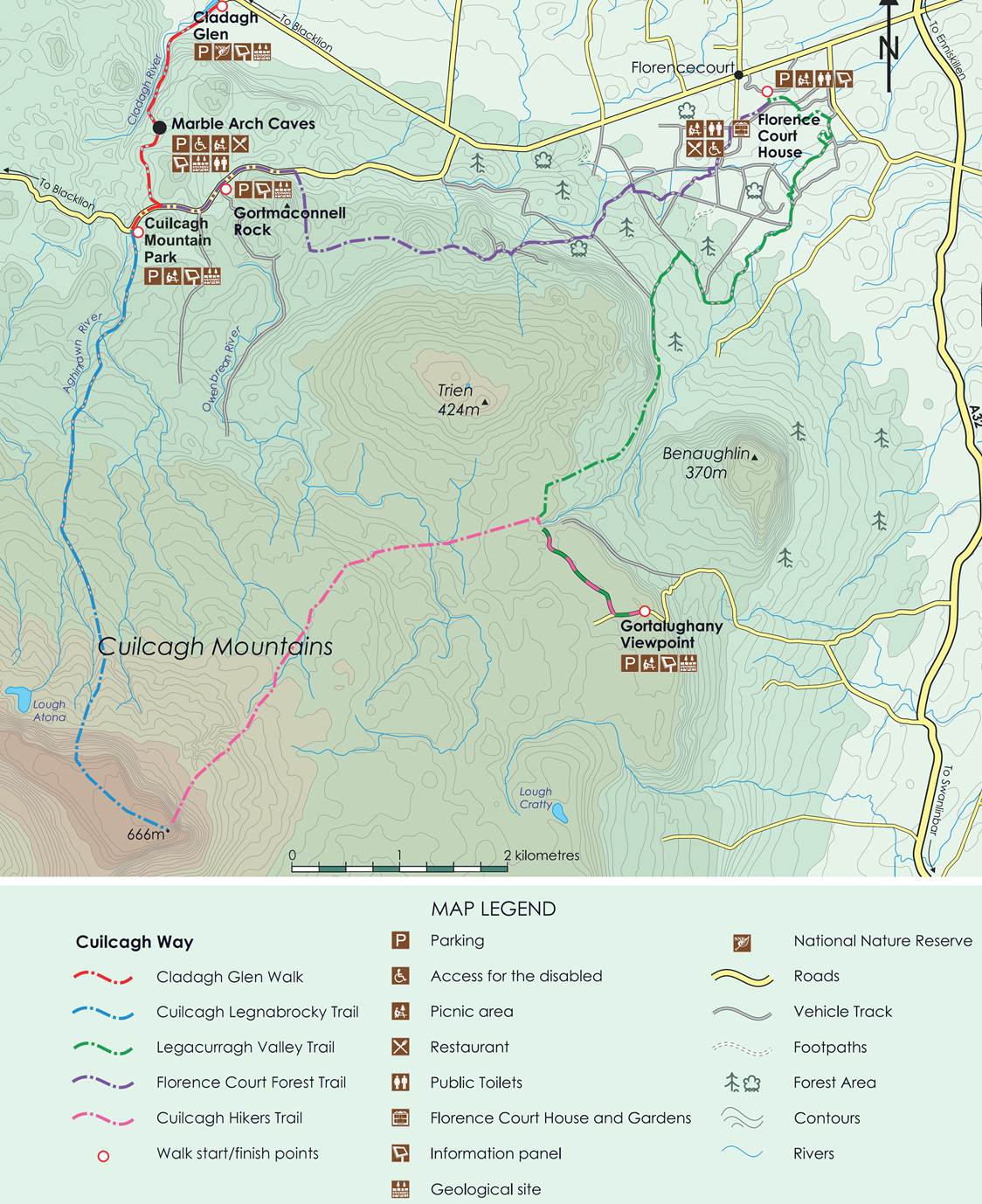 If you are doing the Longer Loop Walk, you can travel down the escarpment to the north following the yellow top Ulster Way way markers in a zigzag fashion to negotiate the steep slope. At the bottom keep following the yellow top waymarker posts over the wet blanket bog to the northeast for approx. 5km onto areas of grassy meadows and Florence Court Forest. From here go over a stile a again follow the Ulster way trail through Cove Wood on a forest road, passing alongside the Finglass river, open fields, Ladies Well return onto in to the Marble Arch Caves Visitor Centre car park. The Marble Arch Caves Visitor Centre is open 7 days a week Mar thru Sept with the park open all year with facilities/services including guided field studies, exhibition, audiovisual presentation, Geopark corner, cafe, picnic sites and car parking.
There are plenty of other routes in the area, so please find a route that is right for you or your group. Plan your walk by checking the weather, sunrise sunset times and our hiking checklist on our website http://www.activeme.ie/useful-info/planning-a-trip/. Please remember that you are only as fast as the slowest member of your group! It is also better completed after a spell of dry weather and allow plenty of time.
Use our Map of Ireland and Sat Nav tool to get directions to the start point and our detailed maps and GPS on our ActiveME iPhone App and Android App to find and follow the walking route live on screen and keep on track.  Our maps and Apps are only a rough route guide and at all times should be used in conjunction with proper map and compass navigation techniques.

Print Info & Summary Only
Route Map
Please
log in
or
register for free
to download this guides Grid Ref waypoints & GPX file.