Tralee and the Bay Area
Blessed with Irelands best beaches, the Bay Area has great watersports, cycles, fishing, golf and more at every turn and is backed by some of the Irelands highest mountains and best walking routes. Tralee and the Bay Area is a unique holiday destination along over 100km (60 miles) of the Wild Atlantic Way scenic drive from Brandon Point in the west to Kerry Head in north. The Bay Area comprising Brandon Bay and Tralee Bay has over 70km of sandy beaches! and great holiday spots to visit such as Brandon, Cloghane, Maharees, Castlegregory, Camp, Blennerville, the county town of Tralee, Spa, Fenit, Ardfert, Banna and Ballyheigue.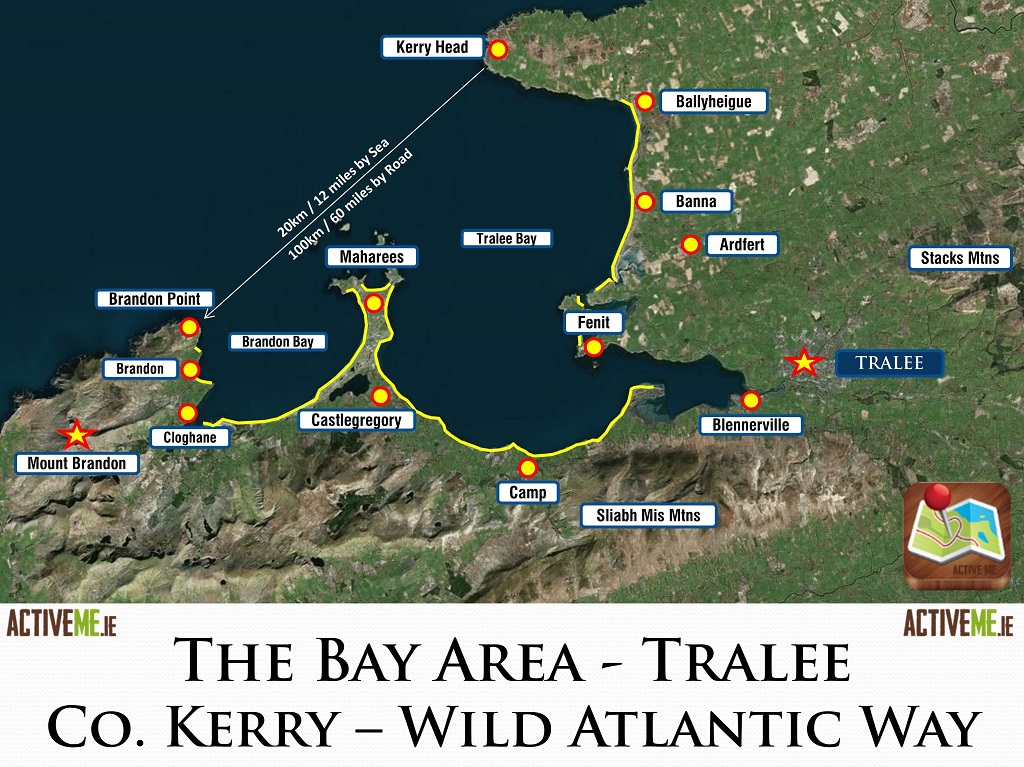 Tralee Town and the Bay Area
With one of Irelands best town parks and top museums, the county town of Tralee is one of the best tourist destinations and Irelands family friendly holiday capital on the Wild Atlantic Way. Recently named in Tripadvisor's Top 10 Irish Destinations and named Top Large Tourism Town in Ireland by Failte Ireland, Tralee is an ideal holiday destination with great places to stay, pubs, restaurants and traditional music and a perfect base to explore Ireland's south west coast including the Dingle Peninsula, the Ring of Kerry drive, the Skellig Ring drive, Loop Head Co. Clare, West Cork and the Wild Atlantic Way.
With people having lived in the Bay Area for well over 5,000 years and Tralee recently celebrating 800 years as a town founded by the Normans in 1216, the town is rich in history, heritage and rebellion. With Kerry famous for its Festivals, Tralee is probably best known for the Rose of Tralee International Festival which is held every August since 1959 but town and Bay Area offers so much more. Take a stroll in Tralee Town Park and playground and past lovely 18th-century Georgian buildings, visit the nearby County Museum, one of Irelands best or Siamsa Tire, the National Folk Theater of Ireland. Enjoy a peaceful walk in Ballyseedy or Glanteenassig Woods and if the weather isn't the best for you or the kids, you have so many choices. Visit the Aquadome indoor water park, have fun in the Playdium indoor play centre, Bowling Buddies, tour the Wetlands Centre, dress up and excavate bones in the County Museum, enjoy one of Irelands largest model railways and Irelands oldest working windmill in Blennerville or take in a movie at the Tralee Cinema with its new Maxx screen.
You can cycle safely with the kids in Tralee Town Park, Ballyseedy woods and when the tide is out a great place is Banna Beach, recently voted Ireland best beach by TripAdvisor. Choose from over 70km of sandy and Blue Flag beaches only minutes from Tralee including Fenit, Castlegregory, Banna, Ballyheigue, Fermoyle, Killelton and Derrymore.  Take on some of Irelands best walks including the unmissable Mt. Brandon walk (952m), Sás Creek, Caherconree Mtn, the Dingle Way, the North Kerry Way, the Slieve Mish Mtns and don't forget that Irelands highest mountain, Carrauntoohil is only 30 mins away.
Just outside the town Tralee you can go back in time visiting the ruins of the ancient stone fort on Caherconree Mtn, Killelton Oratory, Ardfert Cathedral, Annagh Church and Queen Scotia's Grave from Irish Mythology. For something a little more modern why not visit Fenit Beach and Lighthouse and its connection with St Brendan the Navigator and if golf is your thing, then a round at Tralee Golf Course, one of Irelands and the worlds best links courses is just for you. With some beaches facing the Atlantic and some sheltered, they are perfect for surfing, kite surfing, sailing, wind surfing, kayaking, snorkeling,  diving, swimming, SUP, water trampolines, water bouncing castles and play areas, fishing charter boats, harbour and dolphin watching tours, shore fishing, walking, cycling and much more. You can also enjoy some of Irelands best cycling routes, scenic drives and mountain biking around Tralee including many loop routes and mountain climbs including the Conor Pass, the Short Mountain, Fenit, Brandon point and Kerry Head.
Tralee is located at the gateway to the Dingle Peninsula in the Lee valley. The town is at the base of an ancient pathway which passes over the short mountain, part of the Slieve Mish mountain range. Off this ancient path is a place called Scotia's Grave, said to be the the burial place of an Egyptian Pharaoh's daughter, Queen Scotia, after whom Scotland is named. The ancient inhabitants of the Tralee Bay Area built Irelands highest and most impressive stone forts and Ogham Stones on the mountains overlooking the Bay Area and from these people emerged some of the most famous stories of Irish Mythology and Folklore. Follow in the footsteps of Fionn MacChumhaill and Cú Chulainn, the ancient heroes of Irish Mythology who are said to have lived, hunted and roamed the mountains and valleys of the Bay Area.

The Bay Area
Covering an area of approx. 285 sq km, the relatively shallow Bay Area comprises both Brandon Bay and Tralee Bay divided by the Maharees peninsula. However in the distant past this would have been a single bay. The Tralee Bay Area makes up nearly 5% of the total length of the Wild Atlantic Way route, the Tralee Bay Area has over 70km of pristine sandy beaches, containing some of the longest continuous sandy beaches in Ireland and in Europe. Broken only by less than 100m on the Maharees, the Bay Area from Fermoyle to Derrymore is one of Irelands longest sandy beaches at nearly 25 miles / 40km, second only to Curracloe beach in Wexford which is a continuous stretch of 29 km/18 miles.
Tralee is the starting point for the Dingle peninsula and Slea Head scenic drives
30 mins from Killarney Town, Lakes, National Park and Carrauntoohil Mountain
25 mins from the world famous Ring of Kerry scenic drive and cycle and the Kerry Way Walking Route
40 mins from Dingle Town and the great Things to See and Do on Dingle Peninsula
Tralee is the starting point for both the Dingle Way and North Kerry Way long distance walking routes
Brandon and Cloghane
At the western side of the Bay Area are the pretty villages of Brandon and Cloghane nestled at the foothills of the Brandon mountains overlooking Brandon Bay. Here you can enjoy lovely sandy beaches, rent or join a charter fishing boat or walk some of Ireland's best and most popular hiking trails. The world famous Dingle Way long distance walking route (176 km or 109 miles) passes through these villages with many staying overnight here or relax and enjoy some well deserved food and drink.
To the west, the Dingle Way rises to the saddle of Más an Tiompáin Mtn (763m) where you can see a 6th century Ogham Stone, Irelands highest. East, the Dingle Way follows the coast for over 30km (19 miles) along one of Irelands longest sandy beaches. From here you can also take on Irelands highest coastal mountain steeped in Irish mythology and pagan history, the 5 hour walk to Mount Brandon (952m or 3,123 ft) from Faha, the Brandon Pilgrim Path, or unique walks such as Sás Creek where you look straight down to the sea over 400m (1,300 ft) higher than the Empire State building.
In Cloghane village can see the old engine of a World War 2 plane, one of 4 others that crashed on the Brandon mountains during WW2 and all have sad but amazing stories here. Further on, the road ends at Brandon Point, a scenic and very popular bird and sea life watching spot. From here you can also walk to the nearby World War 2 look out post no.40, one of 83 in Ireland, where locals were employed to report on any sea or sky activity during the war.

Places to Stay in Brandon and Cloghane: coming soon
Places for Food, Drink and Entertainment in Brandon and Cloghane: coming soon
Local Walking Guide or Tour Guide: coming Soon
Other greats Things to See and Do in the Area: coming soon
Castlegregory and the Maharees
The ever popular tourist destination of Castllegregory is located in an idyllic sheltered bay at the foot of the sandy Maharees peninsula. Perfect for a beach and surfing holiday feel, the peninsula is dotted with bed and breakfasts, self catering, campgrounds and caravan parks and also contains smaller villages home to great local pubs and picture perfect restaurants.
Come for the beaches but you will not be short of things to see and do. Why not try something different like diving or snorkeling at the 5-star PADI certified dive centre, visit the Castlegregory 9 Hole Links Golf and Fishing club on the shores of the freshwater lake Lough Gill, join the fun on the water trampolines and paddle boats, pick from several windsurfing and surf schools, take a powerboat course, join a charter fishing boat or a Boat Tour from Scraggane or Fahamore Piers to the small Maharee islands, called the Seven Hoggs where on  the largest of the islands, Oileán tSeanaigh, are the ruins of a 7th-century monastic site founded by St Senach.
Home to the rare Natterjack toad and named after a castle built by Gregory Hoare in the 16th century, the village of Castlegregory is also on the Dingle Way walking route and is close to many great mountains walks including Beenoskee Mountain, Conor Pass, Mount Brandon and more.

Places to Stay in Castlegregory and the Maharees: coming soon
Places for Food, Drink and Entertainment: coming soon
Local Walking Guide or Tour Guide: coming Soon
Other greats Things to See and Do in the Area: coming soon
Camp and Beaches of Kileltin and Derrymore
On the lower slopes of the Sliabh Mis Mountains is the small village of Camp. Having everything you need for a holiday, Camp is ideally located at the centre of Tralee Bay on the Wild Atlantic Way. Nearby are some of Irelands longest and unspoiled sandy beaches perfect for swimming and walking, great mountain walks, the Dingle Way long distance walk, ancient forts and some of the best and oldest stories of Irish Mythology
The Tralee Bay is relatively shallow so most beaches such as Derrymore and Killeltin are perfect for bathing and importantly are a few degrees warmer than most in Ireland. Only a short drive from camp is one of Ireland most spectacular and accessible mountain walks, Caherconree Fort and Mountain. Visit the Kileltin Ancient Oratory on the Dingle Way, birdwatching on Derrymore nature reserve, cycle the Caherconreee mountain pass, climb the Curraheen Derrymore Loop walk and Baurtregaum mountain, and if you have any more energy just stroll along over 20km of sandy beaches in either direction.
Home to one of Irelands oldest written place names, Caherconree Fort, the Camp area is also associated with several stories of Irish mythology from various times in Irelands history of invasions including Cu Chulainn and the Red Branch Knights and the Milesians legends from around 1700 BC.

Places to Stay in Camp: coming soon
Places for Food, Drink and Entertainment: coming soon
Local Walking Guide or Tour Guide: coming Soon
Other greats Things to See and Do in the Area: coming soon
Blennerville
Just outside Tralee at the mouth of the river Lee is the village of Blennerville with one of the Bay Area's most famous of landmarks, the Blennerville Windmill. One of Irelands few windmills, it is now home to a museum, exhibition gallery, craft shop and restaurant, a bird watching platform with telescope overlooking 'Slí na nÉan' ('the Way of the Birds') and one of Irelands largest model railway displays.
Climb to the top of the windmill for great views of Tralee Bay and imagine how the nearby port was the last place many people saw when emigrating from County Kerry during the Great Famine (1845 to 1848) on the famous emigrant ship the 'Jeanie Johnston' now based in Dublin.
The Dingle Way and North Kerry Way, some of Irelands best long distance walking trails pass through the village and it's a great place to take a break for food. A short distance away, enjoy the Tonevane Loop Walk which overlooks Tralee Bay and while here why not try some horse riding on the Sliabh Mis mountains.
Famous for birdwatching, Blennerville and the Tralee Bay Wetlands nature reserve are home to many species of migrating birds such as the brent geese from October to April, curlew, redshank, ringed plover, dunlin, bar-tailed godwit and more.

Places to Stay near Blennerville: coming soon
Places for Food, Drink and Entertainment: coming soon
Local Tour or Guide: coming Soon
Other greats Things to See and Do in the Area: coming soon
Fenit and Spa
Less than 20mins from Tralee is the seaside village of Fenit, home to another of the Bay Area's most famous landmarks, the iconic Fenit Lighthouse on Little Samphire Island and a great little holiday spot with lovely cafes, pubs, restaurants and places to stay. Before arriving in Fenit you will pass the village of Spa which has great pubs and restaurants and is located on the North Kerry Way walking route. Arriving in Fenit you can park near the beautifully sheltered and sandy Blue Flag beach which is perfect for families, sea swimming, sandcastles and watersports. Your kids won't be disappointed to see that there is also a great playground at the beach and the all-important toilets.
From the beach take a short scenic walk over the pier, a great fishing spot, to Samphire Island, home to Fenit Harbour and Marina, which can cater for 130 sailings boats of all sizes. From here you can also join a charter fishing trip, take unique tour by boat to the historical Lighthouse, visit the Saint Brendan Heritage Centre and bronze statue.
Fenits maritime history stretches back to early Christian times, as the birthplace of St. Brendan the Navigator in 484 who is said to have discovered America 1000 years before Columbus and is now the patron saint of the US Navy. It also has ancient trading ties with Europe, with marauding Pirates and the Spanish Armada in 1583.
From the beach, Fenit's 1.5km shore walk is one of Irelands most scenic, lined with seats and picnic tables overlooking the wild Atlantic, Fenit Lighthouse and the Brandon mountains. The pathway ends at an old pier but you can continue along the shore, visiting the most scenic bench in Ireland and on to Fenit Island and Castle. A short distance away in Barrow is the Tralee Golf Club, a world famous links course.
Fenit beach and harbour has always been a very popular swimming spot, now with a marked swim course is also home to the Tralee Bay Sailing Club, Open Water Swimming Club and annual Triathlons. Fenit has lifeguards on duty during the summer season and is probably one of the most wheelchair accessible holiday destinations in Kerry. Hopefully sooner rather than later, Tralee and Fenit will be connected by a wonderful greenway walking and cycling route.

Places to Stay near Blennerville: coming soon
Places for Food, Drink and Entertainment: coming soon
Local Walking Guide or Tour Guide: coming Soon
Other greats Things to See and Do in the Area: coming soon
Ardfert
Slightly inland but still on the Wild Atlantic Way is the Medieval Capital of Kerry, Ardfert village, once one of the most important places in Ireland. The village is blessed with the picture perfect ruins of Ardfert Cathedral built in 1111 AD, the Franciscan Friary and is only 5 mins from Banna Blue Flag Beach one of Irelands best beaches and recently voted No.1 on TripAdvisor. The Cathedral was built to replace a previous monastery reputedly founded in the 6th century by Saint Brendan, Ireland's first true adventure and navigator who is said to have first discovered America 1,000 years before Columbus. Recently restored, you can now take great guided tours.  Like most of Irelands ancient places, many of the local heritage sites predate Christianity and are part of our ancient pagan heritage, folklore and mythology.
Only 10 mins drive from Tralee, Ardfert is perfectly located to explore the surroundings area and is a great half way point of the North Kerry Way walking route. The village is also nicely located for scenic cycling loops from Tralee, Fenit, Banna and Ballyheigue and is only a few minutes from Tralee Golf Course in Barrow, one of Irelands and the worlds best links courses. If you are travelling with kids, there is also a great playground near the cathedral. If water sports is your thing then why not try surfing in Banna Beach, sailing in Fenit, shore angling in Barrow, bird-watching along the shore and much much more.

Places to Stay near Ardfert: coming soon
Places for Food, Drink and Entertainment: coming soon
Local Tour or Guide: coming Soon
Other greats Things to See and Do in the Area: coming soon
Ballyheigue
Tralee is Ireland's Family Holiday Capital with loads of family friendly fun and great things to do for kids in all weather:
Best Beaches in Irelands - Over 70km of sandy beaches in the Bay Area
5 Blue Flag beaches in the Bay Area
Watersports around every corner, from surfing to kayaking
Family Friendly walking and cycling routes including the Tralee Town Park, Ballyseedy Woods and more
Other family friendly walks including Tonevane, over 70km+ of beaches, Fenit Promenade, Canal to Blennerville
Explore the lakeside Glanteenassig Woods and climb the Stack Mtns (Hills!)
Several great Kids Playgrounds including Tralee Town Park, Ardfert, Cloghane, Ballyheigue, Camp, Castlegregory, Fenit, and more
Tralee Aquadome
Kerry County Museum with kids
Tralee Bay Wetlands Centre
Playdium Kids Adventure Centre
Buddies Bowling
Best Places to Visit and Top Things to Do around the Tralee Bay Area:
Kerry County Museum
Blennerville Windmill and Model Railway
Tralee Bay Wetlands Centre
Fenit Beach, Pier and Lighthouse Walks
Tralee Town Park
Aquadome Indoor Water Park
Banna Strand Beach
Tralee Golf Club
Killelton ancient Oratory and ruined village
The Playdium Kids FunZone
Scotias Grave, Slieve Mish Mountain Valley
Sea Fishing Boat Charter from Brandon and Fenit
Short Mountain Scenic Viewing Spot
Ardfert Cathedral
Siamsa Tire National Folk Theatre
St Johns Church
Más an Tiompáin Ogham Stone
Sás Creek, Brandon
Ballyseede Woods
Brandon Point
Kerry Head
Sean Óg's Pub - music and craic
Caherconree Mountain and ancient Stone Fort
Diving in the Maherees
Horse Riding in Tonevane
Surfing in the Maherees, Brandon Bay
Blue Flag Beaches of Fenit, Castlegregory, Banna and Ballyheigue
Swimming in
Tralee Court House
Best Scenic Drives and Cycles around the Tralee Bay Area:
Tralee to Brandon Point
Tralee, Short Mountain and Caherconree Loop
Tralee to Dingle Loop
Tralee, Fenit and Ardfert Loop
Tralee, Banna, Ballyheigue and Kerry Head Loop
Best Long Distance Walking Routes Around Tralee:
Best Hikes and Walking Routes Around Tralee, Dingle and North Kerry:
The Best Cycling Routes around Tralee, Dingle and North Kerry
Tralee, Ardfert and Fenit Cycling Route - Loop 3 hours
Tralee, Short Mountain and Blennerville - Loop
Tralee, Short Mountain, Castlemaine and Caherconree Cycling Route - Loop
Tralee to Kerry Head Cycling Loop
Tralee Town Park Cycling Route for Kids - Loops
Ballyseedy Cycling Routes for Kids - Loops
Annual Events in Tralee and Bay Area
Tir Na Nog Children's Festival - March
The Banna Beast Challenge - Obstacle Race - April
Féile na mBláth at The Park Festival Tralee - June
Rose of Tralee Festival - August
Food Festival - September
Kerry Film Festival - October
Christie Hennessy  Music Festival - October
National Circus Festival of Ireland - November
Tralee Farmers Market - 10-2:30 Each Saturday near Brandon Hotel